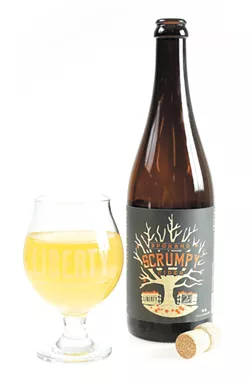 Unlike the rest of their artisanal hard cider offerings, Liberty Ciderworks' co-founders and cidermakers don't have an exact idea of what's in their latest creation, the Spokane Scrumpy Cider.
Known for their award-winning English-style ciders, Liberty's latest special batch, a limited release produced last fall, is made from a literal mash-up of apples picked from local backyards, roadside trees and abandoned orchards that would otherwise have gone to waste.
Scrumpy was made using more than 6,000 pounds of apples collected by volunteers with Spokane's Second Harvest Food Bank. A portion of bottle and keg sales of the blend is being donated back to the regional food bank.
While not quite as tart and dry as Liberty's regular lineup of ciders, Scrumpy offers a crisp and balanced flavor profile, with a sweet, grassy nose.
Cidermaker Austin Dickey describes Scrumpy as slightly sweet and buttery, reminiscent of a white wine. He and co-founder Rick Hastings allowed the cider to ferment using the naturally occurring yeast that arrived on the fruit, rather than adding a cultured yeast strain.
The idea to brew a cider from salvaged apples first arose about 2½ years ago, Dickey explains, after a conversation with the local nonprofit Spokane Edible Tree Project, which collects unwanted fruit — a process called gleaning — to distribute around the region through Second Harvest.
"Our idea was to try and do a hyperlocal cider using overlooked and underappreciated apples," Dickey recalls. "We knew there would be some apples we didn't know, and the hope was that we got an interesting cider out of it. And we ended up with a fairly pleasing product that is not like any other ciders we make. It's light but still complicated, and we appreciate that and think the customers will like it, too."
While this year's Scrumpy is a limited release, customers can find it in bottles at the Liberty Ciderworks tasting room downtown, and on tap at some local restaurants.
In keeping with Liberty's adherence to Old World cider traditions, the name Scrumpy is also a nod to a historical type of English cider. The word "scrump," Dickey explains, means to collect, steal or scrounge.
"So 300 years ago, if you were poor you might grab apples from an orchard at night — that was scrumping. And in the West Country, they had a style called scrumpy made with a catch-all of apples, and it tended to be a rougher flavor, and maybe a little funky," he says. "You still see scrumpy ciders out there." ♦
Scrumptastic Friday • Fri, June 30 from 4-9 pm • $5 Scrumpy pours; $1 from each benefits Second Harvest • Liberty Ciderworks • 164 S. Washington, Suite 300 • libertycider.com • 321-1893