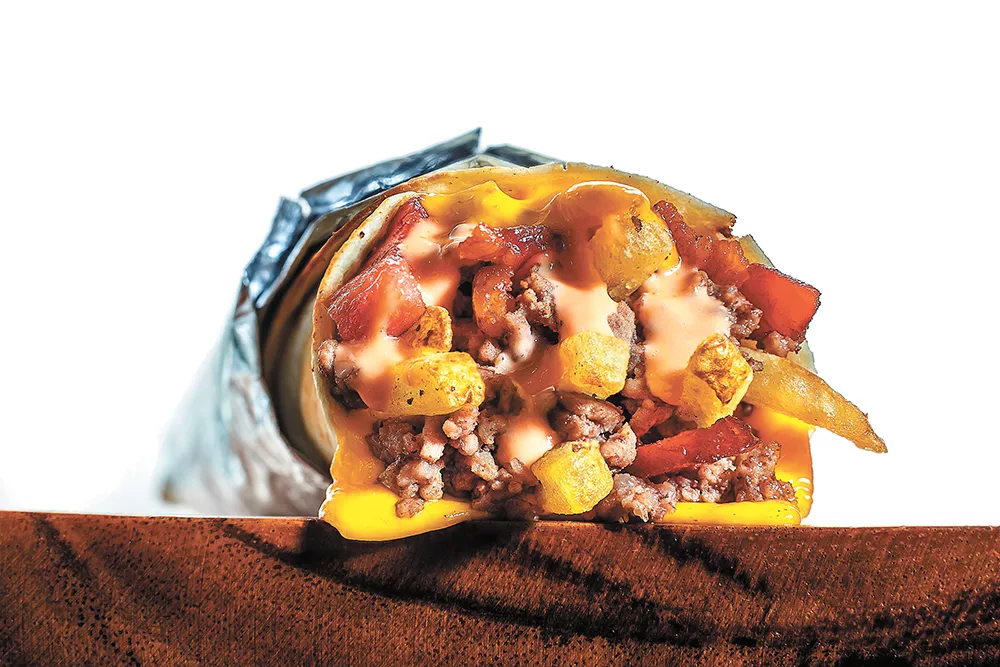 Scott Isaak gave Sweeto Burrito a mission. Take home the Inlander readers poll's first-place vote for Best Burrito.
"We better darn well win this thing," Isaak, the owner of Sweeto Burrito's locations in Spokane and Coeur d'Alene, told his managers. "It's our goal. We're here to be known for our burritos."
Mission accomplished.
The burritos here have names like the "Buff Chick," "Break Neck" and "Carne Assassin." Kids can get the "Lil' Porky," while vegetarians can order the "Veggie Avenger." The "Chango" is a deep-fried cheesecake burrito, rolled in cinnamon and sugar.
No, this isn't authentic Mexican food. But it's not going for authentic. It's going for inventive, going for delicious.
Isaak describes this particular genre of food as not quite Tex-Mex, but "Sturgis-Mex." Sweeto Burrito got its first big boost, after all, when its founder, Riverside High School alum Jon Pierre Francia, took his food truck to the Sturgis Motorcycle Rally in South Dakota in 2011.
Isaak, a 48-year-old former farmer, describes Sweeto's aesthetic as a "Bermuda Triangle between UFC fighters, Harley-Davidson riders and the neighborhood pub." The neon sign out front reads "LUNCHADOR"; big letters on the wall proclaim "FLAVOR WORTH FIGHTING FOR!" Luchador masks are available for purchase at the registers.
Classic American foods are deconstructed and then resurrected, more powerful than ever, in burrito form. The "All-American," for example, is a cheeseburger burrito stuffed with bacon, French fries, American cheese and fry sauce. I go even meatier, choosing the "Carnivore" with steak, chicken, bacon, cheese, rice, cilantro ranch dressing and Sriracha. It comes wrapped in foil, sealed with a luchador sticker. I put off unwrapping it for a few minutes as I savor Sweeto's crispy tater tots.
And then I look down. My burrito is gone and I'm licking my fingers. It was good. Really good.
The food here is a bit pricier than your typical fast-food burrito, but Isaak says there's a reason for that.
"It is fresh and made every day in-house with real ingredients," he says. "That is real meat that is marinated and smoked every day."
Isaak has put his money where his mouth is, launching four locations in rapid succession in Spokane and Coeur d'Alene. He describes the food here with a sort of giddy evangelical zeal.
"For a lot of people it's a darn-near religious experience," Isaak says. "It just knocks me on my ass."
2nd PLACE: Atilano's; 3rd PLACE: Neato Burrito