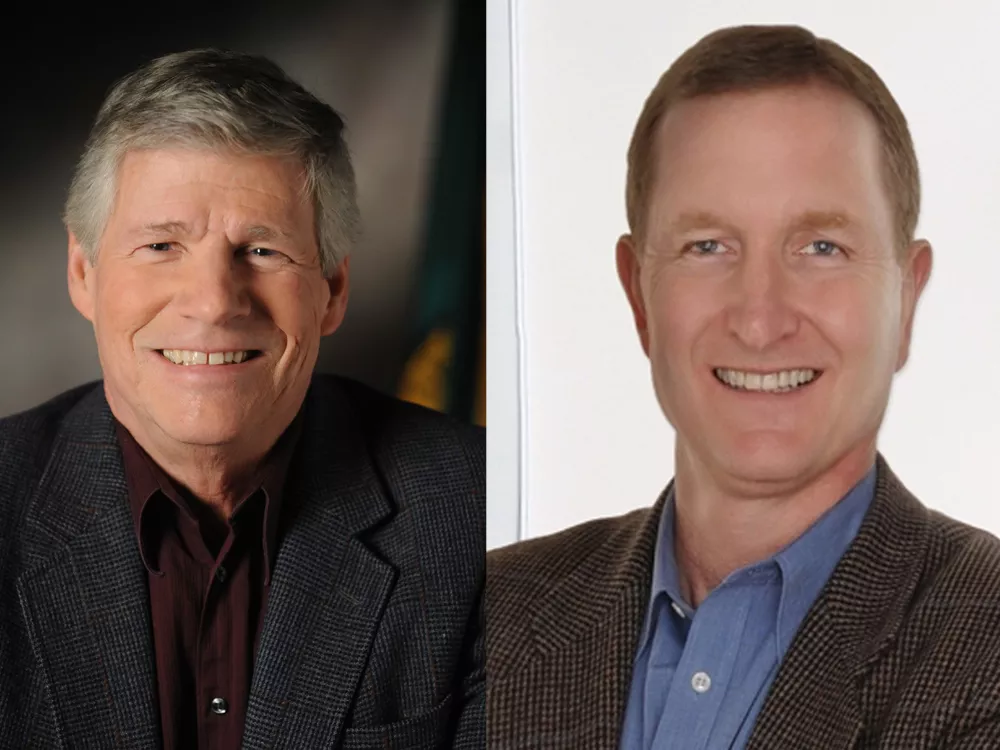 Nobody denies the 6th District changed with last year's redistricting. But just how the C-shaped area on the west end of Spokane changed depends on whom you ask.
"It got a little more conservative," says Kevin Carns, political director of the House Republican Organizational Committee. "We feel really good about this race."
The historic swing district got a new swath of rural land out to Cheney (including Eastern Washington University), Airway Heights and Medical Lake. Republicans say that means it'll be easy for former cop Jeff Holy to succeed John Ahern in his state House seat.
The August primary, however, produced mixed results. Voters preferred Republican Rob McKenna over Democrat Jay Inslee in the race for governor and Republican U.S. Rep. Cathy McMorris Rodgers in her bid to retain the seat. But voters also supported Democrat Maria Cantwell in her U.S. Senate fight against Republican challenger Michael Baumgartner — despite the district being Baumgartner's home during his state Senate term.
Today, Democrat Dennis Dellwo, who took just less than 42 percent of the primary vote, is out-fundraising Holy, with about $90,500 to Holy's $59,600.
"While historically a rural area might have gone the Republicans' way, we just aren't seeing it as an automatic win in their column anymore," says Valerie Rongey, the vice chair of the Washington State Democrats, citing better access to news and information in rural areas.
Dellwo, who was a 3rd District state rep from 1983 to 1996, is counting on Democrats to remember how things were back then. On a recent Monday evening, armed with a clipboard and a pair of black and yellow Nikes, 67-year-old Dellwo knocks on doors in the Country Homes neighborhood. He mixes folksy stories with campaign talking points and tells voters that when he was in Olympia, legislators crossed party lines and got work done.
Currently a lawyer and Lands Council board member, Dellwo focuses on short-term plans instead of big ideas. He hopes to establish a single office for helping business owners navigate permits and regulations. He says Central Washington wine tourism is ripe for development, arguing the Legislature should do more to promote it and attract visitors to the state.
"That almost immediately generates jobs," he says.
In a forum last week, Holy and Dellwo said more than once that they agreed on bipartisanship and the big issues, but Holy argues electing a former legislator isn't the way to improve Olympia.
In the downtown Rocket Bakery, Holy sips a steaming mug of Yerba Mate and talks about how he'd loosen business regulations to spur economic development, which he says could answer almost all of the state's problems. More business means more jobs and more taxes, and translates to more money for one of constituents' major worries, education.
Cop-turned-lawyer Holy has received endorsements from staunch right-wing politicians like Matt Shea, R-Spokane Valley, and maintains a strong stance against social issues like same-sex marriage. However, he says his experience helping manage pensions on the Law Enforcement Officers' and Fire Fighters' Plan 2 Retirement Board has made him some friends in Olympia that allow him to get things done.
"It's always the skills you learn outside of political office that you bring with you that truly make the ability to bring change," he says.