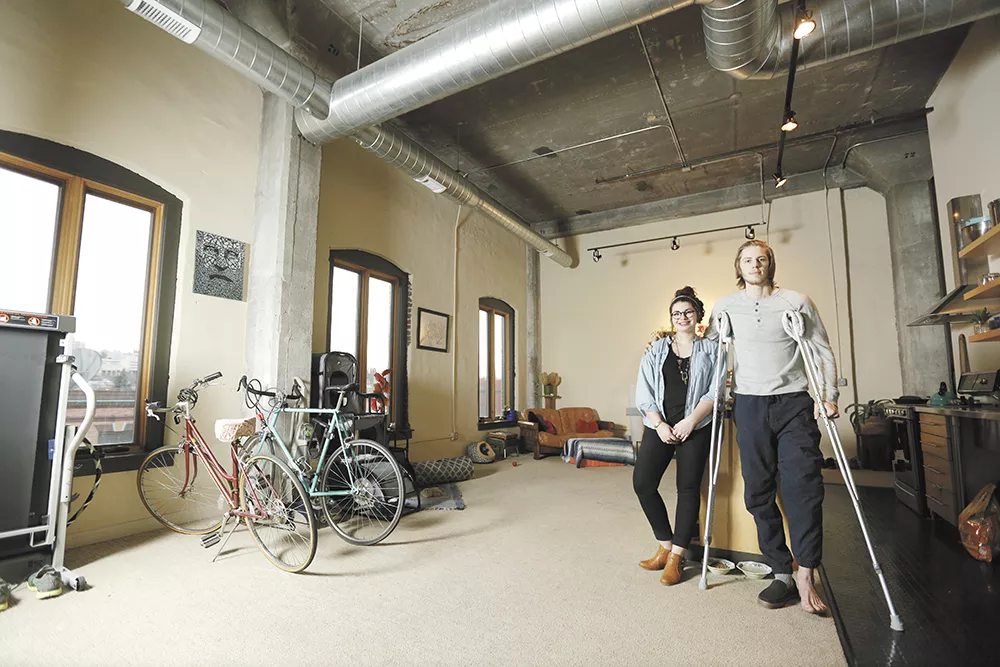 In the morning, Syd Silva steps out the door and is instantly immersed in downtown Spokane. A train screeches above her as she walks under a bridge on her way to work, passing by some mixture of animal droppings and dirt that has formed rodent-sized piles between the sidewalk and the morning traffic.
Silva, 20, lives with her boyfriend, Alex Howard, at the Edge Lofts on Sprague, previously an old warehouse that now features spacious lofts and condominiums close to downtown. The couple grew up in Spokane, went to Evergreen State College, then moved back here and started living downtown. They moved to the Edge in October, and they love the atmosphere and the loft's central location.
The loft itself is on the top floor. By the windows facing south, there's exercise equipment, a bike and a foosball table. One of their favorite things about the loft is its access to the roof, where on a clear day they can see nearly the entire city and landscape, as far as Mount Spokane.
It's only a two-minute walk to where Silva works, at Caffé Affogato, but sometimes she gets scared. Silva watches a lot of the TV show Criminal Minds, so she's not sure if there's actually something to be afraid of, or if it's just her. She tells herself that if she screams, somebody she knows will hear her.
"Downtown, everybody knows each other," Silva says. "Especially working and living downtown, I see so many of the same faces, and it's nice to have that connection when you're living in a big city."
Actually getting from one spot to another represents more of a challenge for Silva and Howard than it typically should. Silva popped a tire on her bike, something she noticed right after buying a big bag of groceries that she then had to carry as she walked her bike home. Howard, 25, is on crutches for the foreseeable future after knee surgery.
The two share one car — not counting the Volkswagen bus they use for camping in the summer — but only want to drive if they're buying groceries somewhere other than Main Market. These issues are easier to work around when living just blocks from where they work and hang out.
They aren't bothered by the noise of the city at night. The train tracks are just outside their bedroom window, but the sound is muffled when they're inside. Indeed, the soft sounds of the city at night have become part of home. ♦