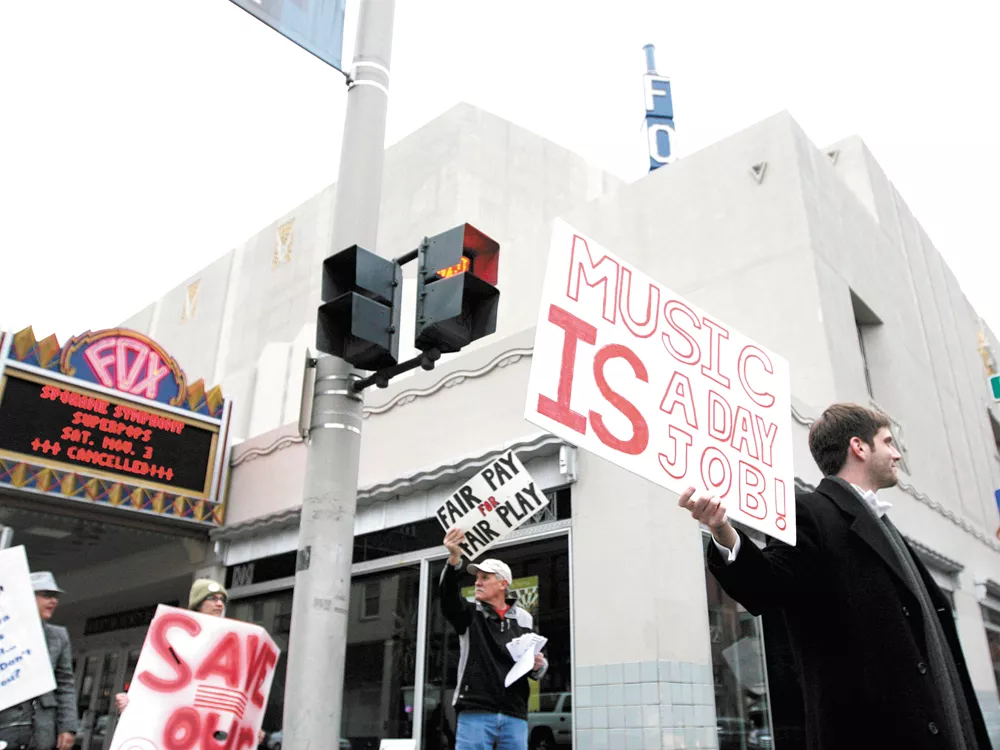 For the first time in its 67-year history, the Spokane Symphony Orchestra is missing its musicians.
Last Saturday night, members of the 70-piece orchestra, dressed in their performance tuxedos, put down their instruments and took up picket signs: neon green and bright pink proclamations declaring "Music IS a Real Job" and "Unfair Wages, Empty Stages." They lined the sidewalks outside the historic Fox Theater.
After weeks of unsuccessful contract negotiations between the musicians and the symphony board, Adam Wallstein, chair of the orchestra committee, says that the musicians were left with no other choice than to declare a strike last Friday — forcing the symphony to cancel last Saturday's SuperPops concert and this Friday's Symphony with a Splash performance. The fate of Saturday's Video Games Live performance was uncertain at press time.
"We didn't think it would go this far," Wallstein says. "We were hopeful it wouldn't come to this."
As of Tuesday, the two groups were at a standstill. On one side, the symphony board proposed a cut to the number of "services" needed by musicians — the number of times they are required to perform or practice — in order to save money. Reducing services means musicians would see 13.33 percent cut from their wages, bringing salaries down to just above $15,000, according to the Musicians Local #105 of the American Federation of Musicians.
But, according to Peter Moye, president of the Spokane Symphony's board of trustees, the proposed cuts were "the last thing we wanted to do" and come after symphony administration has been sliced to the bone.
"There is literally no other cut we can make in administration without hurting the organization," he says, noting that eight staff members have lost their jobs, and that those remaining either have frozen pay, reduced wages or furloughs. Executive Director Brenda Nienhouse has taken pay cuts each year, with the organization's 2010 tax records showing her salary at $114,536.
"We have done all of that in order to try to balance the budget without touching musicians' salaries," Moye says.
But the musicians think their cuts are too deep. After countering the board's Oct. 19 plan with their own revised proposal last Friday — a plan that offered up a 5 percent cut in pay for musicians, but that asked for greater flexibility in the attendance policy and unpaid leave time in order for musicians to pursue more work — the musicians were stonewalled.
"They came back with no movement at all on the money and basically next to no movement on the attendance," Wallstein says, "just little nibbles around the edges." The board did budge on one thing: allowing musicians extra break time during longer 90-minute sets. "An extra five minutes," Wallstein says.
The Spokane Symphony drama comes at a time when many classical organizations nationwide are in shambles. In September, the Chicago Symphony went on strike over contract negotiations, and the Atlanta Symphony watched as each member's pay was docked by $20,000. Last year, the Detroit Symphony accepted 25 percent pay cuts after a six-month-long strike.
It's the grim picture of the "epidemic" faced by cultural organizations, Moye says. But unlike many of those organizations, Spokane's symphony had a balanced budget in 2011.
"It was balanced, but it was balanced on the backs of angels that came in at the end of the year," he says, referring to last-minute donors. "I've been on a number of boards, and you can't count on angels on an annual basis. It's not good business."
And though more people attended symphony concerts here last year, the organization didn't make more money, says Annie Matlow, the symphony's marketing and public relations director. That's partially due to large number of tickets being sold for 50 percent off.
"We were so committed to getting people into the hall and into the symphony," she says. "If we got them in at half price, it's like sampling at Costco. You buy stuff you wouldn't normally buy."
People are more careful with their dollars, Moye says. "Discretionary income is not going to symphonies, it's going to movies or house payments or food."
But that's precisely why, Wallstein says, the symphony board needs to look closer at its musicians. By offering more flexible unpaid leave, musicians can then pursue other options — from teaching to playing for other regional symphonies.
"If we have to take concessions at this point, we need the flexibility — the freedom — to go out and find ways to make our income," he says.
"They should be giving us anything we want that doesn't cost them money," he adds.
Richard Strauch, a professor in the music department at Whitworth University and a trombone player in the symphony, says that it's difficult enough to attract professional musicians to Spokane: a city with very few additional paying opportunities for musicians. Restricting musicians here with low pay and little flexibility hurts the symphony, he says.
"The last contract in 2006 tried to increase the number of services, and the effect of that has been to attract better players," he says. "You have people coming in now saying, 'This is a bait and switch.'"
"I think for a lot of people [Spokane] is a stepping stone," Strauch says. "But at the same time, we don't see tons of people coming out for the auditions [here] because I think everyone has to calculate 'is this the kind of job that would be worth having if it means moving away from a major metropolitan area where there are more opportunities?'"
As of Tuesday, both parties were digging in their heels. Moye and Matlow say the symphony board has not been contacted by musicians looking to negotiate. Wallstein told The Inlander that musicians want to get back on stage as soon as possible. It seems both parties were waiting for the other to pick up the phone — agreeing that the other needed to budge.
"At this point they seem to want to have their cake and eat it too as far as pay cuts and continued restricted leave," Wallstein says, "We're still eager to get a response. They need to show some willingness to move forward at this point."
But with neither side budging, Moye says the board is preparing for the worst.
"From the board's perspective, we are in this for the long haul," Moye says.