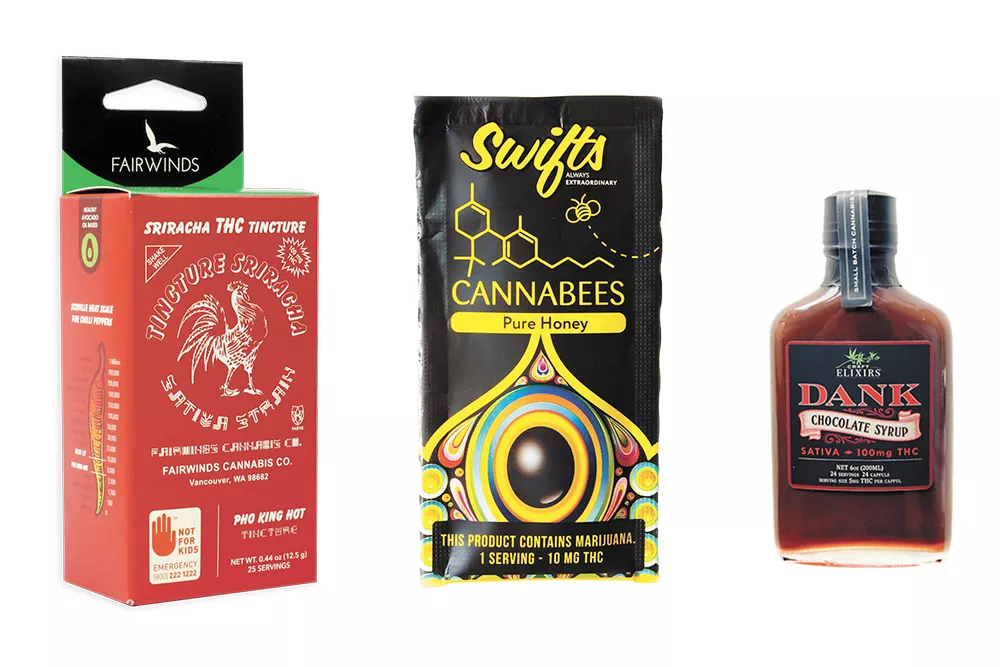 The game will be on and you'll watch, at least a little, even if you couldn't care less. It's the Super Bowl after all. But for many, it's the food, not the football, that matters most.
Sure, you could be a stereotypical stoner who smokes a joint before munching down a pound of finger food. Or you could step it up and throw down on some infused snacks for the big game. As the edible market has expanded from cookies and brownies into ingredients and condiments, it's become easier than ever to come across as a cannabis chef no matter your culinary acumen. Here are some products available at local dispensaries to consider for a stoney, snacky Sunday.
Sriracha Tincture from Fairwinds
It wouldn't be a true Super Bowl party if someone didn't bring the heat. And boy, does this THC-infused take on the wildly popular Thai chili sauce bring it. Clocking in at 6,000 units on the Scoville scale — traditional sriracha ranges from 1,000 to 2,500 units and jalapenos range from 2,500 to 5,000 — this stuff is definitely hot. It punches you in the mouth but not in the wallet. A 100-milligram bottle goes for $25 to $30.
Toss into the mix for Asian style hot wings, or throw it onto some cauliflower for a vegetarian-friendly version.
Cannabees Honey from Swifts
While hot wings are a staple of Super Bowl Sunday, a good spread is imperative. You'll want something to help ease the burn, and honey does the trick. Cannabees come in a few varieties with different levels of THC and CBD, but each package contains 50 grams of honey and costs around $30. You won't find many simpler edibles, as Cannabees is made with just two ingredients: honey and cannabis oil.
Combine Cannabees with the traditional stuff for some honey-glazed wings.
Dank Chocolate Syrup from Craft Elixirs
Savory meats and salty chips take center stage on the snack table, but don't forget about the sweets. Seattle's Craft Elixirs, as the name implies, is basically a mixologist's brand in a market dominated by bartenders. They make numerous products, but their line of syrups stands out. Three varieties of chocolate syrup are available — CBD, indica and sativa — and all pack a 100-milligram punch in a 200-milligram bottle.
Put out a bowl of the syrup and some strawberries for a semi-healthy, super-stoney dip. ♦