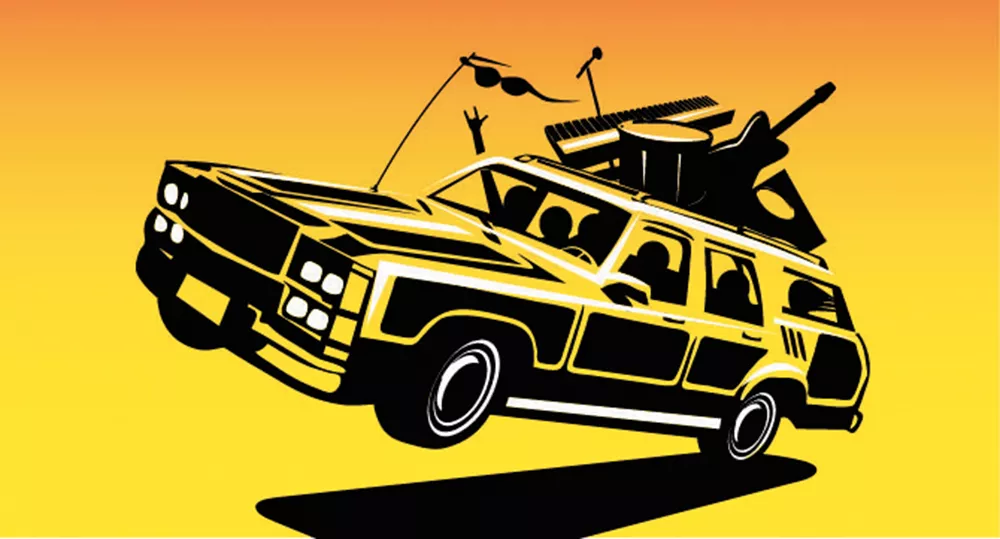 Yes, weather can be fickle in the Pacific Northwest, but when our most reliable season rolls around, you have to take advantage and revel in the experience of communing over live music on a warm night, rain or not. You all know about the Festival at Sandpoint — read our preview later this summer — but there are other awesome tri-state area festivals to check out, too. Note: all mileage is calculated starting from downtown Spokane.
PARADISO
June 27-28, Quincy, Wash. (The Gorge)
Estimated travel time: 2 hours, 139 miles
We all know who will be excited for the festival kicking off this weekend — EDM-lovin' teens and college kids and anyone else who wants to act like that. Paradiso got a bad rap last year after too many kids went to the hospital for drug overdoses, but not everyone who attends the bass-heavy extravaganza overdoes it. Local artist DJ Beauflexx will play the event and headliners include Bassnectar, Zedd, Above & Beyond and Krewella.
Gorge Amphitheatre • paradisofestival.com • GA/sold out, VIP/$327
BOISE MUSIC FESTIVAL
June 28, Boise, Idaho
6 hours and 25 minutes, 426 miles
Not only is there a main stage in downtown Boise, there are six other stages featuring local Idaho talent in a variety of genres like family, EDM and acoustic. Get excited for Sir Mix-a-Lot, Sky Blu (one half of LMFAO), Fitz and The Tantrums and Train, which closes out the night. For the first time this year, a carnival will accompany the all-day event.
Expo Idaho • boisemusicfestival.com • GA/$20, beer garden/$50
WATERFRONT BLUES FESTIVAL
July 3-6, Portland, Oregon
5 hours and 30 minutes, 352 miles
Fourth of July weekend needs to be spent wisely. Festivals are held all across the country to commemorate the weekend; Waterfront Blues Festival features Gregg Allman (who plays Spokane on July 5). Also performing are Los Lobos (headlining Pig Out in the Park), Ivan Neville's Dumpstaphunk, Boz Scaggs, Los Lonely Boys, Joan Osborne with the Holmes Brothers and Otis Taylor with Mato Nanji. Our recommendation: find someone with a boat and watch from the water.
Tom McCall Waterfront Park • waterfrontbluesfest.com • 4-day pass/$60
TIMBER! OUTDOOR MUSIC FESTIVAL
July 24-26, Carnation, Wash.
4 hours, 262 miles
This event is a lot more family-focused than you may expect. There are camping passes for those who want a more "quiet" evening and a show from children's musicians Eli Rosenblatt and Mikey Mike. In such a serene outdoor location, it makes sense to bring along the kids to Timber!. Adults and anyone else can enjoy sweet tunes from Charles Bradley and His Extraordinaires, J Mascis, Damien Jurado, Rocky Votolato, Horse Feathers, Lonesome Shack and more.
Tolt-MacDonald Park • timbermusicfest.com • 3-day pass/$65
CAPITOL HILL BLOCK PARTY
July 25-27, Seattle
4 hours and 20 minutes, 280 miles
For three spectacular days, this fest takes over six blocks of Seattle's Capitol Hill neighborhood, offering all-ages and 21-and-over stages. The event continues to champion up-and-coming regional acts, but the headliners are what bring people through the gates: Spoon, Chromeo and A$AP Rocky are booked this year.
Capitol Hill neighborhood • capitolhillblockparty.com • 3-day pass/$125, 3-day VIP/$250 (21+)
PICKATHON
Aug. 1-3, Happy Valley, Oregon
5 hours and 30 minutes, 352 miles
Some of the artists at Pickathon, including Valerie June, Angel Olsen and The Black Lillies, are scheduled to play Spokane this summer, but there are other awesome artists to check out, like Nickel Creek, X, Mac DeMarco, Shakey Graves, Foxygen, Parquet Courts and more. This venue feels like it's in the middle of nowhere, but it's only about a half-hour outside of Portland. It's a family-friendly, zero-waste, solar-power-using environment where musicians perform twice over the weekend on six different stages.
Pendarvis Farm • pickathon.com • 3-day pass/$260
SUMMER MELTDOWN
Aug. 7-10, Darrington, Wash.
5 hours and 45 minutes, 353 miles
Be on the lookout for Chewelah's own Allen Stone headlining and performances by STRFKR, Seattle Rock Orchestra, The Pimps of Joytime, Polyrhythmics, Neon Indian, Sir Mix-a-Lot and more. This event also includes music workshops, activities for the kiddos and river access. The woodsy camping at Summer Meltdown is separated into distinct factions: quiet camping for families, clean and sober camping, and Wonkerville — the name says it all.
Whitehorse Mountain Amphitheater • summermeltdownfest.com • 4-day pass/$150
MUSICFESTNW
Aug. 16-17, Portland, Oregon
5 hours and 30 minutes, 352 miles
This year, MusicfestNW's format has changed significantly — running just two days at one location rather than multiple venues throughout downtown Portland. This all-ages music festival is still bringing in big names like Haim, Girl Talk, Phantogram, Future Islands, Spoon and tUnE-yArDs; the event will simply be on a more manageable scale.
Tom McCall Waterfront Park • musicfestnw.com • 2-day pass/$100, 2-day VIP/$300
BUMBERSHOOT
Aug. 30-Sept. 1, Seattle
4 hours and 20 minutes, 280 miles
Bumbershoot festival coordinators announced the main stage will once again be at Seattle Center's Memorial Stadium, rather than indoors at KeyArena. As always, there's awesome Seattle talent mixed in with national artists. Some of the acts we're excited about include Wu-Tang Clan, The Replacements, Elvis Costello and the Imposters, Red Fang, Big Freedia and Schoolyard Heroes.
Seattle Center • bumbershoot.org • 3-day pass/$120♦