As the song goes, 'tis the season to be jolly. 'Tis also the season for friends, family and holiday parties. The two aren't mutually exclusive. For ages, people have been making themselves comfortable at even the most awkward of gatherings by sipping on spiked eggnog. But what if you'd rather have a bit more high-minded holiday party? Ditch the booze and ready yourself for a weedy winter. Whether you're hosting dinner, a casual party or just looking for something to bring to someone else's shindig, we've got you covered.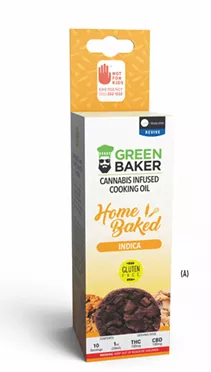 Cannabis Chef's Holiday Essentials (A)
Few things can beat sitting down with loved ones around a table to enjoy a delicious, home-cooked meal at this time of year. If you're the kind of person who is confident enough in the kitchen to cook for such an occasion, this section is for you.
When thinking about which oil to use in a dish, good cooks consider things like smoke point, flavor profile and fat content. Well, it's 2019 and it's time to think about THC, too. Green Revolution's Home Baked cannabis-infused cooking oils will help elevate your cooking (a). They come in two varieties, indica and sativa, both of which have a base of coconut oil with a one-to-one ratio of THC and CBD. $35 for 10 servings
Maybe you'd prefer your guests dose on their own terms rather than provide them with an already-infused meal. You'll do all the cooking, but they'll get to spice it up as they please. Left-Handed makes THC-infused table salt that packs a 10 mg punch per packet. Upping your daily sodium intake has never been so much fun. $10 for 10 servings
Good Host's Go-Tos (B)
Let's say dinner's not on the menu for the holiday party you're hosting. Still, you'll be on the hook for snacks.
Potato chips are the old standby. You can't go wrong with a big bowl left out on the table. Craft Elixirs' brand of Lori's Potato Chips come in three flavors: roasted garlic, sweet potato and sea salt and cracked pepper (b). The big bags, unusual among edibles, contain six servings at 10 milligrams a pop. $27
With snacks covered, you're going to need something to wash it all down with. Since it's winter, preferably something warm. And warm drinks are better with honey. So, trade out that half-used bear in the pantry for a package of Swifts Cannabees Honey. Each package contains 10 servings of pure honey infused with 10 milligrams of THC from cannabis oil. $30
Gifts as a Guest (C)
Just because you're not hosting doesn't mean you can't show some hospitality. Showing up empty handed is never a good idea, and we've got a couple suggestions for you.
If you know the host will be smoke-friendly, you can't go wrong by showing up with some pre-rolls. Bring a big one to share or grab a pack so everybody can have their own. Each dispensary has a different selection of strains and sizes to choose from.
Maybe you're looking to be a bit fancier than usual. Why not Champagne? Because it's boring and played out, that's why. Especially now that there is a nonalcoholic, knockoff Champagne beverage on the market that will get you high instead of drunk! Vertus is a fruity, sparkling beverage that at first glance looks identical to a bottle of bubbly (c). At 100 milligrams of THC per bottle, it packs a lot more of an inebriating punch than its grape cousins. $40 ♦