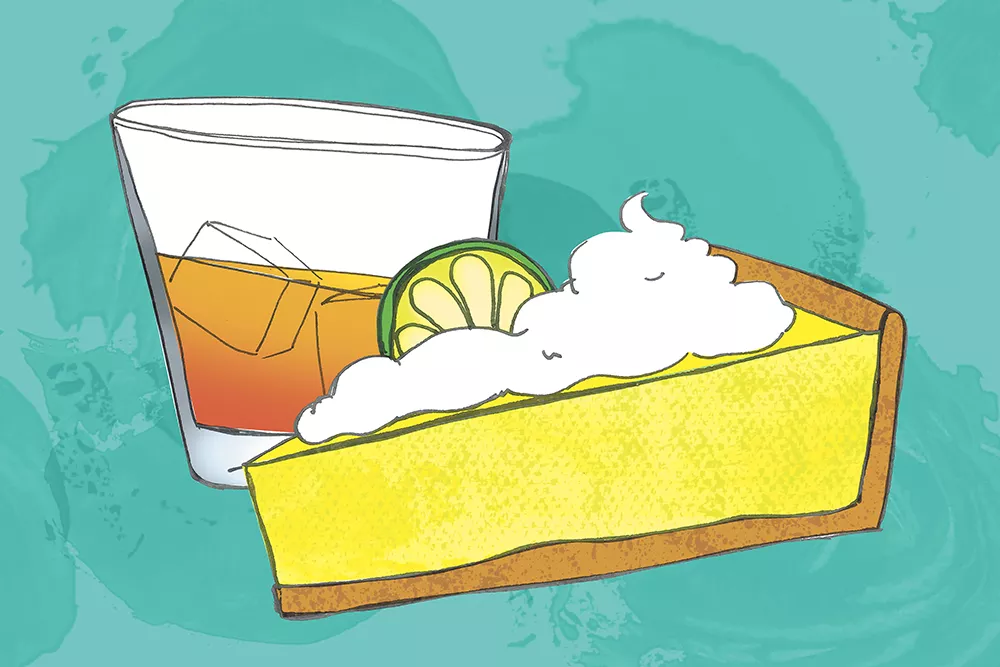 In a way, it's not unlike some tented church revival in the backcountry. A place for thick-waisted believers and drunks to find a moment of refuge and awaken their spirits with the fervent worship of words. Yes, there is something to this strange marriage known as Pie & Whiskey, this annual Get Lit! orgy of homemade pie, local whiskey and writers reading prose and poems about those eponymous items.
This is not a time for a reader's quiet reflection, sitting silently in awe of a god-writer's staggering genius. Here, everyone is together in the same room, no stages, just sitting in folding chairs, lining the walls, standing wherever a shoulder length can be found, a slice of pie in one hand and a finger of whiskey in the other. Here, the gods walk among us and drink straight-up whiskey.
There's one now.
Didya hear they're making his latest novel into a movie? I hear Jack Black is interested! So cool!
I love the book, but Jack Black is an assclown!
Written words, it turns out, are transformed when spoken aloud. And transformed even more when slurred just a bit. Out comes new music and new meaning. Over the course of this one-night affair, the spirit in the room rises. The hooting and howling bursts louder and louder between authors. Despite theories to the contrary, booze does not make us smarter, but it does make us more emotional. More raw.
There is a temptation at the very end of the night to keep quiet, to tell no one, lest this thing you felt was yours might be taken away, diluted, lost forever. Then you remember: Churches and temples and mosques were made so people didn't have to read holy books alone. Similarly, Pie & Whiskey was made so dessert-devouring, booze-swilling, semi-literate people could do those very things together. ♦
Pie & Whiskey IV • Thu, April 23, doors at 9 pm • $2 (cash only) • 21+ • Woman's Club of Spokane • 1428 W. Ninth