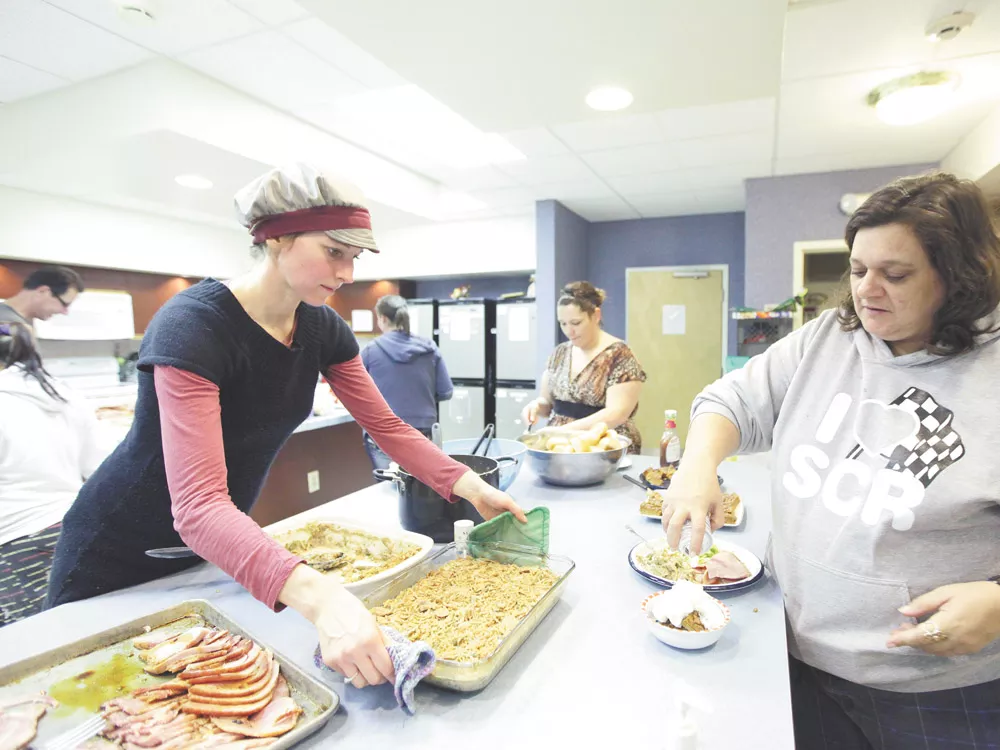 Thoughts of the less fortunate might be infrequent while we're so busy, and we may also be feeling a little guilty about what we've spent on gifts so far. But giving even a small amount of time or money can go a long way for many Inland Northwest nonprofits struggling to provide support to a growing number of people this time of year. It'll also leave you feeling all warm and fuzzy inside during the season that is, after all, about giving.
Catholic Charities Spokane
CatholicCharitiesSpokane.org, 358-4250
Celebrating its 100th anniversary this year, Catholic Charities Spokane provides food, shelter, clothing and other services to more than 70,000 people across the Inland Northwest each year.
During the holidays, Catholic Charities solicits donations to its Christmas Collection, which funds its programs the following year, says development director Ann Marie Byrd. Because of a growing demand, the organization needs to raise $1 million by the end of 2012. Donations can be made online, by mail or in person.
"The need is great throughout the year, but I think it's compounded this time of year, during a time when it's associated with Christmas and giving," she says.
Byrd says donations of diapers (any size) are always needed, as well as household goods to be given to families transitioning into Catholic Charities' low-income housing. Volunteer opportunities are also listed on its website.
Meals on Wheels Spokane
mowspokane.org, 456-6597
During the holidays, Meals on Wheels Spokane does more than just ensure that homebound seniors get at least one nutritious meal a day, says director Mollie Dalpae.
"While nutrition is what we're known for, we also provide Christmas gifts, blankets, pet food, liquid nutrition and daily check-ins," Dalpae says.
The number of seniors Meals on Wheels serves increases every winter because many of its clients, due to their health, are unable to leave their homes to eat elsewhere, she says. Right now the nonprofit is delivering meals to 270 seniors.
Dalpae suggests one way to support the organization — aside from volunteering to drop off meals — is to encourage co-workers or family members to donate $12 in lieu of a gift or gift exchange, paying for three hot meals. If kids on winter vacation are bored at home, Dalpae says they could decorate placemats or cards to be delivered with meals to brighten a homebound senior's day.
SNAP
snapwa.org, 456-7111
For nearly five decades, SNAP has been supporting the area's homeless, those living in poverty and others facing difficult life circumstances get onto the path toward self-sufficiency.
"What I really like is that we're all about giving people a hand up, not a hand out," says Sharon Robertson, SNAP's development manager. "When people do get on their feet, they come back and give to SNAP."
During colder months, SNAP sees a big influx in the number of energy assistance requests. This year, the nonprofit received so many calls on the first day it accepted heating assistance applications, crashing its network, she says.
SNAP also connects people with resources to find jobs and housing, and to reach financial stability. A donation of $15 supplies a housewarming basket for a family moving into new low-income housing. A contribution of $30 pays for 20 bus passes for clients looking for jobs or a place to live, and $75 can pay for a client's monthly heating bill. Apply online to volunteer for SNAP.
Union Gospel Mission
ugmspokane.org, 535-8510
Consider making the holiday season a little brighter for a resident of the Union Gospel Mission men's shelter or its women and children's shelters by donating clothing, toiletry items, gift cards or making a donation the nonprofit can use to purchase gifts for its shelter residents.
Even small donations help the UGM feed a homeless person, with one meal costing just $1.84, says marketing director Dave Wall.
Gift cards to fast food restaurants, movie theaters, coffee shops and salons are also useful gifts that the organization can pass out to its shelter guests during the holidays, he says. People can also contribute to "Christmas morning in a bag" for men at the shelter by filling a large zip-top bag with warm socks, gloves, a hat, hygiene products, Christmas goodies and a gift card, delivering it to the mission before Dec. 25.