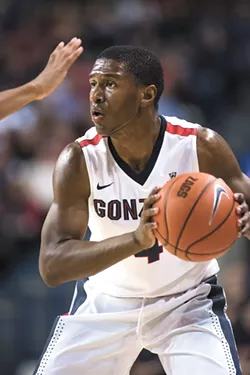 Who's car DJ when you guys go somewhere?
Probably Bryan Alberts.
What does Bryan play?
2 Chainz. He has a vast array of artists; depends on the trip and where we're going.
Favorite place to eat off campus?
I like Frank's Diner a lot. The blueberry muffin French toast. You can get anything at Frank's, but the blueberry muffin French toast is special.
Funniest dude on the team?
Besides me? Probably Zach Collins or Zach Norvell. The Zachs are definitely in first place.
On a scale of 1 to 10, how much does Zach Collins like Logic?
No, it's more like a 1-to-1,000 scale, and it's, like, at 1,006. We gotta tell him to chill out.
Who dresses the best?
Nigel [Williams-Goss] and Jeremy [Jones] are really into style. Sometimes what they wear I don't think looks good, but they think it does. I think style is subjective.