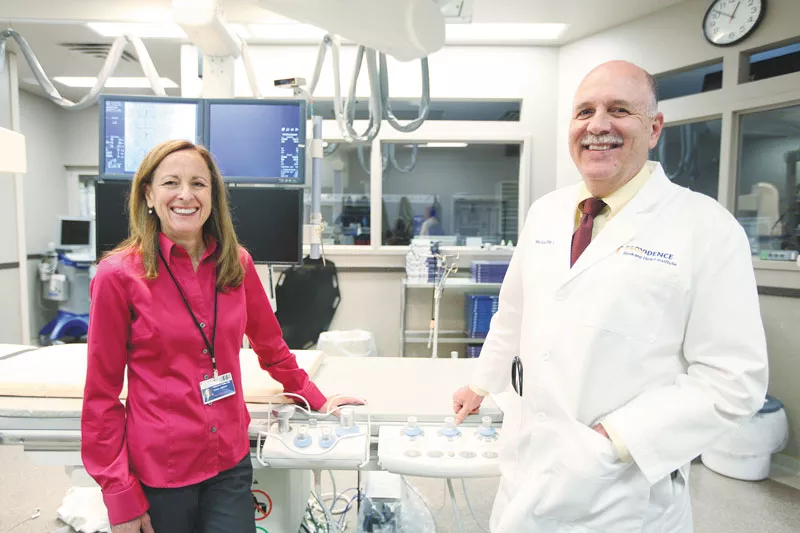 High blood pressure means more than just being stressed out. It means a higher risk of stroke, heart attack, aneurysm and damage to the arteries, kidneys and eyes. So for those whose high blood pressure won't budge, even after a fourth, fifth or sixth prescription, it's more than a little unsettling.
A new procedure could help.
As part of a national clinical trial funded by cardiac medical device company Medtronic, doctors at Providence Sacred Heart are looking for patients with blood pressure that just won't cease.
Most high blood pressure (doctors call it "hypertension") can be solved with a medication or a few medications combined. But even with multiple prescriptions, many people's blood pressure is still too high.
"The idea of a novel approach to lowering hypertension is welcome," says Sacred Heart's executive director for research, Dr. Katherine Tuttle.
Tuttle, who's a hypertension specialist and one of two local principal investigators taking part in the study, says about 10 percent of people with high blood pressure — perhaps 5 percent of the total population — have the kind that doesn't improve with medication.
And even for those who drugs could help, "many patients can't tolerate so many medicines (at once), so there's a quality of life issue there," she says.
The experimental operation, called renal denervation, is directed specifically at those patients who aren't finding relief in drugs.
Doctors insert a catheter through the femoral artery in the upper thigh, then thread it up to the kidney. There, from inside the kidney artery blood vessel walls, the tip of the catheter lets out some lowpower, radio-frequency energy and kills the nerves that wrap around the outside of the vessel.
Those nerves around the kidney are part of the sympathetic nervous system that produces the "fight-or-flight" response. For people with high blood pressure, the nerves are overactive. So if a procedure like this one can interrupt some of that activity, it could mean help with high blood pressure.
"I don't want to say this is the first attempt to use something besides medications, but it's certainly the most promising," says Dr. Michael Ring, the other principal investigator leading Sacred Heart's participation in the trial.
Since they connect the brain, heart, blood vessels and kidneys, researchers have long understood the important connection between nerves near the kidneys and blood pressure.
The unanswered questions are about the procedure's long-term effects. Researchers have tested the procedure on animals and in some limited human trials, but this is the first large-scale study of its effects and effectiveness. This study should help doctors understand how plausible renal denervation is for the masses, Ring says.
There's a narrow scope for the patients who can participate in this trial, though. They're patients who "feel like they're running out of options with medication," Ring says.
They have to have normal anatomy to make sure the catheter insertion works, and they have to be on at least three medications at the highest permissible dose, according to FDA regulations for the study. That's designed to weed out anyone who could be helped by more medication.
"This study is not for the average person or blood pressure," Ring says. "It's not for somebody who says, 'I don't like the idea of taking medicines. I want to go in, get a procedure and be done and over with it.'"
This has been the biggest challenge to finding participants, and the reason the study doesn't have any yet, Ring says.
"We're looking for some of the most unusual types of patients," he says. "These are really the worst of the worst, so that makes it more difficult. If you were, for instance, trying to test a weight loss therapy, you'd be looking for the 500-pounders or something like that. They're not as common out there."
Ring says he's looking at Sacred Heart's patients and reaching out to other local doctors to try to fi nd about 10 patients to participate. (About 60 hospitals nationwide are participating, so the study overall is expected to have at least 600 patients.)
Once the procedure is done, Tuttle will continue monitoring the blood pressure of participants and prescribing medication accordingly. Through randomized selection, only two-thirds of the trial participants will actually receive the treatment, and the rest will be used as a control. In order to prevent bias, neither Tuttle nor the patient will know whether he or she actually received the treatment. (Once the trial is over, the third who didn't get the treatment will have the chance to do so.)
Tuttle says the study is crucial for what she calls "a huge public health problem. The real questions are: Is this going to be a durable response? Is it going to last years and years? What's the complication rate?" she says. "As a skeptic I'm hopeful, but I make no promises."