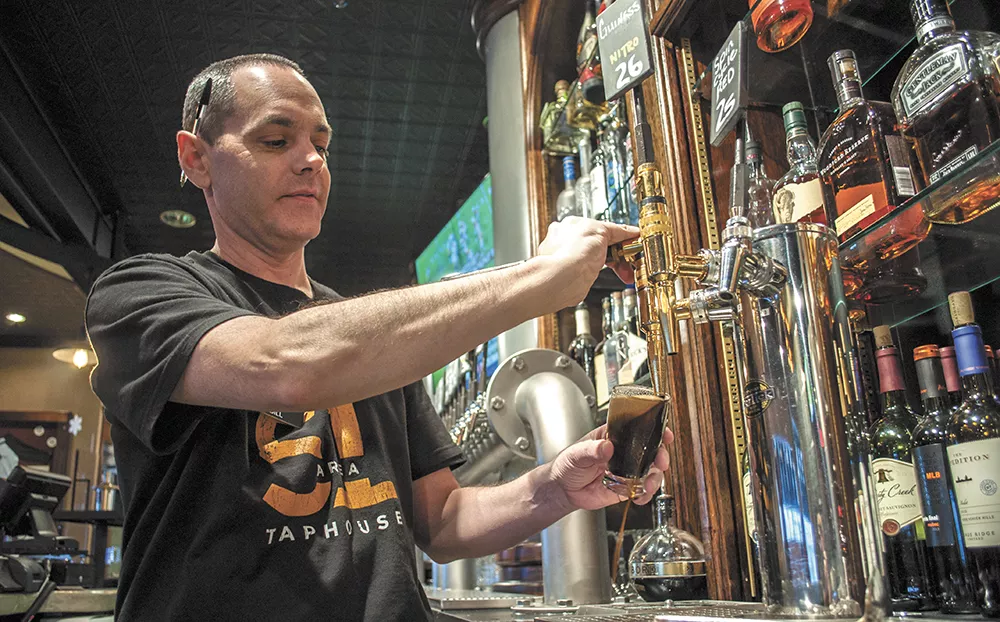 Area 51 Taphouse
7522 N. Division
The Northside Onion's bar has a brand-new look as the new Area 51 Taphouse, but the most impressive addition is 51 taps, paired with 50 bottles and cans, bringing its drinking options to a grand total of 101. A new, state-of-the-art bar top is also cooled to keep beers chilled, but warm near the edge so patrons' arms don't get cold. Forty-five of the 50 taps are set to rotate Northwest-centric beer.
24 Taps Burgers and Brew
825 W. Riverside
This downtown sports bar puts local beer up front — quite literally. Half of their namesake 24 taps are local beers and occupy the dozen handles on the front of the bar. The beers change regularly, so it's a good spot to get a feel for the Inland Northwest beer scene's current offerings. Their extensive burger menu is a nice way to complement a cold one.
Black Diamond
9614 E. Sprague, Spokane Valley
The Black Diamond — or the Diamond, as the locals say — is a one-stop adult playground, filled to the brim with pool tables, live DJs, food specials and a clear view of two dozen or so craft brews on tap. This, truly, is the place to go if you're partying in the Valley. On a Friday night, the place is packed with folks looking to either play some pool or try out the latest regional brews.
Crafted Tap House and Kitchen
523 Sherman Ave., Coeur d'Alene
Location, décor and menu are the main draw of Crafted Tap House in downtown Coeur d'Alene, with no detail escaping notice of owner Rob Berger and his cherry-picked staff. The gastropub-style menu is executive chef Gabe Cruz's take on scratch-made, conventional bar food. Crafted offers 50 beers on tap and regulars can take advantage of both their loyalty program, which kicks back some cash your way, and their mug club.
The Hop Shop
3803 S. Grand Blvd.
This South Hill pub goes straight for the beer and only the beer. There's no food or liquor at the Hop Shop, only a well-curated tap lineup comprised of many of your favorite local beers as well as harder-to-find stuff from outside the region. The pub is also the headquarters for the Tap Mobile, Spokane's only mobile beer bar.
Manito Tap House
3011 S. Grand Blvd.
With 50 beers on tap and many more in bottles, Manito Tap House probably has something you like. If you're having trouble thinking of what to drink or what to pair with your dinner, ask one of the trained cicerones on staff to help you out. This super-popular spot also serves up creative cuisine that far exceeds what you'd expect from a pub.
Nectar Wine and Beer
1331 W. Summit Pkwy.
The sister bar of the popular downtown wine tasting room, Nectar Wine and Beer opened in Kendall Yards earlier this year with more than 300 different wines and about 100 beer choices. Many of those beers can be found in bottles and cans in the cooler, but they also have 16 beer taps, with a good eye on local beers. Nectar also has a "tap takeover" program that puts six beers from a single brewery on tap each month.
POST STREET ALE HOUSE
1 N. Post St.
In the heart of downtown Spokane, Post Street Ale House is a meeting place for beer lovers and out-of-towners staying at the nearby Davenport Hotel, which owns Post Street. The pub features 26 taps, with many of them local beers. It's also a full restaurant known for its popular late-night happy hour menu from 10 pm to close featuring small bites that pair well with a cold one. ♦