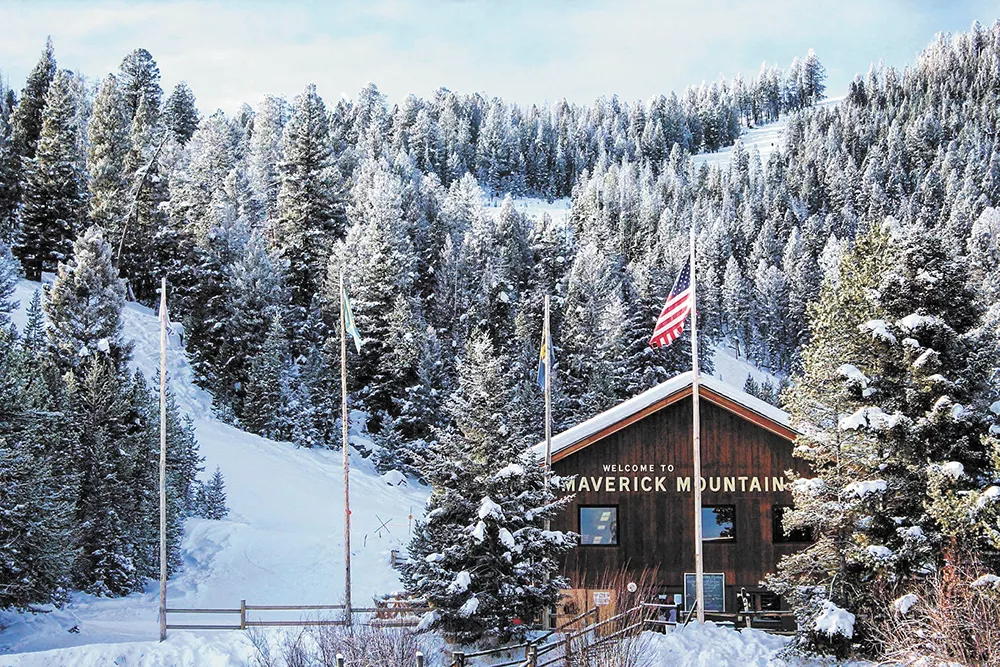 The winter drive west of Dillon on Montana Highway 278 plays a funny trick on the mind. Save for a few scattered houses and herds of cattle hanging almost motionless on the horizon, there's a whole lot of wide empty nothing. The signpost for Bannack deepens that sense of isolation, advertising a historic ghost town all but shuttered for the season.
But peel off the highway into southwest Montana's Grasshopper Valley and you'll find life aplenty. Here, nestled on an east-facing slope above the tiny town of Polaris, is the friendly winter playground of Maverick Mountain. Ranchers in jeans mingle with devout shredders seeking refuge from the bustling slopes of Bridger and Big Sky. Live music echoes from the bar on the old lodge's second floor. In one corner, a life-sized wood carving of John Wayne maintains a cowboy's vigil over a resort that proudly keeps one foot in its mom-and-pop past as the other probes an unwritten future. Oh, and the lift tickets are only $39.
"There's lots of ski hills out there, and there's lots of small ski hills," says Maverick Mountain manager and co-owner Erik Borge. "But this valley is so special. It's very untapped."
I first rode Maverick's long and only chairlift in 2017. It hadn't taken long for my clutch of far-flung ski buddies to settle on the area for our third-annual destination ski trip. A co-worker had raved to me about the terrain, and the rental cabins at nearby Elkhorn Hot Springs seemed ideal for a weekend of après beer drinking and barbecuing. So we converged on Polaris from various Western towns, ready to shred.
And shred we did. When we finally reached Maverick's summit, we had our pick of steep headwalls, rolling blues and narrow treed alleys. Our first descent on Ridge along the southern edge of the mountain was a corduroy-lover's paradise, and we slowed just long enough to soak in the view of the East Pioneer Mountains before charging the fall line on Remely.
Later in the day, Ian Nemec pulled a surprise from his backpack: an inflatable T-Rex costume. He tugged the cuffs down over his ski boots, pulled up the zipper and carved his way down the mountain. Outside the lodge, the delighted cries of a group of kids turned to looks of sheer terror as Ian, ginger hair and beard matted with sweat, emerged gasping from below the costume's massive head.
"Skiing in a forced squat wearing a sleeping bag the wrong way and strapping tupperware to your face instead of goggles," Ian says of the experience. "9.5/10 would do it again."
That night we fired up my grill on the cabin's front porch, threw logs into the fireplace and trekked a few yards up the road to soak our muscles in a hot springs teeming with locals and fellow visitors.
As the next season approached, the call to return to Maverick was unanimous. We rented the same cabin, rode the same lift and chattered through the icy chop on Sleepy Hollow. Mike Gerrity and I had planned to explore the storied backcountry on Maverick's backside, but sketchy late-season conditions across Montana convinced us to stick to groomers between rounds of craft beer from Dillon's Beaverhead Brewing Company. We capped off the day with a few to-go pizzas from Polaris' Grasshopper Inn, and spent a good hour digging our friend John Cribb's Toyota FJ out of the snow after an ill-fated wrong turn into a snowmobile trailhead.
"It's a special place for a good group of old friends to just be ourselves, soak a little, play with fire," John says. "Oh, and maybe ski."
Part of the magic of weekending at Maverick is the ability to stitch together your own winter adventure. The Grasshopper Valley is, as Borge says, very untapped. Borge and his wife, Kristi, have worked hard to unlock some of that potential since they purchased Maverick in 2015. The two were in their late 20s at the time, but have never harbored visions of getting rich or turning the mountain into a big, flashy resort. The changes they've brought have been minute, like commissioning a new trail map and bringing a youth ski racing team back to the slopes. Their biggest goal now is to raise funds for a second lift, a goal that hasn't distracted them from the round-the-clock work required to keep the current lift turning. The Borges view themselves more as caretakers than owners, keenly aware that the mountain is as ingrained in the community's DNA as baling hay and punching cattle.
Ultimately, this approach allows the tapping to be done by the visitor. Want to ski your buns off in the backcountry, or take a day to snowmobile in the pine-choked Pioneers? Go for it. Want to ski the corduroy, sip a beer and soak in the hot springs? More power to you. The Grasshopper Valley can be your oyster for a weekend. Just don't be shy about striking up a conversation or two with the locals. Winter west of Dillon isn't nearly as unstirring as the drive might imply. ♦