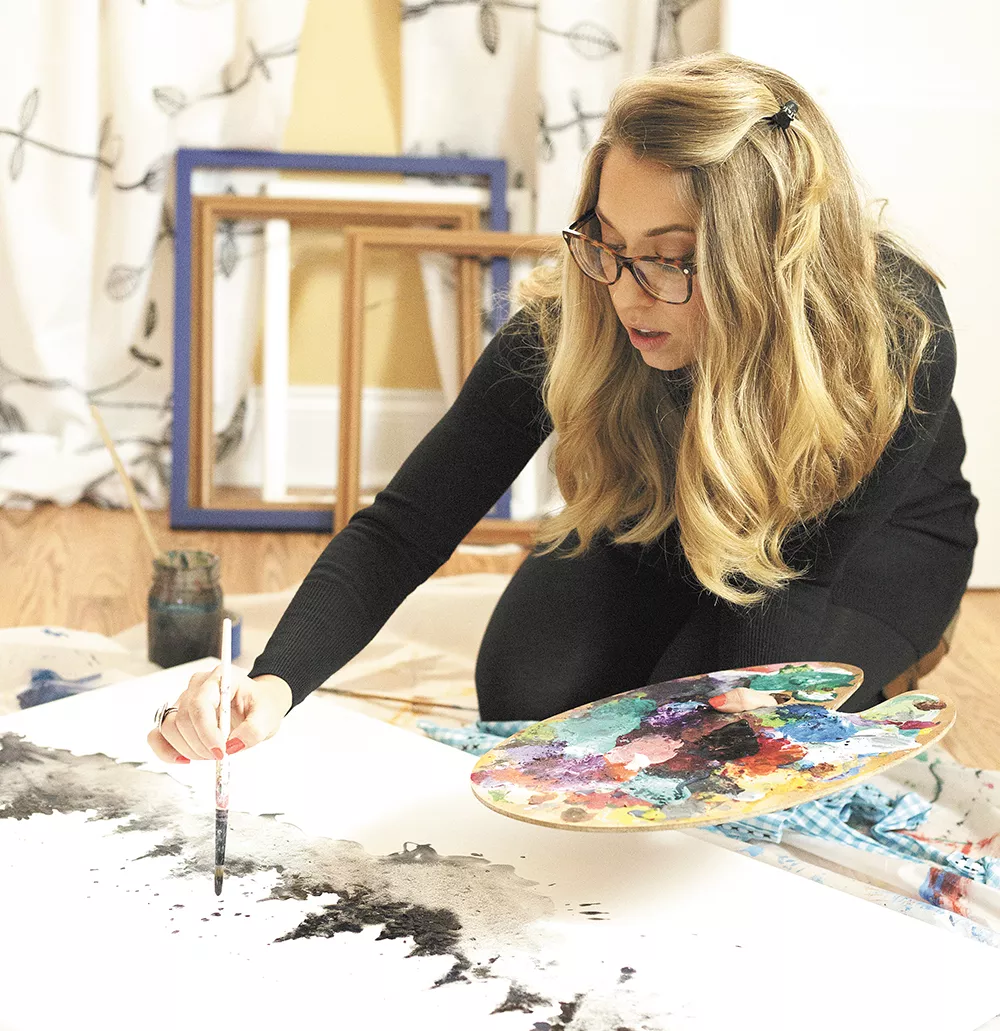 On Oct. 14, Tara Steinmetz broke 11,000 followers on Instagram. A month later, she was nearing 15,000.
One year into a move from the Portland area, the Spokane transplant's art career is taking off, even if few locals would identify her signature style at a glance. She's shown her work at a few events so far — two pieces hung at Terrain in October, and she had booths at the South Perry Street Fair and another outdoor show, 29th Avenue Artworks' Art on the Blacktop. She's also been invited to show her work in a solo exhibition at South Perry Pizza in January.
Still, most of Steinmetz's fans from around the world find her on Instagram, buying the original art she sells through her account, @taradawnart, on the social media app. Some even commission tattoo designs.
"I always talk about Instagram and social media, but that really keeps me motivated," she says from her home, tucked off a busy South Hill arterial and next door to the gallery where she showed and sold her work in August at Art on the Blacktop.
"I feel like, 'OK, these people are following me on here for art, so I want to keep them interested,'" she continues. "I never thought I would even get to 1,000 followers, but it's really humbling there are that many people who actually care to look at what I'm making."
When Steinmetz, 29, and her boyfriend moved into the house last year, they decided to use the bungalow's master bedroom as an art studio instead of sleeping quarters, taking advantage of the natural light from windows on three walls and a surplus of space. Steinmetz's mixed-media pieces cover the walls. Colorful abstract botanicals and impeccably symmetrical mandalas are dominant themes. She doesn't display much of her own work elsewhere in the house because she "gets sick of seeing it."
In the corner behind a paint-stained easel, one of Steinmetz's favorite pieces leans against the wall. She was nearly in tears when, at one of the summer shows, the canvas fell on the corner of a table and tore. On its white ground, a mermaid with her back to the viewer is frozen in a graceful pose. Fiery red hair fans out in the water above her head, growing into an abstract mass of swirls and splatters. The mermaid's shadowy form mimics the soft effect of watercolors, but on canvas Steinmetz uses a combination of watered-down acrylic paint, ink and paint pens. Sometimes she draws fine-lined patterns with colored pens on nontraditional surfaces, like Starbucks coffee cups.
Yet of all her artistic output, the most popular to her fans, and a favorite of hers to produce, are mandalas — highly detailed, symmetrical and geometric designs in a circular form. Mandalas originate from the religious and spiritual traditions of India, and for Steinmetz, their creation is akin to a philosophical, meditative practice. Other than using a template to create the beginning circle outlines, she freehand-draws every line of the mandala with a Micron pen.
"Art calms me down. I just kind of check out. It's like turning my brain off, but the opposite," she says.
On her days off from work at Trader Joe's across the street from her house, Steinmetz often heads to Perry Street Brewing, where her boyfriend Trevor is the manager. Sitting at a table or the bar top, she'll grab a pint and open her sketchbook to a clean page. Her pens and pencils spilling out of a pouch next to her, Steinmetz draws, sketches and doodles, incorporating whatever has inspired her that day — the fall foliage, song lyrics, a pretty feather she found on her morning run and carried for 3 miles back home.
"I never sit down and just say, 'OK, I'm going to make something,'" she says. "If I plan too hard it's not going to turn out how I planned, and that takes the fun out of it, and I'll get flustered."
Many of the pieces she sells to customers all over the world are these daily sketches. On a good month, she sells everything she posts on Instagram. If a piece seems popular or she's reluctant to part with the original, Steinmetz orders a few prints to sell, too.
Growing up, Steinmetz never formally studied art, but rather was guided in her creativity by the artistic talents of her mother and grandmother. She remembers hanging out at her grandma's and they'd watch Bob Ross on TV, and often do art projects together. She started taking art more seriously at 19, but in the years that followed she had less time for it. Several years ago, she got back into making art more regularly as a shared hobby with her boyfriend.
Since moving to Spokane last fall, Steinmetz has slowly begun working her way into the local arts scene. There's less competition here compared to the creative mecca that is Portland, and people she's met here so far seem more supportive of local artists.
"Spokane is smaller, and it's more of a community, and everyone kind of knows everyone," she says. "We fell in love with it. I love how it's growing and flourishing, and I feel like [artists] are flourishing with it." ♦
qFollow Tara Steinmetz on Instagram at @taradawnart and on Facebook at facebook.com/taradawnart.