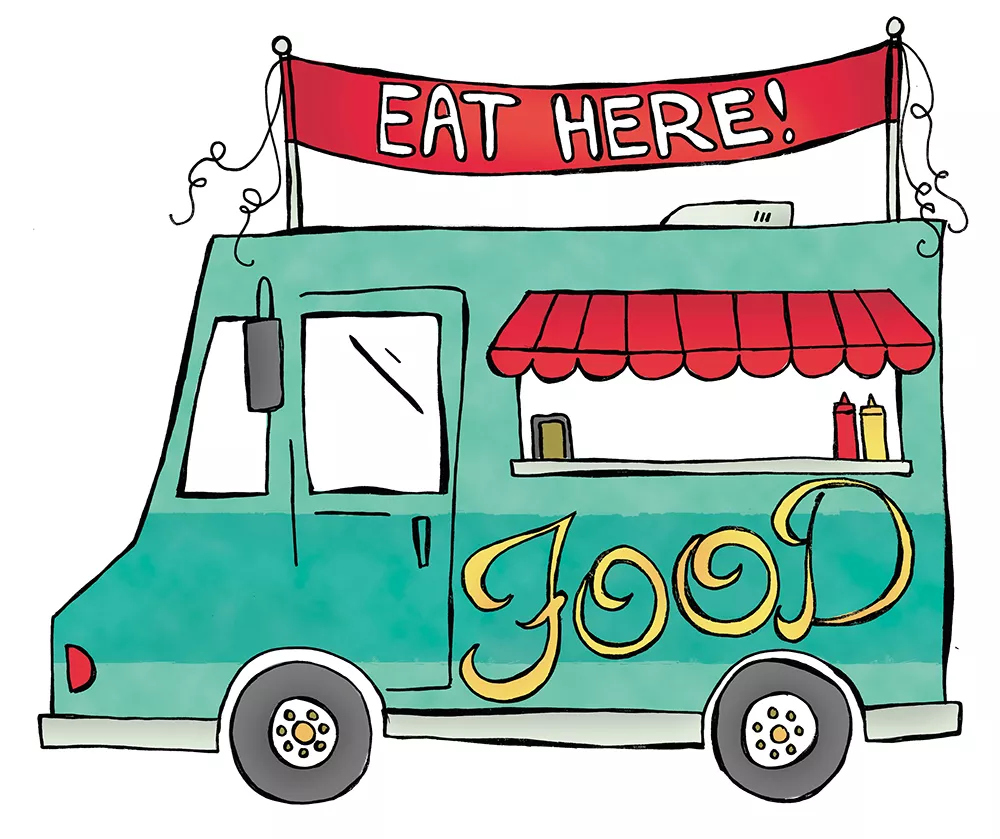 You could drive all over the city and farther, with the goal of trying the fare at each of the Inland Northwest's growing number of mobile food purveyors. It would take a lot of planning and coordination, but you won't have to do that. This weekend, 16 area food trucks are banding together to offer sample-sized portions of their street-style cuisine for the inaugural Food Truck Palooza in downtown Spokane.
Event organizer Chris Leinweber says the purpose of the Palooza is to showcase the region's growing food truck industry — offering unlimited samples at a flat price — because people are curious to see what's out there. It's understandably hard to keep track when it seems like a new truck pops up every few weeks.
With a format focused on sample-size bites of each truck's regular menu, attendees won't be able to order a full plate of food, but an adventurous eater could attempt to try something from each of the 16 trucks and two additional mobile vendors, Boyd's Coffee and the Melting Pot. Do the math, and that many 3 oz.-size samples amounts to more than 3 lbs. of food, Leinweber points out. There's also a beer/wine garden, and a full bar serving cocktails using Dry Fly's spirits. Here's a quick overview of all the trucks attending. Plan to save room for them all. (CHEY SCOTT)
COUPLE OF CHEFS
Burgers, wraps and sandwiches
Up on the Couple of Chefs chopping block are a number of high-end burgers and wraps, and something called the NC-17 Grilled Cheese (smoked Gouda, bacon and avocado tomato salsa on sourdough bread). Its owners also love to experiment, offering their latest creations as "Daily Fancy" specials. (LAURA JOHNSON)
You'll usually find them: Main and Howard, downtown Spokane; Ramblin' Road Craft Brewery; Perry Street Brewing
JAMAICAN JERK PAN
Caribbean/Jamaican cuisine
As the only place in Spokane that serves Jamaican food, this is where you've gotta go to get your fix of red beans and rice, curried chicken and cabbage salad. All side dishes are vegan; all spices imported from Jamaica. (LJ)
You'll usually find them: 4th and Cannon, Browne's Addition; South Perry Farmers Market; Riverpoint Campus
TOBY'S BBQ
Texas-style barbecue
If brisket, ribs, chicken thighs and pulled pork excite and delight you, you'll want to check out this truck with some of the best homemade smoked meats around. (LJ)
You'll usually find them: Freeman Store, Valleyford; Barney's Harvest Foods, Spokane Valley; Riverpoint Campus
KING OF TACOS
Street-style Mexican
Marinating their chicken and beef overnight in spices and fresh lime, KoT's traditional street-style tacos and burritos are cooked up fresh to order on the grill. Their carne asada is a favorite. (FRANNY WRIGHT)
You'll usually find them: Perry Street Brewing; Best Buy, Spokane Valley; West Central Farmers Market
THE PIZZA TRUCK
Pizza
Serving hot pizza by the slice, the Pizza Truck also offers personal pizzas and deals when you add a soda. (FW)
You'll usually find them: Zanies, Spokane Valley; downtown Spokane
NORDIC SMOKE
Barbecue
This military- veteran-owned and operated truck slow-smokes their chicken, brisket, ribs and pulled pork, even taking bulk orders. They also offer sides of slaw and beans to round out that plate o' meat. (FW)
You'll usually find them: Cruiser's, State Line, Idaho; Spangle, Wash.
TAZA MEDITERRANEAN CUISINE
Mediterranean/Greek
Look no further for authentic Mediterranean food than this bright yellow, flame-embellished trailer. This new truck to the local scene serves all the traditionals: baba ganoush, tabouli salad, faroush salad, tzatziki and hummus. There's also baklavas — dessert phyllo pastries filled with chopped nuts and soaked in honey — which can be ordered individually or in 10- and 20-piece sampler trays. With an online/phone ordering option, call ahead for pick up. (FW)
You'll usually find them: Based at 4120 N. Argonne Rd., Spokane Valley
TACOS CAMARGO
Street tacos, traditional Mexican
Fresh ingredients make Tacos Camargo's tacos as delicious as they are traditional. Trying their tortas is a must. The truck, newish to Spokane, already has racked up rave reviews on its Facebook page from local customers, who praise the taco salad and "Durango dog." (FW)
You'll usually find them: downtown Spokane, Ramblin' Road Craft Brewery, Perry Street Brewing Co.
DAWN OF THE DONUT
Donuts
The quirky, zombie-driven marketing of this donut shop and delivery truck only adds to the unique flavor of their treats. They've got it all: the donut-croissant hybrid, an iced-with-cereal sugar loader, and even vegan options to round out the variety. With a blood-inspired, smeary handprint paint scheme, the shop's mobile unit is easy to spot but even harder to resist. (JENNA MULLIGAN)
You'll usually find them: Spokane Valley; downtown Spokane events
LOVE @ FIRST BITE DESSERTS
Cupcakes and desserts
The cupcakes baked each morning at Love @ First Bite are creations often embedded with details such as baked cookie bits or toasted coconut. Artfully decorated and generously large, these cupcakes are an affordable model of the boutique cupcake trend. The bright red paint and colorful polka dots make the shop's mobile truck easy to spot from afar. (JM)
You'll usually find them: Riverstone Village, CdA; Northpointe Shopping Center, Spokane
BIG PAPPA'S BBQ
Barbecue, sandwiches
Big Pappa's is a no-frills barbeque joint with all the fixins'. Its massive grilled Reuben is accompanied by a long list of other barbeque sandwiches, and that's if you're not ordering the popular spice-rubbed ribs. As if the meat isn't tender and delicious enough, there is an enormous array of sauces to make your meal even messier and your fingers more lick-worthy. (JM)
You'll usually find them: River City Brewing; Deer Park; Riverpoint Campus; 12 String Brewing Co.
3 NINJAS
Tacos
This vivid green taco truck, somewhat new to the area, serves its street-style tacos on its homemade chipotle tortillas. Breaking away from the typical street-style offerings, 3 Ninja's offers eclectic, fusion-inspired snacks, like its Thai lemongrass tofu tacos, topped with lime, cilantro, a cucumber-basil salsa and Sriracha aioli. By sticking with handmade tortillas, that also means thick, crunchy handmade chips, too. (CS)
You'll usually find them: Central and Freya, Spokane; 12 String Brewing Co.; downtown Spokane
SHAMELESS SAUSAGES
Hot dogs
This inventive sausage mobile serves up exactly what it proclaims: shameless sausages. From sausages topped with pineapple and caramelized onions (the Shamess Hawaiian), to sausages garnished with pizza toppings, this truck was around before food trucks became a thing here. The cart also offers a build-your-own option. (MADISON BENNETT)
You'll usually find them: Riverside and Howard, downtown Spokane; Iron Goat Brewing Co., Kootenai County Farmers Market
THE SCOOP
Ice cream
This South Hill neighborhood gem now offers its own housemade ice cream from the window of its iconic vintage, mint-green treat truck. Don't worry — it's still selling Brain Freeze ice cream, but adding to that ever-changing lineup are some of these in-house flavors: vegan chocolate Oreo, pistachio apricot, Earl Grey and Nutella. (CS)
You'll usually find them: special events around the Spokane area; headquarters at 1001 W. 25th Ave.
THE BISTRO BOX
Street-food fusion and sandwiches
Gourmet food on the go is what The Bistro Box prides itself on. No matter what type of Kobe beef slider or sandwich you order, make sure you get something to dip it and your hand-cut fries in. The truck's housemade sauces include roasted garlic aioli, chipotle barbecue, classic fry sauce and Sriracha fry sauce. (MB)
You'll usually find them: Perry Street Brewing; Spokane Farmer's Market; Riverpoint Campus ♦
When: Sun, July 20, from 3:30-7 pm (VIP from 2-3:30 pm); Where: Luigi's parking lot, 245 W. Main; Cost: $15/advance, nwfoodtruckpalooza.com; $20/day of; $25/VIP (kids 5 and under free)