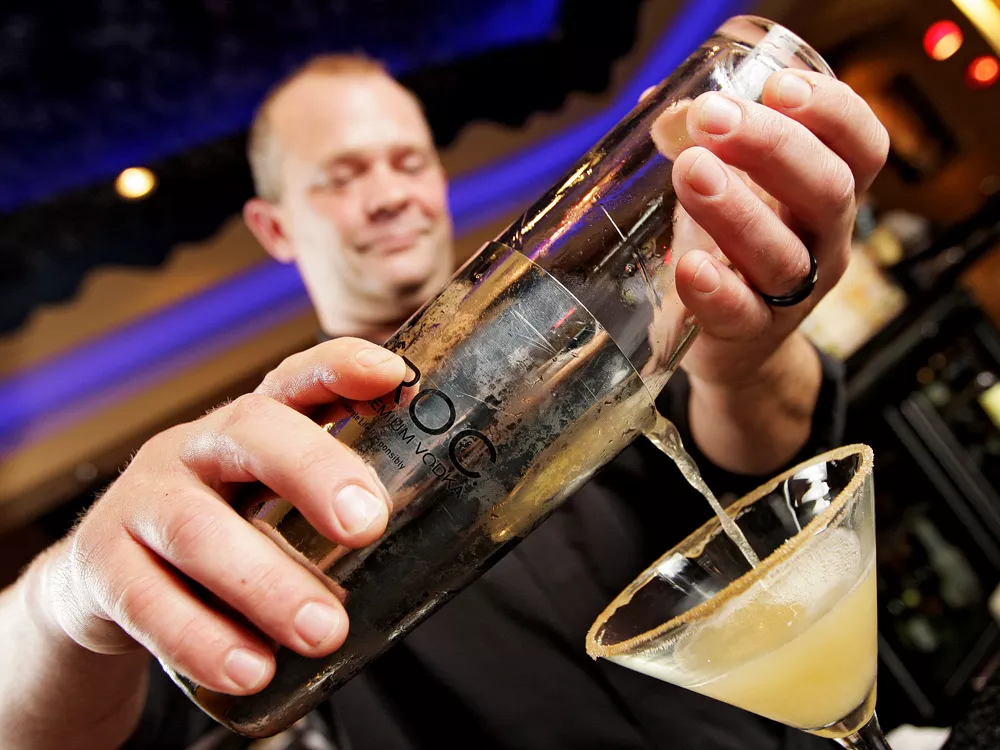 Put down the lemondrop. Back away from the mojito. Summer may have lingered a little longer than expected in the Inland Northwest, but the times finally appear to be changing. Meaning that it's time to start looking at the brown drinks — the strong, spicy, warming elixirs that will keep you keeping on in harsh weather.
This week, we asked three local bartenders to each come up with a drink — using an autumn ingredient of our choosing — to help you make the transition into fall. The fruits of their labor, which will be available at their respective establishments for the next week, are the perfect way to mark the changing of the seasons.
Drink up.
Watch Tim Goodwin make an Autumn Breeze
Autumn Breeze
Bar: Seasons of Coeur d'Alene (209 Lakeside Ave., 208-664-8008)
Tender: Tim Goodwin
Fall Ingredient: apple cider
1 shot Stoli vanilla vodka
3/4 shot butterscotch schnapps
3/4 shot Jack Daniel's Tennessee Honey whiskey
chilled apple cider
honey
korintji cinnamon
Rim a chilled cocktail glass with honey and then cinnamon. Shake together the vodka, schnapps and whiskey. Strain into chilled, rimmed glass. Top with chilled apple cider.
"We do everything seasonal," says bar manager Tim Goodwin, a 20-year veteran in the Northwest bar scene. No surprise, then, to taste the autumn in this cocktail. Butterscotch, vanilla, honey, apples. The sugary rim may not be to everyone's liking, but the sweetness is somehow kept in check. The drink brings to mind pancakes, long nights, and cold hands.
Watch Alison Collins make a Left on Maple Street
Left on Maple Street
Bar: Mizuna (214 N. Howard St., 747-2004)
Tender: Allison Collins
Fall Ingredient: maple syrup
For the spiced maple syrup:
Heat 1 cup maple syrup with three cinnamon sticks, 2 teaspoons fresh ginger, and 2 teaspoons whole cardamom. Bring to near-boil, remove from heat and let cool. Strain.
For the spiced-maple candy:
Heat 1 cup of the spiced maple syrup to hard-crack stage. Pour onto oiled pan. Cool. Break into shards.
For the drink:
1 2/3 ounces Courvoisier cognac
1/3 ounce Fernet Branca
1 teaspoon spiced maple
squeeze of lemon
maple candy garnish
Add first four ingredients into shaker. Shake vigorously. Strain into chilled cocktail glass. Add maple candy garnish.
A drink that embraces the change in seasons, bar manager Alison Collins' Left on Maple Street starts as bitter as the end of summer, with the tang of the lemon and an edge from the Fernet Branca, a complex Italian herbal digestif with a bitter kick. But as the suspended bits of ice melt — and Collins' homemade spiced-maple candy garnish begins to leach its flavors — the drink becomes sweeter and more warming. By the last swallow, you're deep into autumn, with a wash of apple cider and pumpkin pie flavors.
Watch Paul Samson make an Autumn Eve
Autumn Eve
Bar: Sapphire Lounge (901 W. First Ave., 747-1041)
Tender: Paul Samson
Fall Ingredients: ginger and cranberry
1 1/2 ounces Woodford Reserve bourbon
1/4 ounce Fernet Branca
1/4 ounce Domaine de Canton ginger liqueur
1 teaspoon dark brown sugar
2 dashes aged Angostura bitters
2 dashes Fee Brothers black walnut bitters
2 whole cranberries
Muddle together in a mixing glass the brown sugar, bitters and Fernet Branca. Add the liquor and stir vigorously (about 50 stirs). Serve neat, in an Old-Fashioned glass. Garnish with cranberries.
For further proof that big-city cocktail culture is (finally) coming to Spokane, look no further than bar manager Paul Samson's drink list — one of the most innovative in the Inland Northwest. The list calls on a number of obscure, hard-to-find liqueurs and offers several twists on old-fashioned drinks — including this unusual, autumnal twist on an actual Old-Fashioned, which uses three boutique bitters in place of the usual Angostura and swaps in brown sugar for a white sugar cube. The result, served at room temperature in an elegant tumbler, is the ideal warmer — bone-tingling, complex, a little nutty — for the dark days ahead.