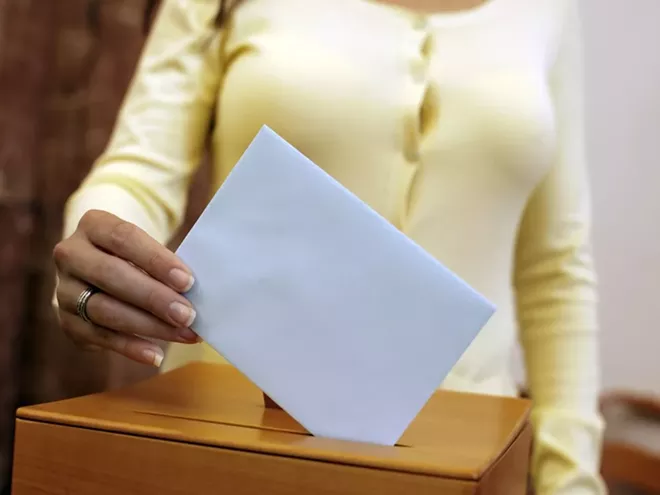 IN THE MAIL
Ballots arrived in mailboxes last week, with voters being asked to vote on multiple TAX MEASURES by April 25. All Spokane County voters will be asked if they want to renew a 0.1 percent sales tax (10 cents per $100 purchase) that has helped pay for emergency communication systems and facilities since 2008.
Some of the proceeds are used to pay for Crime Check, a 24/7 service where people can report non-emergency calls by calling 509-456-2233. If people call 911, those non-emergency calls can also be routed to Crime Check.
The money has also paid for ALERT Spokane, an emergency notification system that people can sign up for to get emergency messages by phone when their home or business might be at risk, as well as other communications upgrades. The current tax is set to expire in 2018 if voters don't approve the measure.
Spokane voters will be asked if they want to increase the regular property tax levy by 7 cents per $1,000 of assessed value starting in 2018 to pay for library operations. This would increase the annual levy by $12.25 a year for a home assessed at $175,000.
The increase would stay in place, above the amount allowed by state law, for seven years, and the total levy rate would not exceed $3.52 per $1,000 of assessed value.
Ballots must be postmarked by Tuesday, April 25, or placed in a drop box by 8 pm that day. (SAMANTHA WOHLFEIL)
DON'T CALL IT A 'SANCTUARY'
Washington Attorney General Bob Ferguson's 100-page document outlining how local governments can safely navigate federal IMMIGRATION policy starts by quoting the 2012 Supreme Court decision in Arizona v. United States: "It is not a crime for a removable alien to remain present in the United States."
In response to President Donald Trump's executive orders on immigration and resulting confusion among Washington governmental organizations, Ferguson is providing some direction and "best practices" for schools, hospitals jails and employers.
Generally, the state AG's Office says, state and local governments are not required to record the immigration status of their citizens, nor provide it to the federal government; however, outright bans on sharing certain information with the feds are mostly not allowed under federal law. Some of the guidance:
POLICE: Local police, Ferguson advises, should not arrest people solely for violation of federal immigration laws. A Spokane law passed in 2014 bars city police (and city employees) from asking about immigration status unless officers also suspect that person committed a felony or had been previously deported. SPD had a similar internal policy on the books for a decade prior.
SCHOOLS: K-12 schools are not required to ask students and parents about immigration status, and where possible, Ferguson says, should not do so. Colleges and universities that participate in student exchange programs, however, may be required to report student visa violations. However, institutions of higher education are not required to know whether a student is undocumented, and "students/parents should never be required to disclose that information."
BUSINESSES: Employers should ask federal immigration agents to see a warrant before letting an agent into a private business.
Earlier this year, Trump signed an order announcing that cities refusing to comply with federal law — referred to as "sanctuary cities" — will lose federal grant funds. City leaders have contended that Spokane does not fit that definition. (MITCH RYALS)