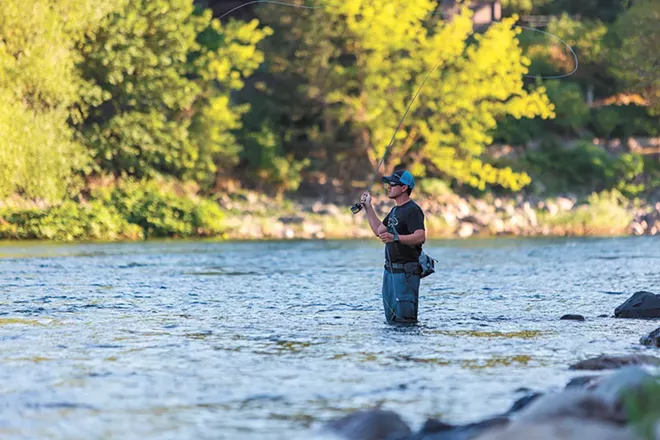 As a kid, fishing was like an activity custom-designed to encompass everything I hated.
You had to be outdoors, full of sharp sunlight rays and itchy bugs and sneezy pollens, far away from Star Wars novels and Star Wars computer games. You had to be on the water, cold, wet, foul-tasting water.
You had to hold a fishing pole and just sit there, waiting, absolute torture for my budding ADHD childhood brain. And then there were the false alarms. Is that a fish?! No, it's just a strand of seaweed. Is that a fish?! No, it's just wishful thinking, weighed down by all the dissolved lead in Coeur d'Alene Lake.
My last time fishing came during a miserable camping trip with Boys' Brigade, a low-budget Christian off-brand equivalent of the Boy Scouts. I borrowed my little brother's fancy fishing pole and left it on the side of the beach. I came home in tears. Not only had I failed to catch any fish or have any fun, I failed my little brother and lost something he'd entrusted me with. From then on, the only fishing I did was inside Legend of Zelda.
So why, over two decades later, am I interested in fishing again? It has less to do with the activity itself than the magic of food. I love cooking fish. Cod poached with white wine and cherry tomatoes! Salmon slow-roasted on a bed of herbs! Fish and chips!
But what would be really cool — and I know this seems crazy — is to catch a fish myself in the untamed wilderness instead of in the untamed aisles of the Grocery Outlet freezer section. Then I could kill it and cook it and eat it. Like I'm Aragorn in Lord of the Rings or something.
And while some people might get squeamish at the notion of killing a live animal rather than thawing out pre-killed animal in your apartment fridge, to me it feels more noble, more ethical, almost romantic. This is how nature is supposed to be.
If bears do it, I figure, so can slightly less hairy omnivores.