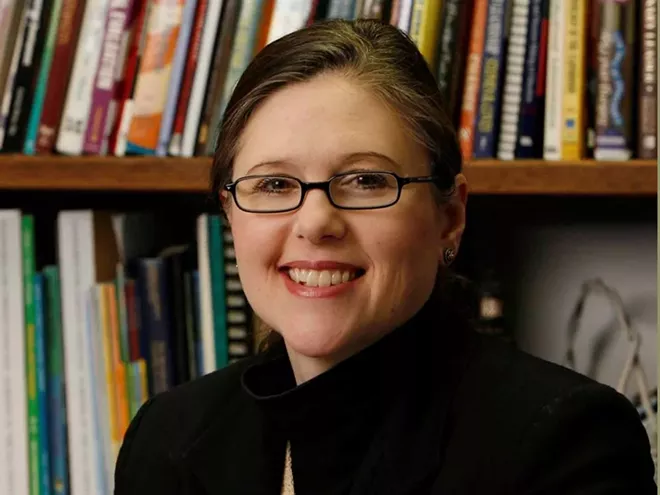 Only two candidates for superintendent of Spokane Public Schools remained, and teachers, parents, custodians and educational activists came to two public meetings last week brimming with questions for them. They delved into bullying, the teaching of math, the decline in the instruction of grammar, the protection of foster children, and the role of school nurses.
At both meetings, five school board members — at the far back of the cafeteria — quietly took notes as the two candidates responded in very different ways.
A one-time elementary school teacher, candidate Shelley Redinger talks like a one-time elementary school teacher. She speaks carefully, with a slow and steady rate. She smiles and laughs. At 44, she's comparatively young for a superintendent, but she's been an administrator in four different states in the past 14 years. (Her last stint was in Spotsylvania, Va.)
"I believe in a balance between centralization and decentralization," she says. "I'm not known as a top-down leader."
Her style clearly contrasted with that of Alexander Apostle, the 64-year-old superintendent from Missoula. Like an experienced politician giving a stump speech, he stayed on message — "Graduation Matters" was the slogan splashed across billboards back at Missoula — and dished out applause lines. After complimenting the district for its improvement, he said Spokane's 75 percent graduation rate still wasn't good enough.
"That means that 25 percent of kids aren't making it," Apostle said. "In this country, there's no excuse for it. This is the United States of America. The land of opportunity."
Two days later, the board Shelley Redinger of directors picked Redinger.
Her biggest challenge, she says, will be navigating new budget cuts. While she names several things she thinks are important to protect — like athletics, drama, and the arts — she declines to name any areas to cut.
"I'd have to look at the entire budget," she says. "The first things to go are gone. Now it takes a lot more thought and conversation."
While Apostle's focus on graduation rates may have seemed more specifically tailored to Spokane Public Schools' recent intensive efforts, it was Redinger's priorities — improving teachers' skills, reaching out to the community, and improving early education — that the school board found compelling.
"What we realize is that, if you're going to truly make a long-term big difference, you have to get started down in the K-3 grades," school board president Bob Douthitt says.
In Missoula, Apostle was known for big shakeups — the roll-out of the international baccalaureate program, the replacement of 15 out of 17 principals — and the sort of backlash that comes from big shakeups. Some, like the Missoula school board trustees, found his passion and success inspiring, others exhausting.
By comparison, Redinger's experience had been quieter. Asked to name her biggest moment of controversy, she struggles to think of an example. Coverage after she left the Oregon Trail School District focused on her positive relationship with the union, how she improved test scores, and how the Oregon Trail district finally passed its bond.
Whenever she's asked about curriculum controversy — like how to teach math, grammar or cursive writing — she talks about balance and community input. While in charge of curriculum for the Richland School District, in the Tri-Cities, she supported abstinence as the top focus in sex education. But she says that her goal was for the materials to reflect the desires of the Richland community. In a different community, she says, she may have chosen a different curriculum.
In the last few days, however, she has hit controversy. When she moved from Oregon Trail to the Spotsylvania school district, in Virginia, it cost Spotsylvania more than $20,000 in moving costs. Since she only spent one year at Spotsylvania before leaving for Spokane, one Spotsylvania board member wants her to compensate the school district for those costs.
Despite her short tenure at Spotsylvania, she says she wants to stick around Spokane far longer. She moved to Spokane partly to be near her mother whose health is deteriorating.
"I need to stay in a place, to really show the amazing things we can do," she says.
She starts in July.