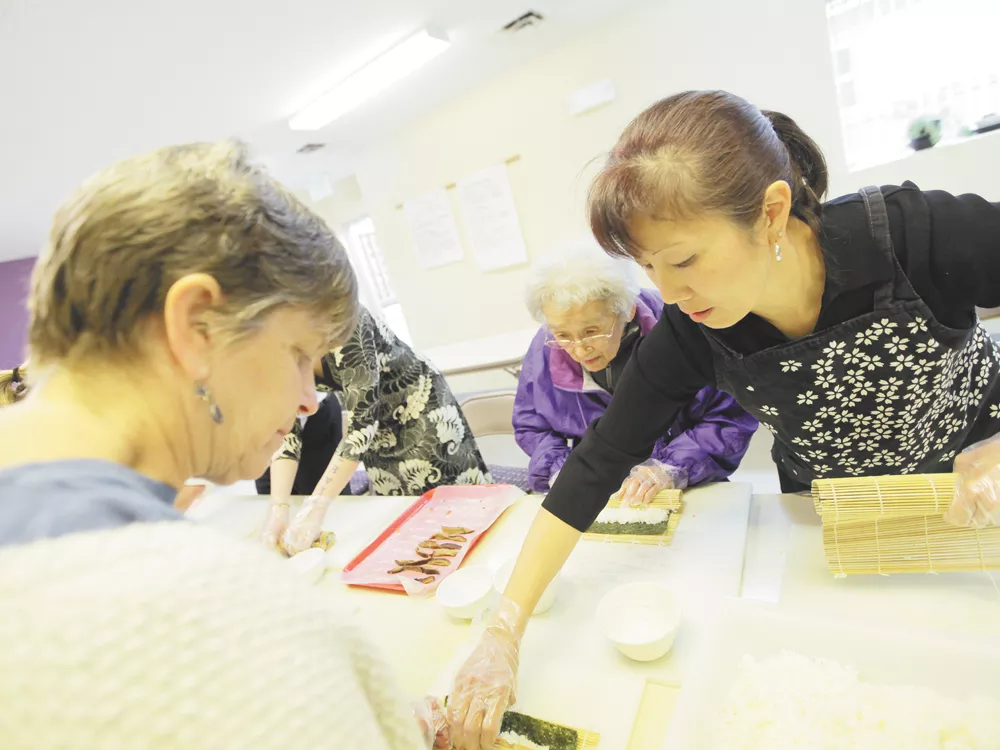 Before the beginning of Sunday's service at the Spokane Buddhist Temple, Jun Yugawa pauses for a moment and asks, "Is the oven on?"
Mari Haworth, the temple treasurer, says it is, indeed, on. That's good, because Yugawa, the temple's master cook, and 50 other volunteers have a lot of cooking to do this week in preparation for Aki Matsuri, the temple's fall food festival.
Haworth tells those gathered that 500 yakisoba bento box dinners must be prepared in time for the Nov. 4 festival, so she calls for volunteers to sign up for shifts and lets everyone know that a sushi and mochi making class will happen right after the service. Announcements cease. The kansho, a Japanese calling bell, tolls. The sangha, or gathering, chants. All the while the scent of peppery ginger rises from the basement kitchen below.
After service, Eileen Tanaka slices warm butter mochi in the basement kitchen. The sweet cake is made from rice that has been pounded into a firm yet gelatinous consistency. This sweet mochiko is then mixed with eggs, vanilla and flaked coconut, baked and served as a dessert. She has also prepared a similar dish made from green tea. Other post-service offerings include senbei crackers — spicy, salty, sweet and crunchy — that can satisfy every craving anyone could ever have. When asked if the food has any connection to Buddhism, Tanaka describes the dishes as culturally Japanese but goes on to explain that it is "difficult to separate between culture and religion."
Buddhism came to Japan 1500 years ago and the Shin Buddhism practiced there is distinct from Tibetan Buddhism and other denominations. This form, which emphasizes gratitude and compassion, is practiced by members of the Spokane Buddhist Temple. Sensei Paul Vielle says that congregants learn "to appreciate a wisdom of oneness — everything is dependent on everything."
A dozen or so members of the congregation, each with a bamboo sushi mat laid flat in front of them, stand behind a folding table laden with neatly separated plates of ingredients: bright green, steamed spinach; strips of golden egg; slick, tan pickled casaba gourd; pink shrimp crumbles; black shiitake mushrooms; and a large casserole dish filled with white rice. The futomaki sushi that the class is preparing today is a practice run for the sushi rolls they will make and serve on the day of the festival.
Some participants are learning the skill for the first time, while others, like Fumi Uyeji, have been rolling sushi, it seems, she says, forever. The octogenarian smiles when she recalls the number of years she has been rolling sushi for the Aki Matsuri Festival. She thinks maybe 30 years, but she has been a member of the Spokane Buddhist Temple for far longer than three decades.
The temple opened on Cowley Street in 1945, a year when most Americans weren't exactly enamored with Japanese culture. The six original members were Japanese-Americans who had been released from internment camps after the end of World War II. Uyeji's father, who had owned a restaurant in Portland before the internment, arrived in Spokane from Lewiston after his release. He worshipped at the temple and worked as a night cook at the Davenport. Unlike temples in larger cities along the coast, the congregation in Spokane remained small and exclusive. This changed by the mid-1950s when the congregation, still primarily Japanese-American, reached 300 members. The children of the internees moved away and by the 1970s the temple's demographic shifted to non-Japanese members — a change still in evidence today. But during Aki Matsuri, all of the temple's diverse members return to the temple's Japanese culinary roots.
Jun Yugawa stands in front of an 18-inch wok in the temple's kitchen. The wok will soon be put to work turning out serving upon serving of yakisoba — a wheat noodle dish full of cabbage, celery, green onion, mushrooms, chicken (there will also be a vegetarian option) and flavorful sauces. Yugawa tells me that Buddhism is a questioning religion, not a proselytizing one. Still, if you come to the fall festival you can get a tour of the temple.
More importantly, though, you can partake of freshly made sushi, yakisoba and the delectably addictive senbei crackers. The all-volunteer sangha is dependent on fundraisers for support and is grateful for the contributions they receive each year. Haworth finds that each year she goes home without a bento box of her own; she always ends up giving hers up for the cause. Plan ahead by ordering your meal online at the temple's website.
"Last year," says Haworth, "we were sold out by two in the afternoon."
Aki Matsuri Fall Food Festival • Sun, Nov. 4 from 11 am to 3 pm • Spokane Buddhist Temple • 927 S. Perry Street • 534-7954 • Spokanebuddhisttemple.org