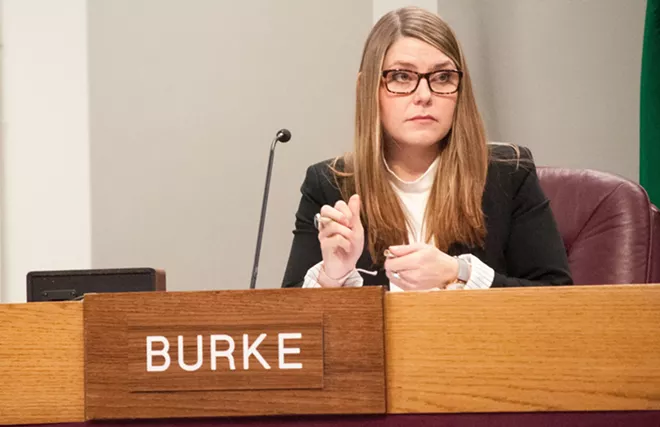 In this market, a rent increase of $100 — like the one City Councilwoman Kate Burke says tenants are facing at Vintage At Spokane apartments near Holy Cross Cemetery — are not unusual. But when you're on a low fixed income like many of the seniors at Vintage, Burke says, $100 extra a month can functionally be an eviction. That's why Burke and local tenants groups are holding a tenant town hall, on Thursday, June 20, at 6 pm.

The Vintage apartments are subsidized by tax credits, which pegs the maximum allowable rent to a percentage of Spokane County's median household income. And since the median household income in Spokane County has been increasing lately, rents can, too.
In an email to Burke, Valeri Pate with the Washington State Housing Finance Commission said that she'd spoken with the Vintage apartments' management company and was assured that the property managers would reach out to the residents to make sure they understood what was going on.
"The property management company also assured me that the property ownership considers rent increases carefully, and has tried to be sensitive to the needs of residents," Pate wrote. (A representative with FPI Management did not immediately return a phone call request for comment.)
While a recent state law requires notifications be given to tenants 60 days before hiking rents, there's an exception for subsidized building. In low-income units like these, only 30 days of warning are required before raising rents.
With the low-vacancy rates spiking rents across the county, Burke says the city is in a "housing crisis and something needs to change."
Housing costs are a prime driver of homeleness, Burke points out. According to a 2016 Washington State Department of Commerce presentation, a $100 rent increase throughout the state would result in 2,900 additional people being homeless.
"Maybe there are ways to make laws a little bit better so this doesn't happen," Burke says. "I would love to do inclusionary zoning, where developers have to put a certain percent of affordable housing in their units."
Burke also says she'd like to do a housing levy to raise money for more affordable housing.