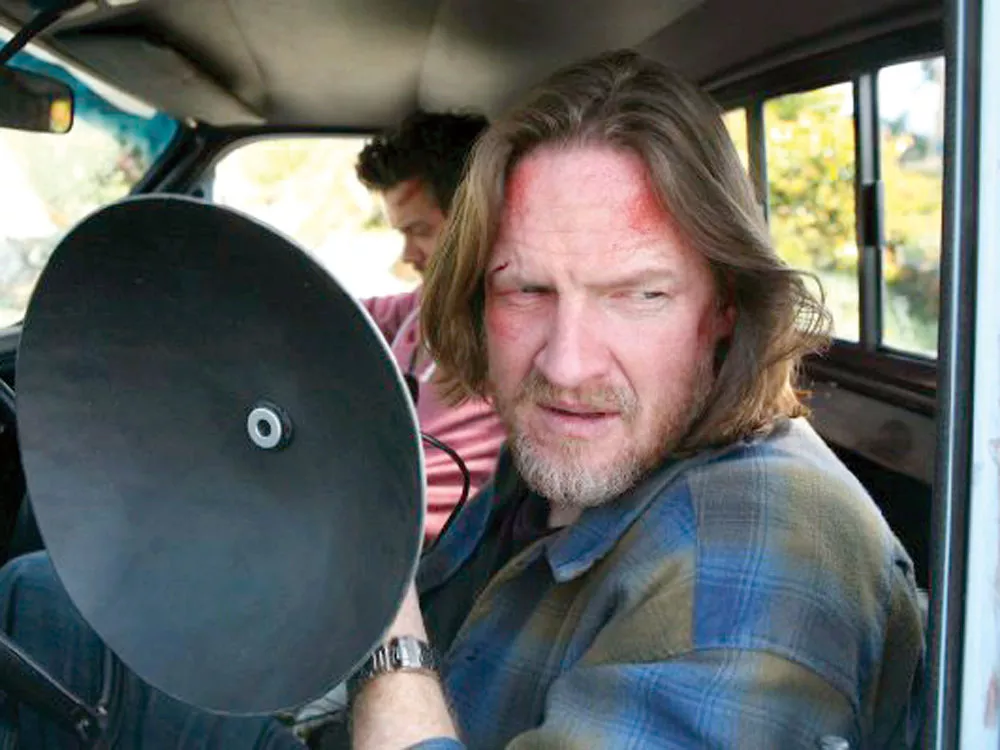 Terriers may not be a show about dogs, but it comes with a pretty amazing pedigree.
It's created by Ted Griffin, the writer of one of the most fun, easy-going-banter movies ever created: Ocean's Eleven. It's produced by Shawn Ryan, the mastermind behind The Shield, the best loose-cannon cop drama ever. It's on FX, the TV network with perhaps the best record for consistently high-quality original shows.
In its first episode, however, Terriers attempts to achieve greatness through amiability instead of intensity.
This is not The Shield. This is not Law and Order. This is The Big Lebowski.
Hank Dolworth (Donal Logue, The Tao of Steve) and Britt Pollack (Michael Raymond-James, True Blood) are struggling unlicensed private detectives who, inevitably, get caught up in cases way over their heads.
It's a classic film noir setup — poor detective barely able to make rent stumbles up against the rich and powerful underworld. But Terriers does this with flannel instead of fedoras, with easy-going patter instead of hard-boiled monologues. The whole thing has a shaggy blue-collar feel. Dolworth and Pollack's effortless chemistry makes exchanges like these far more entertaining:
Dolworth: "Hey, I need your help with something. Tune popped into my head this morning … For my life, I can't remember the name of it" Pollack: "Oh no. Come on. I'm hungover. I'm asking nicely."
Dolworth: "Bum bum bum … bum bum bum bum." Pollack: "Goddamn it, now it's going to be stuck in my head all through this."
But even within Terrier's lackadaisical pacing, seeds of serialization are planted. Logue hurls a murder accusation at the man who just hired them — a greedy, corrupt real estate developer. (On television and in the movies, is there any other kind?) "I'm going to destroy you … and I just wanted you to know that," Dolworth says. Then, as he walks away, he clears his throat: "And I'm still going to cash the check."
So Terriers has two options: Become a pretty entertaining procedural in a television landscape already brimming with them — or go serialized. Let our heroes learn what happens when they anger the wrong people. Let the class war begin. Let the scrappy underdogs nip at the heels of the wealthy and privileged. And watch the wealthy and privileged bite back.

Terriers (Wednesdays, 10 pm, FX)
---
TIVO-WORTHY

Boardwalk Empire
In the pulpy times of True Blood, Hung, and Entourage, we miss the ambitious days of The Sopranos, Deadwood and Rome. Boardwalk Empire, however, sets us down in the 1920s, where Atlantic City is overrun with corruption, gangsters and underground liquor dens. Starring professional bug-eye Steve Buscemi, the whole thing gives off a major Martin Scorsese vibe. Fitting, then, that the pilot is directed by Scorsese. (HBO, Sundays, 9 pm)
Hellcats
It's Glee meets Bring It On meets Gossip Girl. And, if reviews are to be believed, this smart-girl-becomes-cheerleader-for-the-scholarship show is just that. Nothing more. (CW, Wednesdays, 9 pm)
Nikita
In the old television show Alias, a young attractive female spy begins working against her evil employer after that agency has her civilian lover, Danny, killed. The new television show Nikita is much different, however. In Nikita, a young attractive female spy begins working against her evil employer after that agency has her civilian lover, Daniel, killed. OK, so Nikita is derivative. But at least it's not derivative of La Femme Nikita, the film/TV series it's actually based on. (CW, Thursdays, 8 pm)