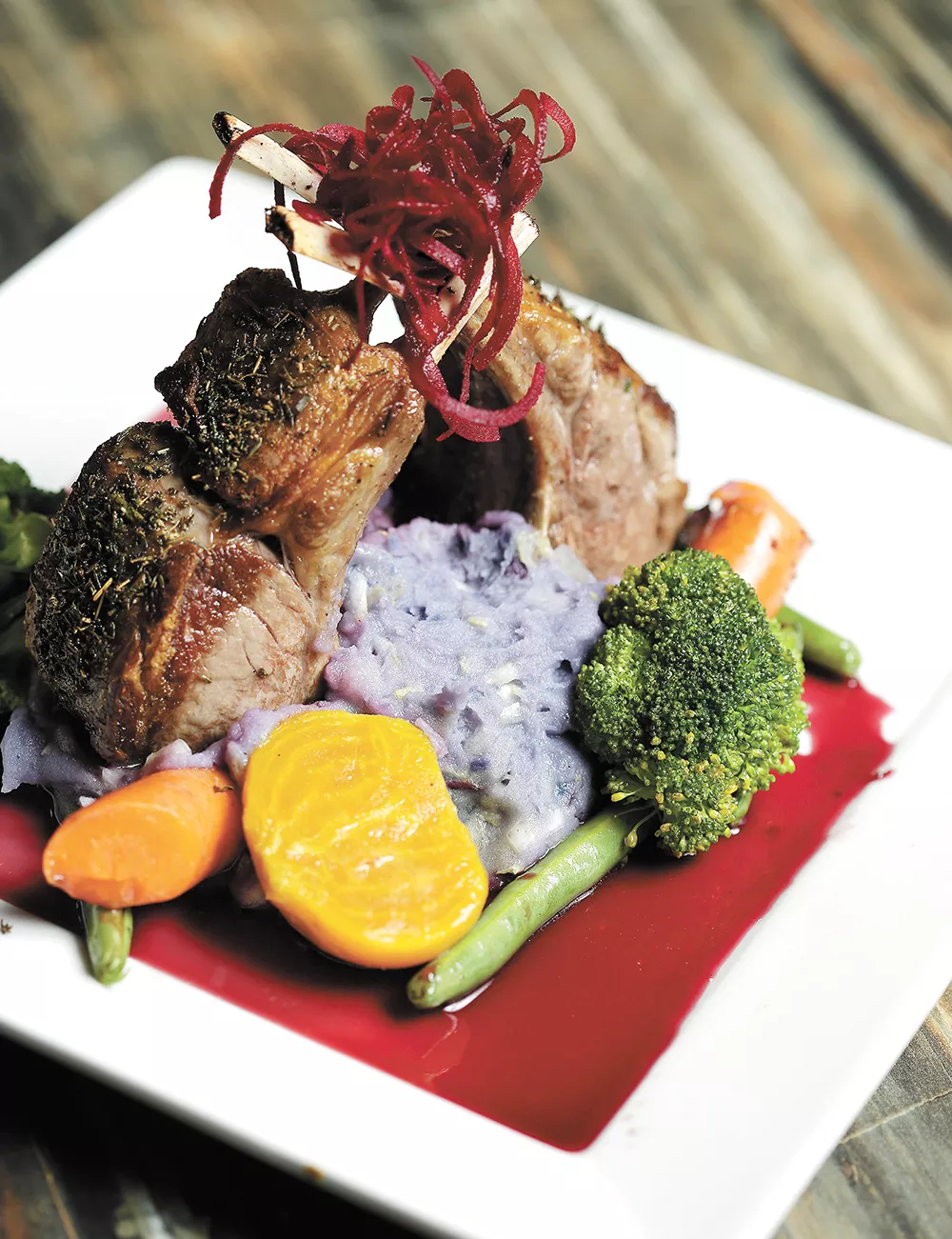 Ah, potatoes. They may not look like much — oddly shaped and dull in color compared to the rainbow extravaganza bestowed on other fruits and vegetables — but they're an absolute powerhouse of potential.
One of the few crops grown in all 50 states, year-round in some regions, this hardy tuber is the fourth-most-consumed crop in the world after rice, wheat and corn. When stored properly, many varieties can last up to a year.
Nutritionally, a single potato provides 45 percent of the daily recommended value of vitamin C; it also has more potassium than both bananas and broccoli, and is a good source of iron, vitamin B6 and other trace minerals. They're low-calorie, with negligible fat and plenty of fiber. And for cooks, potatoes are extremely versatile: boil or steam and serve whole, cut or mashed; slice whisper-thin, julienne or cube; fry, bake, sauté, braise, and even eat raw.
The impending holiday season might suggest that potatoes are only good for one thing: mashing, to be served in a cream-colored mound slathered in butter, or surrounding a lake of gravy. Determined to give spuds their due credit, we checked in to see how several area chefs make the most of Solanum tuberosum, as well as where to find some unusual varieties from local growers.
Caleb Bishop, owner of North Idaho Bagel Co. (facebook.com/northidahobagelco), uses potatoes in his bagels, which range from the "everything" to jalapeño bacon cheddar and lemon blueberry.
"I purée fresh Idaho potatoes, water, and flour to gather wild yeast," (basically the beginning process of making sourdough), says Bishop, who credits his mother and grandmother with kindling his interest in both cooking and science.
"The potatoes act as a natural dough hydrator, which keeps our product staying fresh much longer, without using chemical additives," says Bishop, who offers online ordering and delivery while he works out the details of a permanent location in Pinehurst, Idaho.
Fresh or dehydrated, potatoes are also an ideal thickening agent, says Paragon Brewing (paragonbrewing.com) chef Ryan McDonald, who uses Yukon Gold potatoes to make a thin yet sturdy potato crepe for his Boxty Pie, as well as the pie's filling of beef, potatoes and veggies. He then tops the pie with a Scotch ale demi-glace for what's become a wildly popular dish at this north Coeur d'Alene brewpub.
Boxty Pie is classic Irish fare from a country we've come to associate with potatoes (even though they actually originated in South America, which is home to some 3,000 varieties of the versatile tuber). Look to the Gaels for ways to maximize potatoes — soup, pie, hash, even candy — including combining them with other hearty ingredients to stretch the meal even further.
Colcannon, another Irish classic, combines potatoes with cabbage, a vegetable nearly as versatile as the potato. At Satay Bistro (sataybistro.com) in Coeur d'Alene, the "Beef and Chops" portion of the menu is filled with mentions of the root veggie; the espresso-rubbed steak, bourbon blueberry tenderloin and pork chops all showcase the Western trinity of meat, potatoes and vegetables.
As a side to the herb-encrusted rack of lamb, Satay chef and co-owner Robbie Elder uses purple potatoes and Napa cabbage, plus golden onion and cream, for his version of colcannon, a chunky and visually startling mash. Unlike some potatoes, whose color is only skin-deep, most purple potatoes are colored through and through. Colcannon can be made with many potato varieties, including Yukon Gold and Russet. Kale and Brussels sprouts can be swapped for cabbage, and by adding chopped boiled beef, you're en route to making English "bubble and squeak."
At downtown Spokane establishment Central Food (eatcentralfood.com) chef-owner David Blaine is particular about his potatoes, having spent his life in the two leading states for U.S. potato output: Idaho and Washington. The southern Idaho native appreciates fingerling potatoes because they hold their texture, yet are still creamy.
Fingerlings look like smaller, elongated potatoes and should not be confused with "new" or young potatoes, which refer to age, not variety. True fingerlings range from 1 to 10 inches, with a typically waxy and edible skin (they don't require peeling).
To accompany his pan-seared Idaho trout, Blaine uses Austrian Crescents and Russian Banana fingerlings, and relies on Full Bushel Farms in Medical Lake and Olsen Farms out of Colville. When he talks about recipes with Olsen Farms matriarch Merna Olsen, Blaine says she often recommends which potatoes would work best for a dish.
"She's a potato sommelier," Blaine jokes.
Olsen Farms, which also sells sustainably raised lamb, pork and beef, offers several dozen varieties of potatoes available seasonally at Spokane-area farmers markets, year-round in Seattle, and occasionally at Huckleberry's Natural Market.
Coming up on Monday, Nov. 18, another local grower, Tolstoy Farms, will deliver the last of its autumn harvest to customers who've preordered produce (the deadline to do so is Nov. 16). In addition to squash, pumpkin, rutabagas and onions, they'll have 5- to 25-pound allotments of select potatoes: Red Norland, Carola (similar to Yukon Gold), as well as Red Thumb fingerlings, which have a reddish flesh (imagine pink mashed potatoes on your holiday table.)
When it comes to using potatoes in new ways, all it takes is a little imagination. Take example from students at the University of Idaho's Margaret Ritchie School of Family and Consumer Sciences, who recently competed to create Thanksgiving-themed recipes combining unusual ingredients. Using mashed potatoes (and with no cookie-baking experience), students Morgan Pearson and Dana Kujala created an impressive chocolate lava cookie, featuring dark chocolate and Yukon Gold potatoes to represent the University's signature black and gold colors. Find their recipe and other creative combos, all ideal for holiday dining, at uidaho.edu/tday-recipes. ♦