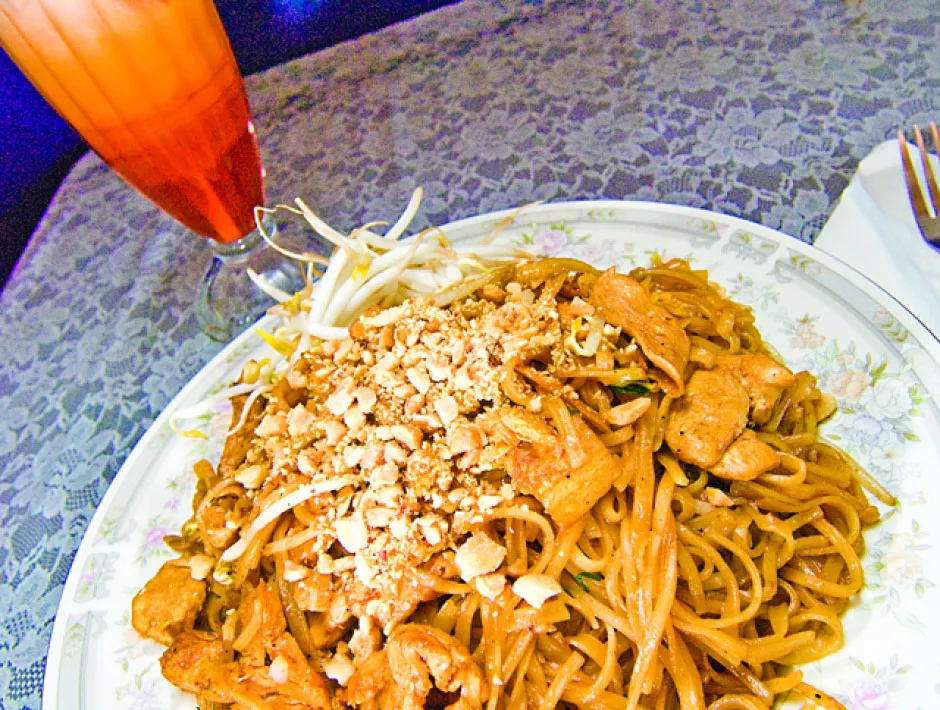 Although it's been around for nearly a decade, Thai Grill has recently changed hands. And after a trip to Thailand last fall, that's all the excuse I need to indulge in a red curry fix.
Thai silk fans decorate the walls, along with elephant paintings, river scenes and plenty of photos of the Thai king. There's a stack of Thai fashion magazines to browse through while you're waiting for your meal and several small shrines holding incense and marigolds next to pictures of Buddhist monks. "They are an offering for prosperous business," explains owner Pat Sisombath, who bought the restaurant about a year ago.
When we went, it was mostly a one-woman show. Sisombath, who is originally from Laos, darted in and out of the kitchen, checking on the sizzling sounds coming from the wok as she single-handedly prepared our dishes and waited on tables.
There's nothing over $10 on the menu, which has helpful pictures if you don't know your Gaeng ped from your Gaeng panang. Flecked with carrots and purple cabbage, the chicken spring rolls ($7) were peppery, crispy and surprisingly light. When asked about the menu's five star "body heat" rating system, Sisombath assures us "Thai food is not as spicy as you think."
Since I was dining with my kids, I decided to play it safe and asked for one star. The rich red curry with basil and chicken was fresh, flavorful and carefully prepared. And spicy.
Not Spokane spicy, but Thai spicy.
Even the traditionally mild Pad Thai noodles had a bit of a kick. Thai Grill isn't watered-down for American palates — it's big on flavor and reminds me of Thailand, where dishes are "medium" or "hot" and mild refers to the climate not the cooking.
I'll be back to try the barbecue chicken, numerous salads and black rice pudding with coconut milk for dessert. (KIRSTEN HARRINGTON)
Thai Grill, 101 N. Argonne Rd. Suite E, is open Mon-Fri, 11 am-8:30 pm, Sat-Sun noon-8:30 pm. Call 927-3713.
World-Class in Spokane
On May 23, a Sunday night, 66 people will drive past the old warehouses lining West Pacific Avenue in downtown Spokane and pull up at number 117. Valets will take their cars as they slip in a nondescript door. Inside is the White Room, and waiting for each guest will be a flute of Cristal champagne.
They have arrived for an event called simply "15." Over the next four hours, each guest will experience 15 courses of food paired with 15 different wines. The price? A bit more than 15: $300 a seat.
While 15 is obviously not designed for every budget, it could actually be considered both groundbreaking and a bargain. For years, those in the Inland Northwest who are passionate about cutting-edge dining experiences have needed to book a flight to Chicago and make a reservation at Alinea for an evening like this one.
"Spokane is ready for this," says Brad Greene, a member of the team pulling 15 together. "We wanted to challenge the idea that you need to go to L.A. or Chicago to have an experience on this level. We'll bring it to you."
Chef Jeremy Hansen will be the chef for this first 15, and he has already put in more than a hundred hours developing a menu that will make the food-obsessed hyperventilate. The Website www.experience15.com lists all 15 courses, but here is just one: Prosciutto and Melon Ravioli, Lavender and Honeysuckle Pillows. Upland Cress and Bulls Blood Salad. Honeysuckle Foam.
Most of the food served will be extremely local, coming from within a 30-mile radius. Ten percent of each ticket sold will go directly to support Ronald McDonald House, and the 15 team is not planning to make any money on the event.
"Everything that comes in will be spent to make 15 something you will be talking about for a very long time," Greene says. (KEVIN FINCH)

For tickets to 15, visit experience15.com