T
he puppet's felt hair bounces
as she stage-whispers to the other puppets, almost conspiratorially, about their plans.
"Do you know, that we're still not supposed to be together!" the puppet says, in a video
posted Saturday on Spokane's local Covenant Church's YouTube account.
"D'you know that while no one's watching, we talked about how we were going to meet. Y'know what I'm saying?"
Indeed, at Covenant's church service on Sunday, May 3, the doors are open to the public.
Assistant Pastor
Gabe Blomgren begins with a short clip of REM's "
It's the End of the World As We Know It," and a joke about the "tinfoil hats" of former Spokane Valley city council members Mike Munch and Caleb Collier — both in the audience — before putting a PowerPoint slide titled
"Covid-19: What have we learned so far."
"Government is 'essential,' we found out. We
know
they're not,"
Blomgren says. "
Businesses are 'expendable.' Come on, somebody boo."

The crowd boos.
He pulls up an image of Washington state Gov. Jay Inslee's phased reopening plan, pointing to the section where religious services are still banned in Washington state.
"We're breaking the law right now. Give yourselves a hand," Blomgren says, to a round of whoops and applause. "For us? We do exactly what Pastor Ken says. We obey the Constitution."

Pastor Ken Peters, the pastor who made headlines and triggered Spokane City Council legislation earlier this year due to his monthly Wednesday evening church service protests held outside the local Planned Parenthood. And now, he's officially become the latest pastor in Washington state to defy Inslee's stay-home order.


"I don't think I'm in rebellion," Peters tells the
Inlander
. "I think Gov. Inslee is in rebellion. I think Gov. Inslee is disobeying the laws of the United States and not upholding the Constitution that he swore on a Bible to uphold."
As Washington and Idaho
both sketch out
their strategy for reopening the economy, the treatment of churches has become one of the starkest contrasts. In Idaho, churches are one of the first institutions to be allowed to reopen. In Washington, they're one of the last.
Covenant Spokane and Moses Lake WA had actual services yesterday for those who were ready to brave the virus. It was wonderful Submitting to God, while Protected by our Constitution.

— Pastor Ken Peters - TCAPP (@PastorKenTCAPP) May 4, 2020
<!———StartFragment———>
It's not the first time Peters's church services have had a live audience during the shut-down.
In April, he held a small "Church at Planned Parenthood" demonstration, while gatherings of all kinds were outlawed, though Peters claims it was "
technically an online service" with only a couple of people in attendance. And in a video of Covenant's April 26 service, after he announces that he was going on a "national tour" that week to hold church services at Planned Parenthoods across the country, you can hear an audience applaud.


"It's good to hear you clapping your hands," Peters says. He says he didn't officially invite them, but he didn't turn them away either. In fact, he revels in the cheekish defiance of it all.

"...and all the illegal church members said..." Peters says at the conclusion of a prayer at the end of the service.

"Amen," the church members in the audience respond.
Last Sunday, however, Peters made the defiance official. It's not that he thinks the coronavirus is a hoax. But he thinks the risk is low enough and his mission is important enough that it's worth breaking the law.

<!———StartFragment———>"I'm more than happy to be a team player and pull back... in order to flatten the curve," Peters tells the Inlander. "But the curve has been flattened. And at some point, I gotta get back to obeying the lord and what he commands us to do in scripture."<!———EndFragment———>
<!———EndFragment———>
It's a risk, he acknowledges. But he says he's put into place safety measures. And with marijuana shops, liquor stores and WalMarts already open, he doesn't think it's enough of a risk to justify sticking to YouTube-only services.

"If I die going to church, then I couldn't think of a better way to die," Peters says. "I'd rather die because I went to church than die because I went to stupid WalMart."<!———EndFragment———>
The danger, however, is not just the danger to the individual parishioners — it's to anyone they may come into contact with.
The traditional staples of churches — singing, standing close together, hugging, that thing where your pastor tells you to turn and shake hands with your neighbor — are all particularly dangerous activities during a contagious pandemic.


When a Skagit County choir decided to hold practice back in early March, they used hand sanitizer, refraining from handshakes, and tried to keep each other at distance. Yet it became one of the biggest early hotspots of COVID-19, and left multiple members
dead
.
<!———StartFragment———>Numerous coronavirus outbreaks have been traced back to
church services
across the country. Churches that aim to spread the gospel, sometimes end up spreading something far more deadly.
WASHINGTON'S RELIGIOUS NEIGHBOR
I
n Idaho, however
, the disease wasn't the only factor public officials were worried about.
"I think for many of us it broke our hearts that we had to change the way people went to church," Idaho Health and Welfare Director Dave
Jeppesen tells the Inlander. "
Particularly over Easter weekend. For folks who were Christians that was a tough, tough weekend and that's certainly a factor."
But the biggest reason, he says, was that people were suffering — from job loss, from grief, from anxiety and depression.
"What we were trying to do was continue to address those needs. And one of the best way was through their spiritual lives and faiths,"
Jeppesen says.
"For us, it was a priority to allow people to reconnect with their faith and do so in a way that's safe."

So they opened the doors of churches — stipulating that they follow a list of public health measures.

<!———StartFragment———>
Back in March, Idaho Pastor Tim Remington — a state representative — had defied Gov. Brad Little back in March by holding a church service against the governor's explicit instructions. After a flurry of media attention, his board ordered him to switch most of his services back to online-only.


"If you want a mask, we do have masks," Remington told his congregation, holding up one that says 'You can't fix stupid.' "Leave a little room between you and your neighbor."
<!———EndFragment———>
By contrast, Inslee's plan going forward makes little distinction between churches and other types of social gatherings — even churches with fewer than 50 people in attendance can't open until phase three, at least six weeks away.
<!—————EndFragment—————>

<!—————StartFragment—————>In Washington state, even drive-in services, where parishioners meet in a parking lot and listen to a service on the radio or a podcast together without ever leaving their cars, were illegal until yesterday.

According to Inslee spokesman Mike Faulk, the issue wasn't so much that the disease could spread from one car to the other so much as that the governor wanted to reduce travel in general.
<!————EndFragment————>
<!————StartFragment————>
"The idea is to limit movement of people," Faulk writes in an email. "Lots of people going out in their cars likely don't just make one stop at a religious service. It likely entails more movement and more interactions."
Elsewhere, the 6th Circuit Court of Appeals recently ruled that Kentucky couldn't legally bar drive-in church services, concluding it had violated the state's Religious Freedom Restoration Act by substantially burdening "congregants' sincerely held religious practices."

But it didn't wade into the trickier question of whether in-person religious gatherings were legal.


Inslee may get a chance to test that question: On April 22, one of Inslee's gubernatorial opponents, Joshua Freed, filed a lawsuit charging that restrictions on in-person religious gatherings violated the First Amendment. A judge quickly swatted down a similar lawsuit in
California
, however.
ASKING NICELY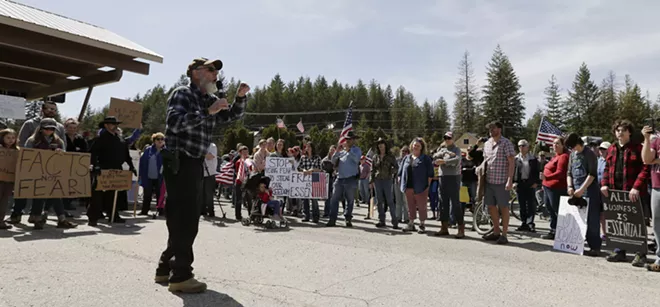 O
n April 27,
Peters stands in the bed of a pickup truck in Baton Rouge, Louisiana. He's at rally for the support of Tony Spell, a Louisiana mega-church pastor who'd been charged with repeatedly holding services against the Louisiana governor's orders. More recently, he'd been arrested for aggravated assault after backing
his bus toward
a protester.
<!———StartFragment———>
"What's wrong with America when they're setting murderers and unrepentant prisoners free and putting preachers in jail!" Peters yells. "Thank god for preachers like Pastor Spell who refuse to run from a virus!"

In Spokane, however, Peters has little chance of being arrested or even fined for holding church services in defiance of the governor's stay-home order. Neither the Spokane Police Department nor the Spokane County Sheriff have been enforcing the Governor's stay-home with anything other than stern words.
"Yeah, I'm not issuing any citations. I'm not making any arrests on this. We educate," Spokane County Sheriff Ozzie Knezovich says. But he says holding church services amid the coronavirus outbreak can carry another kind of legal risk.
"The one thing I tell the pastors if they make that move, is we can't insulate you from the lawsuit
you might have if one of your parishioners comes down [with the coronavirus]."
death toll of the holocaust and defending slavery
— continued to hold in-person services in his church in Bonner's Ferry in March and April against Little's order, accusing Christians who were still "
cowering in their homes
" of cowardice.
<!———StartFragment———>When police officers in Bonners Ferry met with him, Campbell recounted in an
April
sermon, he challenged them to respect
his
authority, asking them, "Why aren't you recognizing my office that Jesus Christ has given me?"
As the
Kootenai Valley Times
recounts, the Bonners Ferry Police ultimately ended up
praising
Campbell for some of the social distancing precautions he was taking, with the police chief concluding that while Campbell was violating the letter of the law of the governor's order, he had decided to put more weight on the "
spiritual side of the scale
."
During his Easter service, Campbell claimed at an April 17 protest, the police showed up, not to tell him not to have the service but to "protect" him "from the liberals."
And in Spokane County, Knezovich has, in some cases, helped pave the way for services to be held, despite the governor's order. When a church called him asking to hold a drive-in service during Easter, Knezovich says he brought their proposal to Dr. Bob Lutz,
Spokane's Regional Health District Health Officer.

"He says 'That sounds like a smart procedure, and we approved it,'" Knezovich says.

Similarly, he says Lutz gave the go-ahead for an outdoor service that was using social distancing measures.

Peters tells the Inlander he would be more than happy to hold his services outside if that was an option.

<!———EndFragment———>
<!———StartFragment———>There have been a few examples nationwide of pastors being arrested for
illegally
holding in-person services during stay-home orders. Knezovich calls that "ridiculous" and says that such actions can run into constitutionally dicey territory. But he's also not willing to join the right-wing choir calling Inslee's stay-home orders unconstitutional.
"My Bible is still on my desk. No one has come in to take my Bible away and say I can't worship," Knezovich says. "Most of the pastors have closed their churches because they were concerned about their parishioners. They did the right thing."
CHURCH AND STATE

Churches, of course, have never been prevented from streaming services online. But Peters says that's not good enough.
"The Bible says that 'Where
two or three are gathered
in my name, I am in the midst," Peters says. "It doesn't say where two or three are looking at each other on a screen, you know, Zooming each other.' It's just not the same."
He points to parts of the Bible too, like the admonition that you shouldn't "
hide your light under a bushel" and or forsake "
the assembling of ourselves together."
But other leaders quote scripture to come to a different conclusion. In a
video message
this week, Spokane Bishop Thomas Daly,
no quivering liberal
, quotes a New Testament
admonition
from St. Peter to stress that people should obey lawful instructions from civil authority, even as they express their view that Eastern Washington should be treated differently.
"While we should not act in a rebellious manner or expect your pastors to break the law, we should all make our beliefs and views known to
Gov. Inslee
," Daly says.
You could also point to Biblical passages that include the prophet Isaiah calling on God's people to hide in their rooms until God's
wrath has passed
, to God's command to the prophet Elijah to initially hide from an
evil king
, to Moses's
stay-home order
to his people during the plague of the first-born.
You could point to passages where Jesus calls on his followers
to pray in their closets, rather than be one of those pious hypocrites praying standing in their synagogues to show off their holiness.
You could cite
the story of Jesus spending 40 days in the desert being tempted by Satan for earthly comforts.
And you'd have plenty of precedent. This is an old debate. In the midst of plague nearly 500 years ago, Martin Luther, the founder of Protestantism, quoted the
Old Testament commands for priests to quarantine Israelites with
infectious skin diseases
, during Luther's discussion of how "
all of us have the responsibility of warding off this poison to the best of our ability."
Peters acknowledges all these passages, but sticks by his position.
"I did my 40 days, bro," Peters says. "The Bible never gives quarantine for those who are healthy and not at risk. Scripture always gave a quarantine for those that are sick."

<!———StartFragment———>
Yet the trouble with the coronavirus is precisely that, without widespread, constant testing, we don't
know
who's sick. Some never have symptoms. Others only get symptoms after being contagious for more than a week.
In a fractured, hyper-partisan time, interpretation of the health data, of scripture, of the Constitution all get read through the lens of politics. The churches who've defied their governor's stay-home order in particular relish in preaching politics from the pulpit.
Peters, Remington and Campbell have all delivered messages at events that have included Spokane Valley Rep. Matt Shea, a leader of the local "Freedom is the Cure" movement.
At Covenant, Assistant Pastor Blomgren displays an edited image of Inslee's phased reopening plan that includes a phase five: "Vote Out Jay Inslee November 3rd, 2020"


Remington, meanwhile, is a literal politician. At his service defying Gov. Little's order in March, Remington gives his congregation instructions to
lobby the governor
about specific bills in the Legislature, including a bill to "prevent sex from being changed on Idaho birth certificates" and another that he says
deals with "transvestites, basically, in sports."
<!———StartFragment———>Maybe if Inslee had asked nicely instead of issuing a mandate, Peters says, he'd be willing to consider not opening his congregation doors during the stay-home order.

But right now? He's drawing comparisons to the American Revolution.

<!———StartFragment———>"If we don't push back, then we've got government tyranny, which I think is much more dangerous than a virus," Peters says. "We are the United States of America because men of God decided that the king was overreaching and overstepping his bounds."

Wilson Criscione contributed reporting to this story.