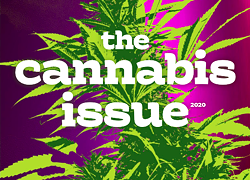 The transformation of marijuana — aka pot, weed, reefer, ganja, dope, herb, bud, grass, Mary Jane — has been nothing short of dramatic. Those problematic monikers, based on fear and xenophobia, have largely been dropped in favor of the word "cannabis" because, well, that's the plant's genus name.
And for the past six years in the Evergreen State, people over 21 have been able to saunter into local shops and, without looking over their shoulders, peruse the products of Washington farmers for recreational use. It's all licensed, curated, tested, labeled and well-lit. Now, in the middle of a coronavirus-related shutdown, it's been deemed an essential service by the state, in part because cannabis has been available for medical use since 1998.
Meanwhile, many of our cannabis-curious readers have burning questions, some of them related to the ongoing pandemic like, "Will cannabis help with my anxiety?" We get to the bottom of that and much more in this week's Cannabis Issue. Enjoy!