Covering both rural and urban landscapes, from Airway Heights and Cheney to parts of both north and south Spokane, Washington's 6th Legislative District has the right mix of progressives and conservatives to be considered a swing district as Republicans and Democrats fight for seats in the Legislature.
Election results show why: In the August primary, each West Plains race was closer than 5 percentage points when considering the R/D split, with the closest race by far being between Republican incumbent Rep. Mike Volz and Democratic challenger Kay Murano, who had only 228 votes out of 43,834 separating them.
Republican Rep. Jeff Holy, leaving his House seat to run for the Senate seat vacated by Michael Baumgartner, bested Democratic challenger Jessa Lewis by just 4.4 percent. And in the open race for Holy's seat, Democrat Dave Wilson beat Republican Jenny Graham 40.1 percent to 33.4 percent, with two other challengers splitting the rest of the vote. If all other votes go for the same party in November, Wilson and Graham were separated by about 900 votes, with Wilson in the lead.
But while the closeness of the races tends to lead to more spending and competition in the district, Republicans have largely dominated it for at least the last four decades. Republicans have held each of the three seats in every election since 1970, with only a couple of exceptions. Two Democrats, Christopher Marr and Don Barlow, gained a Senate and House seat in 2006, and then when Barlow was ousted by Republican Kevin Parker in 2008, Democrat John Driscoll managed to take the other seat in the district for a single term.
Still, political organizers will tell you that doesn't mean the seats are givens.
"We do refer to it as a swing. It has been Republican pretty strongly, but boundaries change and that changes the demographics of voters pretty dramatically sometimes," says Spokane County Republican Party Chair Robin Ball. "So it's just not a district we take for granted."
Spokane Democratic Party Chair Ed Wood says the 6th District doesn't tend to have people who lean either far right or far left, which helps make it so competitive.
"In this election year and this election cycle, I think the 6th comes into play probably better than any," Wood says.
GRAHAM VS. WILSON
For Republican Virginia "Jenny" Graham, running for office means continuing work to improve public safety and the criminal justice system, especially for children and the vulnerable.
Graham and her siblings were abused as children and were impacted in devastating ways. Her little brother died by suicide at 18, and though they didn't know it at the time, their little sister who went missing at the age of 15 was murdered by the Green River Killer.
Many years later, once Graham saw her sister's death records, which included old official reports of their abuse as children, Graham wanted to know whether she could finally try to charge their abuser. However, she learned the statute of limitations had long run out.
So she fought to change that for others, convincing legislators in Olympia and members of law enforcement to support changes to the statutes that would allow for later reporting of child abuse.
"I look at that law as a living memorial to [my siblings]," Graham says. "I realized I had abilities I didn't know I had. ... I got people that didn't want to work together to work together, to put politics aside and focus on our kids."
Aside from public safety, Graham, a veteran, says she would also like to focus on increasing training in the trades, improving mental health care by funding results-driven programs and looking at how to reduce the tax burden on homeowners and small businesses, among many other things.
"I am excited. I tend to look at something as already done ... the rest is just the details of getting there," Graham says, "so I'm optimistic that there are things that we can do."
Also running for the same House seat is Democrat Dave Wilson, who helped start a computer technology school in Spokane, worked on a national accrediting board and more recently made multiple runs as an independent for the 5th Congressional District seat.
While he supported Ronald Reagan in the '80s, Wilson says he has always considered himself a moderate and has voted Democrat for the last 15 years or so as the Republican Party has become more divisive and pushed farther to the right by the Tea Party and President Donald Trump.
"I don't like all this partisanship that is so ugly," Wilson says. "My experience, from knocking on thousands of doors over the last five years, is the majority of voters are fed up with that."
To say education is his main focus and should be the largest focus for the Legislature "may be the understatement of the year," Wilson says.
"As a Legislature, one of our key responsibilities is to keep our local and state economies strong," Wilson says. "There are so many benefits when the economy is running like it is now. ... When I think of how do you keep the economy strong, the foundation of that is an educated workforce."
With K-12 education fully funded under the McCleary mandate from the state Supreme Court, the focus should now be on how to improve funding for early education and higher education, he says.
Aside from education, he also hopes to focus on economic development and infrastructure projects needed in the district, public safety and lowering the costs of health care and making it more accessible.
MURANO VS. VOLZ
In the closest race in the 6th District, Democrat Kay Murano hopes to oust Republican Mike Volz.
Murano, who currently works for the Spokane Low Income Housing Consortium, previously served in fundraising and development roles with Catholic Charities and Volunteers of America.
Aside from focusing on affordable housing and homelessness, she's been doorbelling so much her FitBit broke. She says the issues she's hearing from people in the district will be primary for her.
"When I first started this, I thought, 'What in the world does Indian Trail have in common with Airway Heights and upper South Hill and Cheney? Where are we going to find common ground?'" Murano says. "But it's funny because it doesn't matter if you're knocking on a mansion or you're knocking on some trailer park door, everybody's answer is, 'This costs too much.'"
Whether that's health care, the cost of living or education, it all boils down to living here should be more affordable, she says.
It was the Legislature's 2017 failure to act on a capital budget, which critics say was held hostage over a water rights bill, that inspired Murano to run. That budget had included a significant amount of money for low-income housing.
"As a legislator you have two primary responsibilities: One is to complete the budget and make sure we're not going into debt, the other is to pass legislation that helps communities," Murano says. "If you're not doing the budget, you're not doing half your job. It seemed to me it was a failure to act."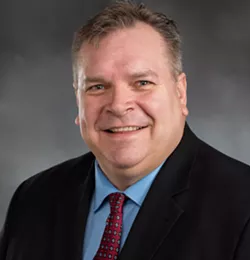 Volz was happy to see the capital budget tied to the legislation that would address the Hirst decision on rural water usage, and he says it was key to getting a fix in place to allow development on properties that had been in limbo since the court decision.
"It's the only piece of leverage or negotiating that we had," Volz says. "We were fearful that without that, without the pressure to perform on Hirst, that we would get nothing on Hirst, which would have a big impact on the region in Eastern Washington."
This would be the sophomore term for Volz, an Army veteran and adjunct teacher at Whitworth University, who serves as the chief deputy treasurer for Spokane County.
Volz initially ran with an interest in education issues, and says he'd like to continue working on that — fine-tuning things like standardized testing and class credit requirements, and recognizing that not all kids want to or are ready to go to college right after high school. During his term, he's proud of pushing for funding for a new science building at Eastern Washington University, which was included when the capital budget did pass.
Volz is also serving on a Public Records Act task force to determine how legislators should be required to release their emails and other documents under the provisions of the state's open records law, which to this point hasn't applied to legislators. He argues that some of their records should be shielded, but says he would support holding the Legislature to a similar level of transparency expected of state and local government agencies.
HOLY VS. LEWIS
Finally, in the run for Senate, Republican Jeff Holy, who has served three terms in the House, faces Democratic newcomer Jessa Lewis.
Holy, a former Spokane police detective, joked with Spokane Public Radio that he has finally started getting the hang of things in Olympia.
"Tongue in cheek, I guess I'm sort of graduating from the junior varsity to the varsity and trying to increase my efficiency and the leverage I have in Olympia," Holy told SPR earlier this month.
Lewis says she doesn't like that characterization.
"This isn't Issaquah vs. Ferris High School, this is people's lives," she says. "Too often in politics we've treated it as a team sport, us vs. them, and that doesn't serve people."
Lewis, who grew up in Spokane, has bounced between Eastern and Western Washington in different roles, including most recently in her work advocating for Health Care for All Washington, which is pushing for single-payer health care at the state level. She's stepped down from that role in the final month of the campaign to focus solely on the race.
She once was a Republican, but after getting pregnant by a sexual assault and keeping her daughter, Lewis says she learned what it meant to rely on public assistance for a time to help get back on her feet. Fighting for those social safety networks now as a moderate Democrat, she hopes to ensure that others have the help they need.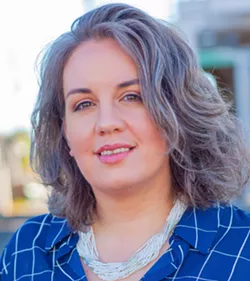 Lewis says she'll be a more moderate vote in the Legislature than Holy, who voted against the Voting Rights Act and against equal pay for women.
Holy did not respond to multiple requests for comment for this article, but has said he'd like to continue working on making higher education affordable and would likely be asked to continue work on public safety issues.
He's supported more moderate bills before, including sponsoring a bill that passed this year to make sure the state isn't imposing "legal financial obligations" on people who are too poor to pay them after an arrest.
Lewis says she hopes to serve as a breath of fresh air in a district that's largely been single-party dominated and wishes Holy would agree to a debate with her.
"It doesn't matter what party people orient as, there's a feeling of being ignored. When you have a district that is considered safe for a party to hold, it's easy to no longer be accountable to your constituents, and then it's the next one in line gets the job," Lewis says. "That's something we're trying to shake up this year." ♦