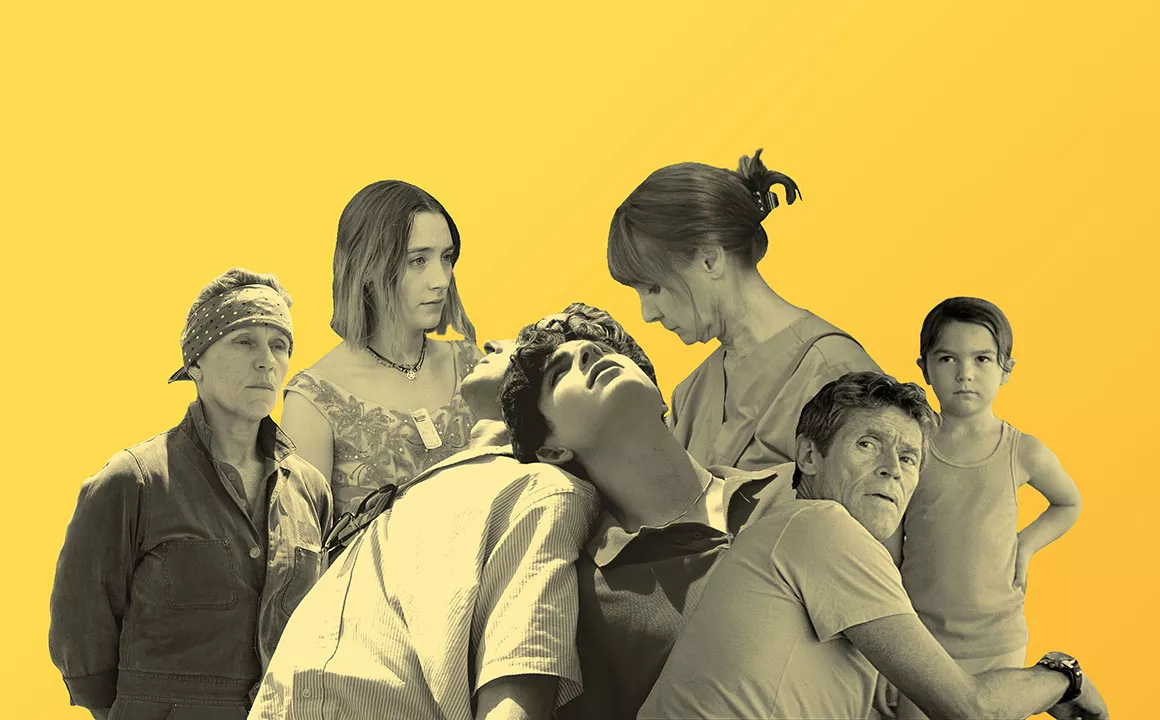 The Academy of Motion Picture Arts and Sciences has nearly 6,600 members, and none of them are movie critics. That's by design, of course, but having a couple critics in the voting body might have prevented some blunders over the years (Dances with Wolves winning Best Picture over Goodfellas, for instance).
That, of course, doesn't prevent me from pretending I'm an Oscar voter, marking up my annual fake ballot for the films and performances I think deserve to win. Most of the time, my picks don't jive with the Academy's, but this year's awards have proven harder than usual to predict. Here are my choices in the top six categories, listed in the order they'll be announced on Sunday's broadcast.
SUPPORTING ACTOR
Who should win: The biggest Oscar surprises often happen in the supporting categories, so don't be shocked if this year's favorite Sam Rockwell (who should have been nominated several times before this) loses out to one of his elders: Possibly Richard Jenkins, so lovely and heartbreaking in The Shape of Water, or maybe even my pick, Willem Dafoe, whose beleaguered motel manager in The Florida Project is the soul of the film.
Who was left out: Michael Stuhlbarg (he's in three of this year's Best Picture nominees) as the empathetic father in Call Me by Your Name; Barry Keoghan as a weird teenager who torments an unsuspecting family in The Killing of a Sacred Deer.
SUPPORTING ACTRESS
Who should win: Allison Janney's been sweeping awards shows since the Golden Globes (her Oscar will sit on a mantelpiece next to her seven Emmys), and her take on Tonya Harding's abusive mother is the best part of I, Tonya. But it's Laurie Metcalf, as the prickly and fiercely self-possessed mother in Lady Bird, who wowed me most. As one of the film's characters observes, she's both scary and warm, more believable than the parents you typically see in movies.
Who was left out: Holly Hunter as another tenacious mom in The Big Sick; Tiffany Haddish in Girls Trip, the funniest scene-stealing comic performance since Melissa McCarthy's Oscar-nominated turn in Bridesmaids.
BEST DIRECTOR
Who should win: This is the strongest group of candidates in recent memory, and I'd be fine with any of them winning. Guillermo Del Toro, having won top honors from the Directors Guild of America, will almost certainly be the victor, but my vote would be for Greta Gerwig. Her movie is the least showy, but there's a different (and no less precise) craft required in making a film like Lady Bird: It is a movie of terrific and subtle style, and just because her craft seems effortless doesn't mean there isn't any.
Who was left out: If only we could expand the category: Both Call Me by Your Name's Luca Guadagnino and The Florida Project's Sean Baker were equally deserving of recognition.
BEST ACTRESS
Who should win: It's a shame that performances as great and career-defining as those of Sally Hawkins, Frances McDormand and Saoirse Ronan have been pitted against each other. Them's the breaks. This was my toughest decision of all the categories, but I can't deny the raw power of Frances McDormand's work as a grieving mother in the flawed yet fascinating Three Billboards. It's one of the most difficult acting jobs of recent years — she must be obstinate one moment, maternal the next — and the film tunes itself to her performance.
Who was left out: Vicky Krieps as a fashion designer's muse in Phantom Thread, whose naivete masks a sadistic streak; Gal Gadot in Wonder Woman, who nails a much trickier balancing act than most action stars are required to pull off.
BEST ACTOR
Who should win: Gary Oldman's win is a sure thing, and his Winston Churchill is a remarkable feat of imitation that doesn't move me at all. Conversely, I love the complexities that the two Daniels — Day-Lewis and Kaluuya — brought to their roles, though I'm marking my fake ballot for Timothée Chalamet. His performance is almost diametrically opposed to Oldman's: He's naked and vulnerable, completely exposed both physically and emotionally. And if the year delivered a more powerful shot than his much-discussed close-up at the end of Call Me by Your Name, I didn't see it.
Who was left out: Robert Pattinson as a petty criminal in the Safdie brothers' hedonistic thriller Good Time and the late, great Harry Dean Stanton as a 90-year-old Navy veteran in Lucky.
BEST PICTURE
What should win: This is an impressive collection of candidates, and I think six of the nine are four-star films. But my favorite is Lady Bird, the kind of personal, small-scale movie that might have been overlooked before the Academy expanded its Best Picture pool. And while most Oscar prognosticators aren't giving it much thought, I think it still has a shot at winning the night's biggest prize. (Don't write off Get Out, either.) Frontrunners The Shape of Water and Three Billboards have their detractors, but it doesn't seem that anyone outright hates Lady Bird.
What was left out: Rewatching The Florida Project recently, I was struck all over again by how vivid, funny, heartbreaking and simply alive it is. It deserved to fill that 10th possible Best Picture slot, and years from now it will be looked upon as one of the great American films of our time. Mark my words. ♦
---
DRINK IT IN!
You need to get a bit fancy if you want to watch the Oscars right on Sunday, March 4. We've concocted a handful of cocktails inspired by some of the nominated films, none of which we've actually tried but all of which sound totally award worthy.
Call Me by Your Name
The Italian Peach
For those who have found remarkable new uses for pit fruits. Muddle a ripe peach, mix with moscato wine and a little rum, add sugar and lime juice to taste. Garnish with an apricot pit.
Get Out
The Sunken Place
Mix Earl Grey tea, an ounce or so of gin and simple syrup to taste. Pour into an antique porcelain cup and stir noisily with a silver spoon.
Lady Bird
The Dave Matthews Mocktail
For when you're only 17 and in need of a good cry while listening to "Crash into Me." Pour your lemon-lime soda of choice into a martini glass, add a splash of grenadine, and pretend you're a jaded liberal arts major.
The Post
That Bottle of Whiskey in Your Bottom Desk Drawer
Taking down the Nixon administration is a stressful job. Take a quick pull from the half-empty bottle of Johnnie Walker hidden underneath those photocopies of the Pentagon Papers, light another Pall Mall and get back to your typewriter.
The Shape of Water
Fish Man Mojito
Muddle mint, sugar and key lime juice, then shake with gin, ice and an egg white. Add a few drops of green food coloring for extra aesthetic, and enjoy with your favorite jazz-loving amphibious monster.
Three Billboards Outside Ebbing, Missouri
The Molotov Cocktail
Take all the nearly empty liquor bottles in your home bar and pour the contents into a large tumbler. Mix vigorously and angrily. It's not supposed to be good; it's meant to be painful. Light on fire if desired. ♦
---
NATHAN WEINBENDER'S PICKS (in bold)
SUPPORTING ACTOR
Willem Dafoe, The Florida Project
Woody Harrelson, Three Billboards Outside Ebbing, Missouri
Richard Jenkins, The Shape of Water
Christopher Plummer, All the Money in the World
Sam Rockwell, Three Billboards Outside Ebbing, Missouri
BEST DIRECTOR
Paul Thomas Anderson, Phantom Thread
Guillermo del Toro, The Shape of Water
Greta Gerwig, Lady Bird
Christopher Nolan, Dunkirk
Jordan Peele, Get Out
BEST ACTOR
Timothée Chalamet, Call Me by Your Name
Daniel Day-Lewis, Phantom Thread
Daniel Kaluuya, Get Out
Gary Oldman, Darkest Hour
Denzel Washington, Roman J. Israel, Esq.
SUPPORTING ACTRESS
Mary J. Blige, Mudbound
Allison Janney, I, Tonya
Lesley Manville, Phantom Thread
Laurie Metcalf, Lady Bird
Octavia Spencer, The Shape of Water
BEST ACTRESS
Sally Hawkins, The Shape of Water
Frances McDormand, Three Billboards Outside Ebbing, Missouri
Margot Robbie, I, Tonya
Saoirse Ronan, Lady Bird
Meryl Streep, The Post
BEST PICTURE
Call Me by Your Name
Darkest Hour
Dunkirk
Get Out
Lady Bird
Phantom Thread
The Post
The Shape of Water
Three Billboards Outside Ebbing, Missouri