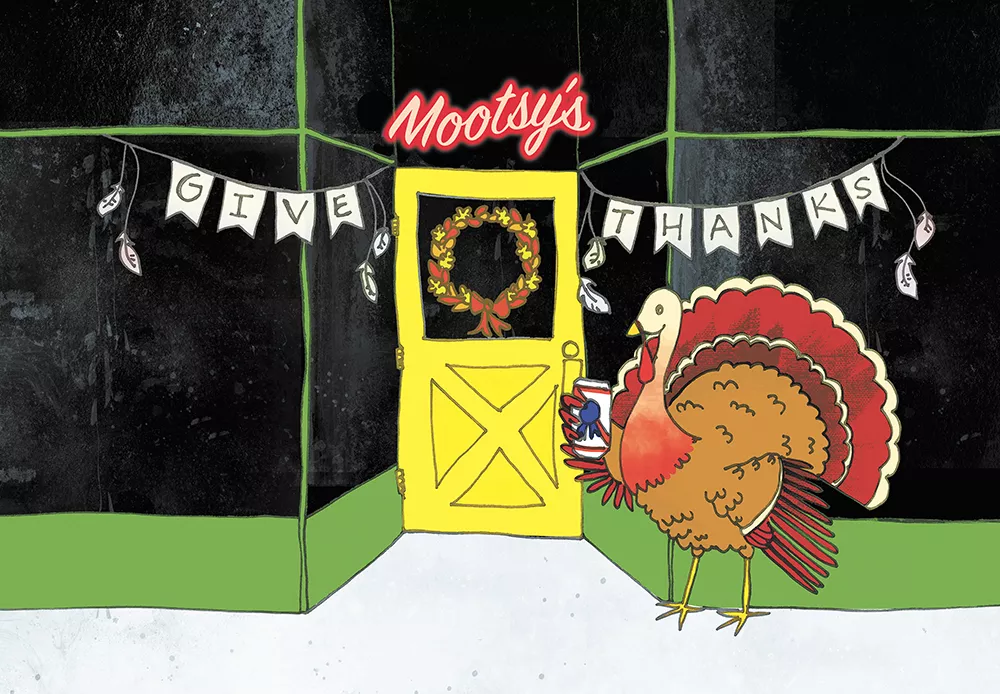 Behind its mustard-yellow door, the tired and alone... and the thirsty gather here. Which is why it's understandable that Mootsy's has always been open for Thanksgiving — at least in the nine years since Daniel Sanchez has owned the 20-year-old watering hole. But with local singer-songwriter Tyler Aker's help, the holiday often defined by family gatherings has come to mean something more.
Three years ago, Aker, who had just moved back to Spokane from Seattle, played a solo Thanksgiving set at Mootsy's that attracted all sorts of people: Those glad for a respite from family, as well as people without a family to celebrate with. It was also the night his alt-rock band Pine League formed. Last year, the band's Thanksgiving show nearly packed out the bar. The happy, spirited crowd letting loose to loud music almost made the place feel like a house show.
For local music fan Robert Manchester, the show has become a Thanksgiving tradition.
"It's sort of a thing where you hang out with your family all day and you get fat, and then you show up at Mootsy's and listen to good music," Manchester says. "We're just hanging out and drinking cheap drinks and saying 'Hi' to friends. It's the friend part of Thanksgiving."
Aker is comfortable at Mootsy's, which is why he was drawn to play here. It's one of the first places he let his gravelly singing voice ring out for a crowd. As an only child, he says his Thanksgivings are pretty quiet. With this show, it's the opposite.
"I'll be dancing with everyone in the crowd," Aker explains. "There will probably be the occasional roll on the ground. I also have a mask that turns me into a Mexican wrestler. I have a feeling this show will be crazy."
Sanchez notes he opens the doors to his bar around 2 pm. Most years, somehow, a turkey with all of the fixings appears.
"You really can't manufacture what we do here," says Sanchez, whose family doesn't live in the area. "We just rock Thanksgiving every year. That sense of community — it's not something you can create."
The important thing is to know your limits. Aker admits that eating so much food and then rallying to go out and play a show all in one day is tough. Last year he barely made it.
"My advice is to just take it slow," Aker says. ♦
Erin Fasbender, a longtime Mootsy's bartender, has recently been diagnosed with cancer. The show's door charge will benefit her.
Pine League with the Smokes, Ampersand and friends • Thu, Nov. 26, at 9 pm • $3/donations • 21+ • Mootsy's • 406 W. Sprague • 838-1570