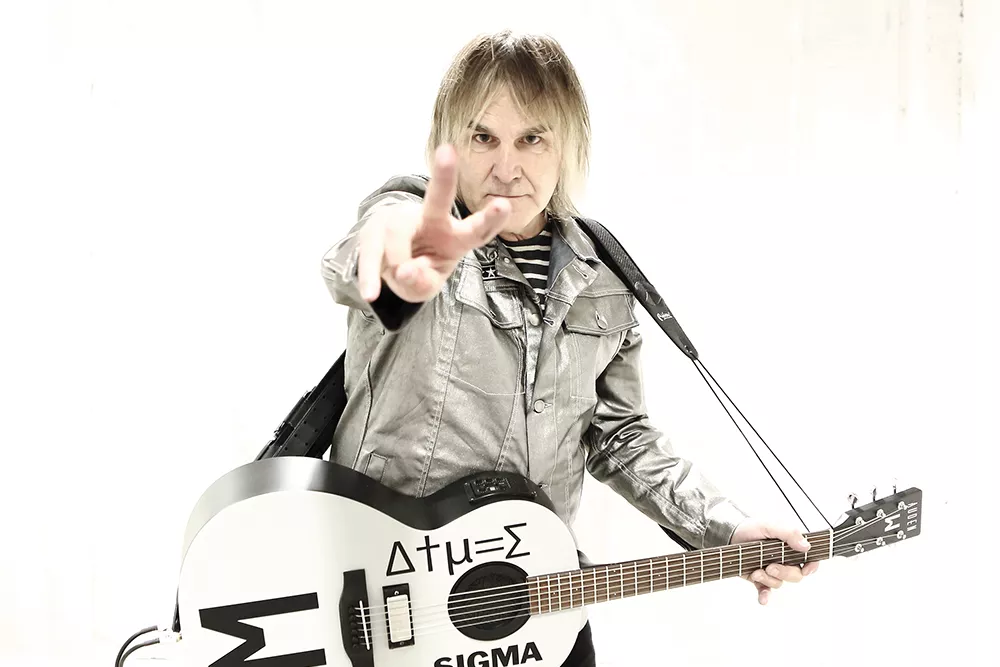 Three years ago, the Alarm's Mike Peters found himself in an unusual position.
Peters is most comfortable in the spotlight. In the Alarm, he was leader and primary songwriter of one of the '80s best rock bands until he quit in 1991, and he remains front and center in a new version of the band he restarted in 1999. And in 2017 he was the focus of The Man in the Camo Jacket, a documentary film about the Welsh musician's battles with cancer since 1995 and the disease-fighting Love Hope Strength Foundation he co-founded.
Three years ago, though, Peters found himself pushed to the sidelines when his wife of more than 30 years (and bandmate) Jules Peters' was hit with breast cancer. Suddenly the frontman found himself forced to stand outside the operating room while his life partner underwent eight-hour surgeries, and left outside radiotherapy rooms while she got radiation treatment.
"I felt very emotionally vulnerable at those times," Peters recalls in a phone interview with the Inlander. "You think about, 'What am I going to do if I lose my wife?' To get some perspective on it, I wrote my feelings down in my phone."
It wasn't that different than when Peters wrote lyrics as a teenager and young man, turning angst and inspiration into '80s anthems like "The Stand," "Spirit of '76" and "Sixty Eight Guns." But now the stakes were higher than the pursuit of rock stardom. His phone notes were filled with thoughts of love and death, hope and hopelessness. As Jules recovered, Peters shared his words and she immediately saw what Peters didn't — that the heartfelt notes he viewed as letters to his sick wife were something more.
"She was reading them all back, and it was Jules who said, 'You might not know, but this is your new record here," Peters says. "To me, they were just an opportunity to vent the feelings I was experiencing. But when I printed them all out and laid them on the studio floor, I could see it."
The resulting songs fill both 2018's Equals album and the Alarm's new release, Sigma, and lest you fear they sound maudlin given their origins, both albums shimmer with the energy that had critics and fans calling the Alarm "the Clash meets Bob Dylan" or "the next U2" when they burst on the scene in 1983. Peters has a way of taking deeply personal inspirations and turning them into universal rock anthems.
The two latest Alarm albums are merely the most recent chapters in what has to be one of the most unusual career arcs in rock.
It started normal enough, with a young quartet writing stirring songs inspired by the punk of the late '70s. At the same time, they embraced the visual side of the music biz by making some memorable videos in between epic live shows, inspiring U2's then-agent to become the Alarm's manager. The band initially broke through in America after opening U2's 1983 War tour, and at home in England they enjoyed a run of 17 hit songs from albums like 1984's Declaration, 1985's Strength and 1987's Eye of the Hurricane.
Peters dramatically quit the band in 1991 at the end of a show in London, announcing his departure before the show's last song and without telling his bandmates beforehand. Four years later he'd be diagnosed with lymphoma for the first time as he was struggling to forge a solo career. Four years after that, he reformed the Alarm with a new lineup (the original lineup got together briefly for a VH1 show called Bands Reunited) only to later be diagnosed with a different cancer in 2005, this time an incurable form of leukemia.
After that diagnosis, the Alarm was forced to work in fits and starts, with Peters requiring chemotherapy or other treatments every three weeks or so. A bleak stretch in 2015 turned out to be a blessing, though, when his regular treatments started failing and Peters got into a clinical trial for a new drug. It proved a revelation.
"Now I don't have to go to the hospital at all," Peters says, noting that he only needs to check in with his doctors every three months, thanks to pills he takes twice a day. "Otherwise, I can treat life like a normal human being, and that's why I think this tour is going to be even more euphoric than it's ever been. Because I feel liberated, and that comes across in the music."
Indeed, the Alarm's tour to support Sigma, stopping in Spokane Wednesday, is part of its most ambitious trip since the old days. Jules will be there with Peters, playing keyboards; the band is rounded out by guitarist/bassist James Stevenson and drummer Smiley.
Mulling how the Alarm's live show in 2019 compares to the old days when they packed theaters and MTV picked the band for its first global satellite concert broadcast, Peters says the tough times in the intervening years make his time on stage all the sweeter now.
"It's been tough on some of us, and there's a reflection of that in our music that gives it a depth," Peters says.
"I've been through a lot of experiences that have taught me how fragile life is. I've been in positions in life where I might never be able to go on stage again. So every night I walk on stage I play it like it's my last night on Earth. Life can change in the blink of an eye and tomorrow I could wake up and be a different person because of what life can place at your door when you least expect it. I feel so lucky to be able to go out on tour and play all the shows, and I want to stay alive to do it as often as I can, as many times as possible. I live for it." ♦
The Alarm with Modern English and Jay Aston's Gene Loves Jezebel • Wed, Aug. 7 at 8 pm • $30-$35 • All ages • Bing Crosby Theater • 901 W. Sprague • bingcrosbytheater.com • 227-7638