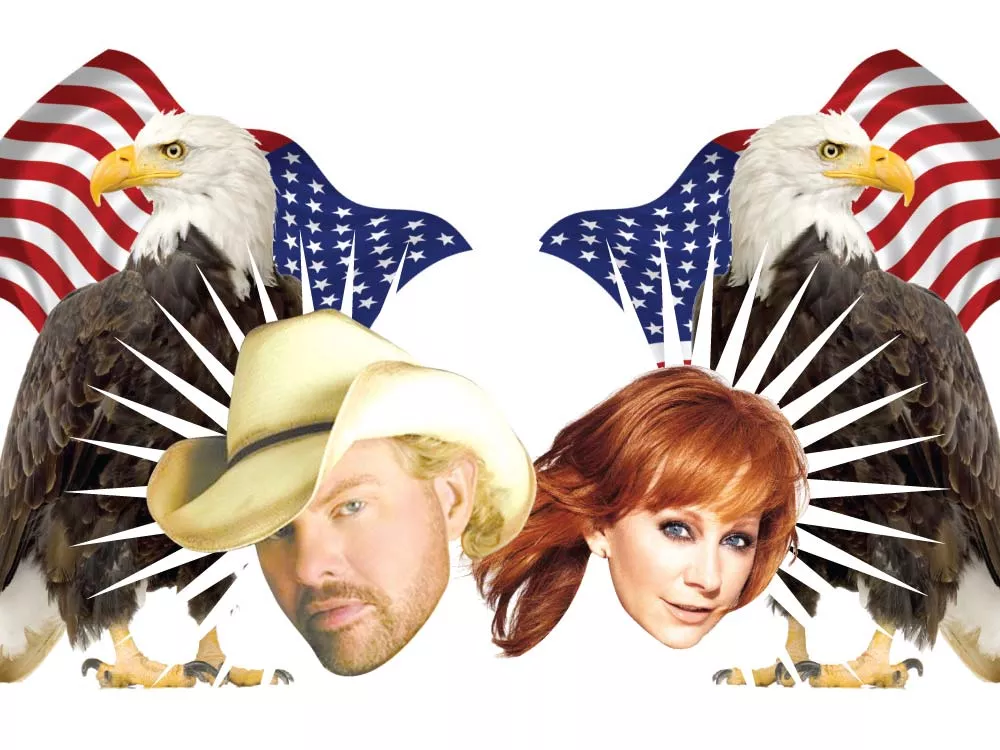 It's a dark time for our country. We're in so much debt we had to raise a ceiling (making this our worst ceiling-related crisis since 1984, when Rock Master Scott & the Dynamic Three informed us that the roof was, in fact, on fire). NASA's space shuttle program is kaput. Macho Man Randy Savage is dead.
Times like this call for a kick-start from the most purely American music: country. And in our moment of darkness two of the genre's champions — Toby Keith and Reba McEntire — come riding into Spokane on their noble steeds (in the shape of posh tour buses — not to ruin the illusion).
With both stars strutting and singing on Spokane stages this week, the question becomes: Which of the two is more likely to help us out of this national abyss? Or to put it more bluntly: Who is more "America"?
Lyrical Patriotism

TOBY: Keith's no-nonsense patriotism was best summed up in his post-9/11 ode "Courtesy of the Red, White, and Blue (The Angry American)" with the line, "And you'll be sorry that you messed with the U.S. of A, 'cause we'll put a boot in your ass, it's the American way!" You can't find a more in-your-face kick-ass American song outside of the Team America: World Police theme.

REBA: While McEntire can do a mean rendition of "God Bless America" and her songs are littered with Americana, her tunes tend to avoid the politica
Fulfilling the Capitalist Dream
TOBY: Keith has sold more than 13.5 million albums, which is no small feat except that…


REBA: … McEntire has sold more than 56 million albums. Well, this one's no contest.
American Ideals

TOBY: Keith is brash, cocky and had a smash hit with "I Wanna Talk About Me." Suck on that confidence, France.
REBA: McEntire gives a voice to the strength of the perseverant underdog on hits like "Fancy" and "I'm A Survivor," but the running theme of betrayal in her catalogue is disconcerting. You don't cheat on America, America cheats on you.
Acting Chops
TOBY: Keith wrote and starred in Beer for My Horses, a movie based on his hit song of the same name. The film co-stars Ted Nugent as a mute lawman who fights criminals via bow-hunting. It's the type of film one streams with friends on Netflix hoping to go all Mystery Science Theater 3000 on it, only to go, "You know, that wasn't nearly as bad as I thought it would be."
REBA: McEntire is best known for her six-season run as the star of the cable sitcom Reba (a very apt casting, by the way). More importantly, she started her acting career in the 1990 film Tremors, meaning that she has only one degree of separation from Kevin Bacon.
Wild Card!
TOBY: Keith has been a three-time guest on the truthiest and most American of American shows – The Colbert Report. (He's a four-timer if you count the Christmas special.)
REBA: Reba has often been dubbed "The Queen of Country." Sorry, sister. In case you haven't checked a history book, we don't take kindly to monarchy on this side of the pond.
Final Verdict
By a score of 3-2, Toby Keith and his machismo make him more "America." And since we all know America is No. 1, by the transitive property, Toby Keith is No. 1.

Reba McEntire plays with Sunny Sweeney • Fri, Aug. 12, at 7 pm • $80-$150 • All-ages • Toby Keith plays with Eric Church • Thurs, Aug. 18, at 7 pm • $80-$150 • All-ages • Northern Quest Casino • 100 N. Hayford Rd., Airway Heights • ticketswest.com • (800) 325-SEAT