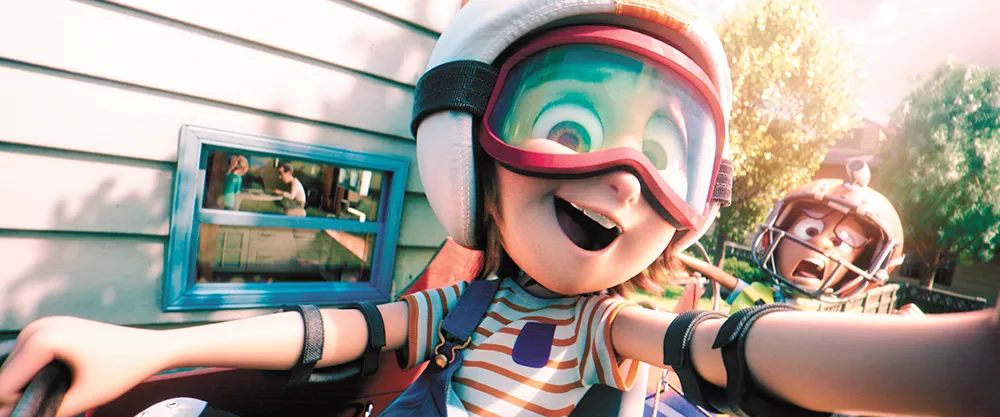 For a movie about a magical amusement park, Nickelodeon's Wonder Park is surprisingly morbid, with a severe lack of wonder.
It's a tribute to the creativity of childhood that presents that creativity as a sort of grim duty, and the heroine has to leave the movie's mystical world as soon as she's finally brought it back to life. The animation is colorful and noisy (if not particularly inventive) and may keep children occupied for 90 minutes or so, but the characters and themes don't leave much of an impression. In the hierarchy of computer-animated movies, Nickelodeon's efforts are several rungs below the likes of Pixar and DreamWorks, and Wonder Park isn't likely to raise their standing.
The troubled production (the final film has no credited director) also feels like the result of too many compromises, with a story that was retrofitted from the images of a crazy, impractical amusement park that looks like it came from a child's imagination. Why does Wonderland (not Wonder Park, which presumably was used as the title solely for copyright reasons) look that way? Because it actually was born from the imagination of young June (voiced by Brianna Denski), who created models of weird and wonderful rides as a fun activity with her mom (Jennifer Garner), and populated the park with her stuffed animals.
When June's mom is struck by an unspecified illness (call it plot device-itis) and has to go away for treatment, June loses her enthusiasm for Wonderland, storing all her toys and models away in boxes. Yet when she wanders off from a summer camp trip, she somehow stumbles across Wonderland itself, come to life but also in complete disarray, slowly being dismantled by a looming darkness. Could this be related to June's gloom over her mother's condition? Obviously yes, although it takes a belabored 25-minute setup just to get June into the park, and then most of the rest of the movie for her to realize she needs to confront her feelings.
That's not necessarily a problem if the journey there is entertaining, but the mission to save Wonderland is confusing and chaotic, and the supporting characters (talking, life-size versions of June's stuffed animals) are either irritating or mostly irrelevant, just there to stall for time. The magical elements of the story recall recent dour dramas A Monster Calls and I Kill Giants, in which supernatural threats stand in for young characters' needs to come to terms with a parent's illness and/or death. Wonder Park isn't as much of a melodramatic tearjerker as those movies, but it does needlessly string the audience along with the specter of death.
Animated family movies can confront serious issues, teaching young audiences about life's difficulties, but it takes a more delicate, sophisticated touch than Wonder Park can manage. Screenwriters Josh Appelbaum and André Nemec are known mainly for genre TV series like Zoo and Life on Mars, and their sensibility seems ill-suited to family fare. There's a lot of superfluous world-building in the Wonderland portion of the movie, but it's mostly just busy work that pads out the story and delays the emotional revelations (although it may be incorporated into the Wonder Park TV series that Nickelodeon is developing).
There isn't much impact to those emotional revelations when they come, either, because even June is little more than a generic spunky kid with wide eyes and a bespectacled best friend (who is apparently in love with her, in a somewhat questionable subplot that goes nowhere). Wonderland might end up as an adequate setting for a low-stakes TV show, but as the starting point for a big-screen animated adventure, it never manages to take off. ♦