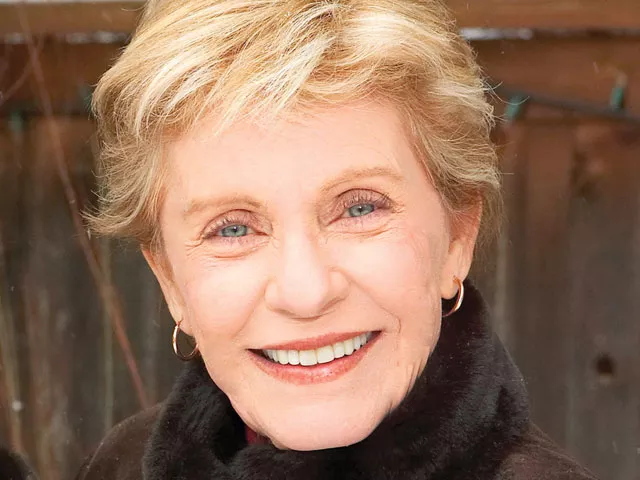 First, some background on Anna Marie Duke: Born in Queens to a depressive mother and alcoholic father. At age 8, handed over into the care of a married couple who turned out to be abusive. Ages 12-14, starred on Broadway as Helen Keller in The Miracle Worker; age 16, won an Oscar for the movie version. Ages 16-19, starred as Patty and Cathy Lane, identical cousins, in The Patty Duke Show; during the run of the show, sang two Top 40 hits. Age 20, played a pill-popping boozehound in The Valley of the Dolls ("Sparkle, Neely, sparkle!"). Age 33, won an Emmy for playing Annie Sullivan in a TV movie version of The Miracle Worker. Age 41, in her autobiography Call Me Anna, went public with her bipolar disorder. Age 63, will appear in Spokane for public conversations with Interplayers Artistic Director Reed McColm, whom we sat down with last week.
INLANDER: Will you have the same format for all three appearances?
REED McCOLM: Well, her life won't have changed that much from night to night [laughs]. But we will talk at every performance about her early life, her Miracle Worker experience, The Patty Duke Show, The Valley of the Dolls, her tenure as president of the Screen Actors Guild, and her stage work, including Wicked in San Francisco. And we'll definitely touch on mental illness on all three nights. In 90 minutes, we'll be as thorough as we can be.
You acted with Anna in Gypsy at the Civic in 2003 and have befriended her since. What can you ask her that others can't?
I suppose I can be more jovial with Anna than a lot of people — I can ask impertinent questions and we can still be friends, like, 'Playing identical cousins — tell us how that works,' and 'Patty or Cathy — which was the greater challenge?'
She was diagnosed as bipolar back in '82. Will you talk about that?
Yes, we will, but it's not going to be a Mental Illness Evening. But it is a crucial part of her life. She's been brave to acknowledge it. She's feisty, and I want to emphasize that bravery. I don't want to gloss over the pain and difficulty that her illness has brought into her life.
Will there be visual aids?
There will be lots of pictures in the background as we're talking. Also, she's going to bring her Oscar and probably her Emmy. She's never displayed them before.
Will you be using index cards, like James Lipton on Inside the Actors Studio?
Yes. They'll just have single words on them — "sex" and "curse" and "mental" [laughs].
Will you include questions about Sam Gamgee (aka her son, Sean Astin)?
Yes, she's open to all those Sean's-career-is-blossoming-as-your-career-is-waning questions.
She's going to direct The Miracle Worker at Interplayers next May. Has there been a lot of interest?
She could have done this at much bigger theaters, so it's a big honor that she is doing it here. I've been talking to her about doing it for years. And yes, I've been hearing from a lot of Annie Sullivans, and yes, there are certain stage mothers around here who would love to see their daughters play Helen Keller in our production. And we're getting national attention — I've heard from Access Hollywood, A&E's Biography show, Entertainment Weekly.
Reed McColm interviews Patty Duke on Thursday-Friday, June 3-4, at 7:30 pm at Interplayers, 174 S. Howard St. Duke will be interviewed by Interplayers board member Jeff Mooring on Saturday, June 5, at 2 pm. Tickets: $20; $30 at the door. Visit interplayers.com or call 455- PLAY.