Anji Marth makes art from the bones of the dead, and on the skin of the living.
The bleached white skulls of cat, mink, deer and raccoon — eyeless sentinels of the afterlife — keep watch as Marth and her colleagues buzz designs onto the dermis of clients at Mom's Custom Tattoo in Kendall Yards. These hauntingly beautiful relics of life's frailty hang all around them as part of Marth's first solo art show in Spokane, titled "Gathering" and on display through Jan. 6.
Beyond the canvas of human skin, Marth creates art from a range of materials — paint, ink, pencil, mixed media. Yet her taxidermied assemblages like those in "Gathering" offer a thoughtful juxtaposition to her chosen profession; applying permanent body art on a mortal surface.
As Marth explains the various taxidermic processes to clean and preserve animal bones she's (legally) obtained — using chemicals or natural processes that rely on maggots or flesh-eating beetles — it becomes clear that our human flesh is but a delicate and temporary vessel for art.
"I don't get grossed out by decomposition and decay," the artist explains. "It seems natural; allowing nature to do its work."
Marth's first foray into the preservation of deceased animals happened while living on a friend's farm in Oregon, where a small Nubian goat had stillborn triplets. After the heartbreaking experience, Marth decided to preserve the bodies through mummification.
Evidence of what an animal experienced during its short, sometimes harsh life is often apparent in its skeletal remains, and Marth focuses on these potential realities when she creates art from their bones. (Most of the skeletal pieces she uses were donated to her by friends and clients around the country.)
"I picked up a deer skull that I found by the road, and there was a lot of damage to the skeleton," she says. "This animal lived this really intense life, and it died because of a massive injury. It had a history."
One of the smaller assemblages in "Gathering" showcases the skull of a Siamese cat named Cedar. After dying from kidney failure, his owner and Marth's friend sought her expertise to preserve the cat's paws. She let Marth keep the rest of Cedar's remains for her art. His palm-sized skull is now mounted on an piece of oval wood, and framed by quilled paper (a paper-crafting technique) teardrops and flowers, bone beads and smooth white pebbles. His tiny teeth are painted in metallic bronze. The point of one upper canine tooth broke off at one point in the cat's life.
Marth's animal bone assemblages are deliberately dark, even evoking primal and unhallowed themes. She realizes and respects that not everyone may appreciate or understand such reminders of mortality.
" ...We need to be confronted with these reminders, because there is beauty in impermanence, a longing sensation, and we crave the reality of time's dark passage," she writes in a statement for "Gathering."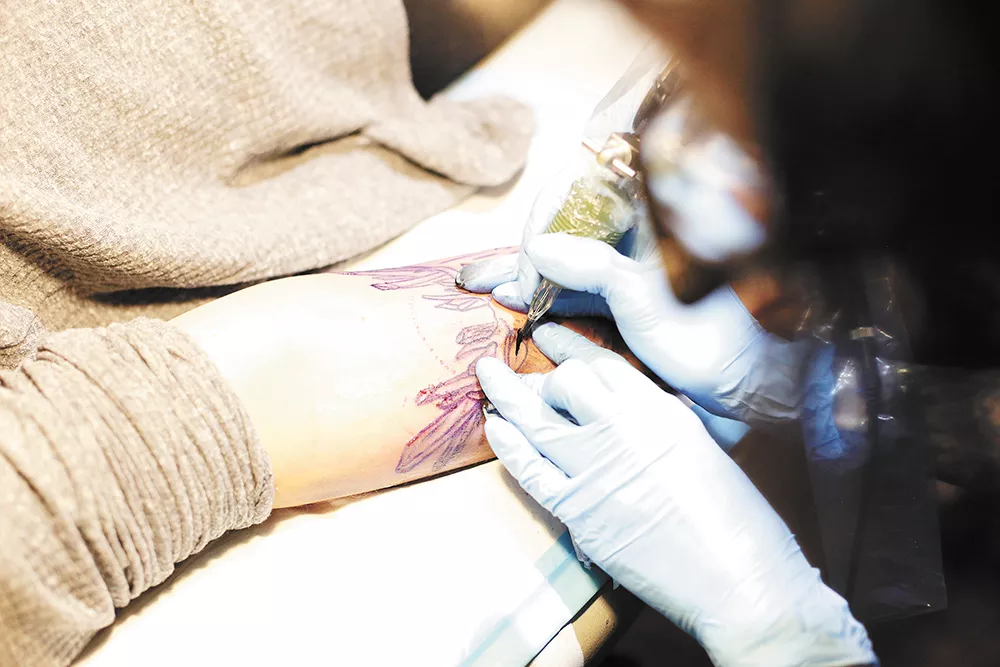 Art and creative expression were constant companions throughout Marth's childhood living with her extended family in Philadelphia, though she prefers not to label herself as self-taught. Rather, she credits her grandmother and uncle, the latter a professional oil painter, who lent their expertise to her as a young artist. Now, the 40-something creative's body of work spans across disciplines, including watercolor and oil painting, poetry and prose, drawing and illustration — including her tattoo work — and heavily adorned jewelry; mostly body-modification ear weights.
She has also published a series of adult coloring books; three filled with hand-drawn mandalas. The newest is a compendium of cryptids — animals whose existence is disputed or unsubstantiated; Sasquatch, for example — from around the world.
Marth first got the chance to apply her artistic prowess to tattoo design somewhat by chance, back in the late '90s.
"I had a lot of tattoos; I was really interested in them. And when I came into it, there were a lot of newer artists doing things that hadn't really been done before," Marth recalls. "When I had the opportunity [to apprentice] I was like, 'Oh my god, yes! I can be a fine artist and do illustration and I'm going to be able to pay my rent."
She's now worked for nearly two decades as a professional tattoo artist, inking clients around the Pacific Northwest during that time. Marth moved from Seattle to Spokane three years ago to live with her partner while she was recovering from a severe illness, but she didn't start at Mom's until this past spring.
When she's not taking steady tattoo commissions there — or any of the other studios where she's worked over the years — Marth usually travels throughout the spring and summer to attend tattoo conventions, offering her services, and teaching or taking industry seminars. Despite this nomadic lifestyle, Spokane remains her home base.
Since she began her tattooing career, Marth estimates that she's inked tens of thousands of bodies. She stopped keeping tally long ago. Even so, she says she always recognizes her art on someone at, say, the grocery store, even if she doesn't remember the client's face. She remembers people by the art she's left on their skin, and from the conversations she had while she was inking. In contrast, though, she doesn't really want her clients to picture her each time they see her art on their skin.
"I want [people] to feel like they have a part of their soul on the surface — a piece of them that has been brought out and made visible," she summarizes. "I don't want them to think or feel anything about me. I want them to feel it expresses their true self and connects with them." ♦
Anji Marth: Gathering • Through Jan. 6; Tue-Sun (see Facebook page for daily hours) • Mom's Custom Tattoo • 1226 W. Summit Pkwy. • More of the artist's work at resonanteye.net