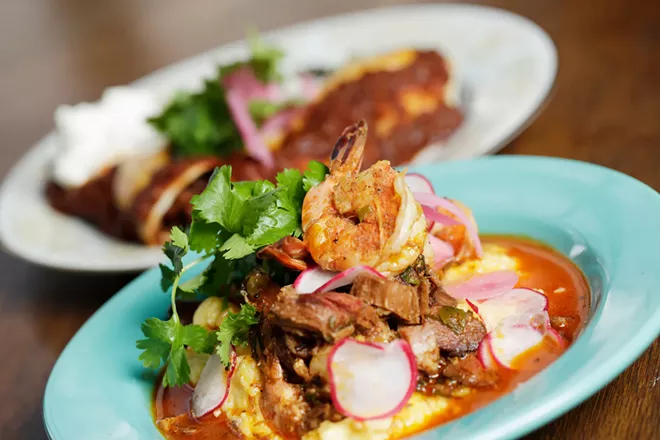 Spokane's historic Hillyard neighborhood is on a fast track to becoming one of the area's hottest dining destinations.
New restaurant and bar the Bad Seed is contributing to this designation. Located inside an Italian Renaissance-style, historic brick building that served as Hillyard's public library branch for more than 50 years, the Bad Seed beckons visitors with an ornate, gothic-esque facade.
Once inside, they'll find Tex-Mex style eats, creative craft cocktails and a moody vibe. Beneath the open ceiling's beautifully carved, exposed beams, solid wood tables reminiscent of grandma's kitchen are juxtaposed with a couple of huge female nude paintings hung in the 21+ bar area. Stacks of antique, cloth-bound books and the warm glow of shaded lamps, meanwhile, evoke a cozy, studious atmosphere in a nod to the building's past life.
"We're not the Bad Seed as in 'rough and tumble,' it's like a fancy Bad Seed, but casual fancy," says owner JJ Wandler. "The name doesn't pigeonhole us into being one thing, and our menu has evolved — even in the first five to six weeks we've been open — although I don't think we'll leave Tex-Mex behind. But the Bad Seed lends itself to anything."
Wandler isn't a newcomer to the restaurant world; he opened the now-defunct Garageland bar and restaurant in downtown Spokane, and co-owns a hip, French-inspired spot called Gainsbourg in North Seattle.
Back in March when he started planning for the Bad Seed, Wandler figured that by the time it opened, the most restrictive pandemic setbacks of the past two years would be well past. For the most part, that's true (although labor shortages and supply-chain issues continue to plague the hospitality industry). However, thanks to the unintentionally timed opening of Kismet, another new restaurant nearby, on the same day in mid-September, plus quick-to-travel word about the worthy food and drink offerings at both, the Bad Seed has been much busier to start than he expected.
That's led to some growing pains due to the restaurant's small, all-electric-powered kitchen. And the Bad Seed's opening chef, recruited by Wandler to craft its menu, quit after a Friday night shift several weeks ago. That put then-sous chef Josh Grimes — whose past stints include Ruins, Lucky You Lounge, Casper Fry and Mizuna — in charge. Recently, Wandler and Grimes streamlined the food menu to help reduce wait times.
"We all really want Hillyard to succeed as a dining destination, and there are also a couple other places in the late planning stages," Wandler says. (Those projects are Industry, a bar, and a second location for Bellwether Brewing Co.)
"I'm super excited about all that stuff happening, and, of course, Red Dragon has been here a long time and they're like the grandfather of getting people to come to Hillyard for food," he continues. "I was coming here to eat at Red Dragon long before I thought about opening a restaurant."
The Bad Seed's menu is classic Tex-Mex, and was crafted in part to showcase several flavor-complex, house-made sauces like the tomato-based ranchero on its huevos rancheros ($12), chipotle jus with the bolillo roll torta ($14, stuffed with brisket, pork carnitas or seasoned tofu) and the spicier roja sauce drenched over enchiladas ($14).
On the appetizer side, choose from house-made salsa with tostadas ($5), or queso ($8) made with Oaxacan cheese from LakeWolf Creamery in Deer Park. There's also elote ($7) and a couple salads ($7-$9), but the appetizer section standout is Tejas pork, consisting of thinly sliced smoked tenderloin with a trio of accoutrements: house macha (chile oil), chimichurri and spicy, roasted sesame seeds.
For those who like their Tex-Mex to pack some extra heat, the Bad Seed boasts two custom hot sauces from California-based Infinity Sauces. The titular Bad Seed is habañero-based, while the High Plains Drifter is jalapeño-based, and more tomato-forward.
Don't skip dessert: The flourless chocolate torte ($8) with berry compote is sinfully decadent. There's also a cheesecake ($8) topped with dulce de leche.
In the bar, Wandler made sure to offer a few Mexican and Texas-made beers, including Modelo Especial and Shiner Bock on tap. Topo Chico and Jarritos are on the nonalcoholic list, whereas the cocktail list has a house margarita ($8) and more, like the "Fear and Loathing" ($8), a shot of well bourbon and a tall can of PBR. An uncommon choice is "Death in the Afternoon" ($11), a concoction of absinthe and sparkling wine.
Though the Bad Seed's bar side is larger, the restaurant offers all-ages seating, plus a kids menu. Live jazz nights are planned the first Monday of each month, and happy hour in the bar is daily from 4-6 pm. Currently, the Bad Seed is open just for dinner, though Wandler envisions expanding hours next spring when the venue's back patio opens.
Wandler is excited to be involved with the ongoing revival of Hillyard and its Market Street District of businesses. His immigrant great-grandparents and grandparents once lived in the area, and he's passionate about historic preservation — both Hillyard's built environment and its working-class culture.
"It's kind of the last underutilized neighborhood [in Spokane] with [commercial] vacancies," he says. "That's what I was thinking about when I did this — where is Hillyard going? — and I like the direction it's going. And from sitting in with other business folks, we're all into the future of Hillyard." ♦
The Bad Seed • 2936 E. Olympic Ave. • Open Tue-Sat 4-10 pm • facebook.com/badseedinhillyard • 509-822-7439