click to enlarge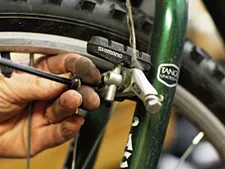 click to enlarge
OUTFIT YOURSELF

You're looking to get in shape or help the environment. Gas is getting expensive. The price of parking downtown is a downright injustice. Whatever your reason, it's easier than you think to start biking more.

First, the machine. Whether it's in your garage, on Craigslist or at a local shop, find one that's in good shape and fits you. Ask a lot of questions. Make sure you know where the bike came from and consider taking it to a local shop for an inspection before you shell out the cash. Two Wheel Transit co-owner Geoff Forshag says $30 to $45 will buy you the "peace of mind" of an expert at his shop looking the bike over so you know it's a good buy (and can negotiate price based on any weaknesses). As a basic guideline, a good used bike should run you about half of its original price, Forshag says. Shops can also help you tell if a bike fits you, but as a general rule, stand over the top tube and make sure there's at least an inch and a half between you and the bike. When you sit and reach for the handlebars, make sure you don't feel too stretched out. South Perry nonprofit shop Pedals2People sells used bikes, many of which start at less than $100, or will help you build your own. The shop offers certain open hours (check pedals2people.org) when they'll help you learn to work on your bike. REI Spokane also offers occasional free bike maintenance classes. The next one, specifically for women, is June 27.

click to enlarge
Second, the riding. Get a good helmet and lights. Wear comfortable clothes, but don't feel the need to buy the most expensive gear out there, says Pedals2People mechanic Erik Solberg. Set goals and find someone else who rides to stay motivated and accountable. If you want to commute, practice your route on a day off to scope out problem areas. Look for riding groups like the women's group Belles and Baskets, the Spokane Bicycle Club or Two Wheel Transit's free Thursday and Saturday rides starting and ending at Manito Tap House.
Third, the "culture." When you don't know how to change a flat or what your brand of messenger bag says about you, it can be scary to walk into a local shop of experts and enthusiasts or to join them for a ride. But remember that most people who are passionate about bikes want you to share their love.
"The reason we're there is we do have that knowledge, but we want to share that knowledge," Solberg says. "That culture of exclusivity is pretty pervasive throughout bike culture. … [Our] goal is to overcome that."
---
click to enlarge
SAY FAREWELL TO THE F---ING BIKE CLUB

The monthly nighttime rides have been taking to the streets for six years, but the July ride will be the club's last. Founder Jeff Everett (pictured) says he wants to focus on family and his full-time job as a graphic designer, and while he hopes someone else will continue the tradition in some way, he's not passing the club on to anyone. The full-moon rides wind from The Swamp in Browne's Addition through downtown Spokane to a secret destination, usually another bar. While the big group of riders can look like a critical mass (a protest ride where large groups of cyclists often ignore traffic laws), Everett emphasizes that's not what he's about. "There is pretty much one rule," he writes in the club's credo about following traffic rules. "Don't be an asshole." The last rides are June 23 and (tentatively) July 27. Follow FBC Spokane on Facebook for final details.
---
click to enlarge
TAKE OVER THE STREET

Four miles of sweet automobile-free roads isn't a luxury you get every day. So don't skip Summer Parkways in the Comstock/Manito neighborhood June 19 from 6-9 pm. The family-friendly event shuts down the streets and welcomes cyclists, pedestrians and anyone else on "human-powered transportation." Along the route, there's free yoga, Pilates, Zumba, gymnastics, dancing, martial arts, jump roping and more than one Hula Hoop. You're encouraged to bring your own guitar, sidewalk chalk, picnic supplies — really anything you want. Find the exact route at summerparkways.com.
---
click to enlarge
VOLUNTEER AT IRONMAN

We're not asking you to get yourself in shape to swim 2.4 miles, bike 112 and then run 26.2 — registration is sold out anyway — but you can still get off your ass for Ironman. Sign up to volunteer at bike check-in or check-out, as a pointer helping the athletes stay on course or at one of the five bike aid stations along the way. Parking is a nightmare in Coeur d'Alene during the event on June 23, so ride your bike to keep from going crazy. (If you're traveling from Spokane, park uptown and bike down.) We promise you'll feel good about helping, not just bummed about how out of shape you are compared to the Ironmen.
---
click to enlarge
HAVE A PICNIC ON THE HIAWATHA

Before the 1990s, the only people following this trail were the rowdy construction workers who built it and the locomotive operators who traveled it in freight trains. But today, the stunningly scenic route has been renovated for hikers and cyclists. Get to the trail at Taft, exit 5, just over the Montana border and cruise down the gentle grade through tunnels and over trestles. (If riding back up sounds less enticing, a shuttle service runs all day.) Bring your own gear — the trail is gravel, so road bikes aren't recommended — or rent from the Lookout Pass ski area. Everything you need is at ridethehiawatha.com.
---
click to enlarge
GO TO THE FAIR

If all this talk of road bikes and scenic rides isn't doing it for you, there's at least one chance this summer to get your fill of grown men on bikes that look way too small for them. The 12-hour "Bikes, Brews and BBQs" extravaganza June 29 at the Kootenai County Fairgrounds focuses on a motocross show, but also will feature BMX demos and a vendor fair. Plus, food trucks, a barbecue competition and craft beer tasting. They had us at "bikes."
---
click to enlarge
TEACH A KID TO RIDE A BIKE

All that teetering and wobbling that happens when you don't know how to ride a bike is only adorable for a little while. Then it's just sad. Make sure your kid — or nephew or niece or best friend's little one — doesn't grow up without learning to ride a bike like his or her Lunchable depends on it. There are lots of teaching techniques, but one universal principle: Keep it fun. Don't rush; don't push the kid. Find a flat, paved surface and a bike and helmet that fit the child properly. Remove the training wheels and pedals, and lower the seat a bit so the child can sit on it with her feet on the ground. Start with little bursts of balance. Encourage the new rider to scoot on the bike and then to pick up her feet and coast a little, all to understand how the bike balances. Once the child has mastered those straight coasts, add some turns — try setting up cones to make it a game — and encourage her to look up, not at the ground. Keep working on all these skills until you've got a confident tiny rider on your hands before replacing the pedals and working on more momentum. And, of course, braking.