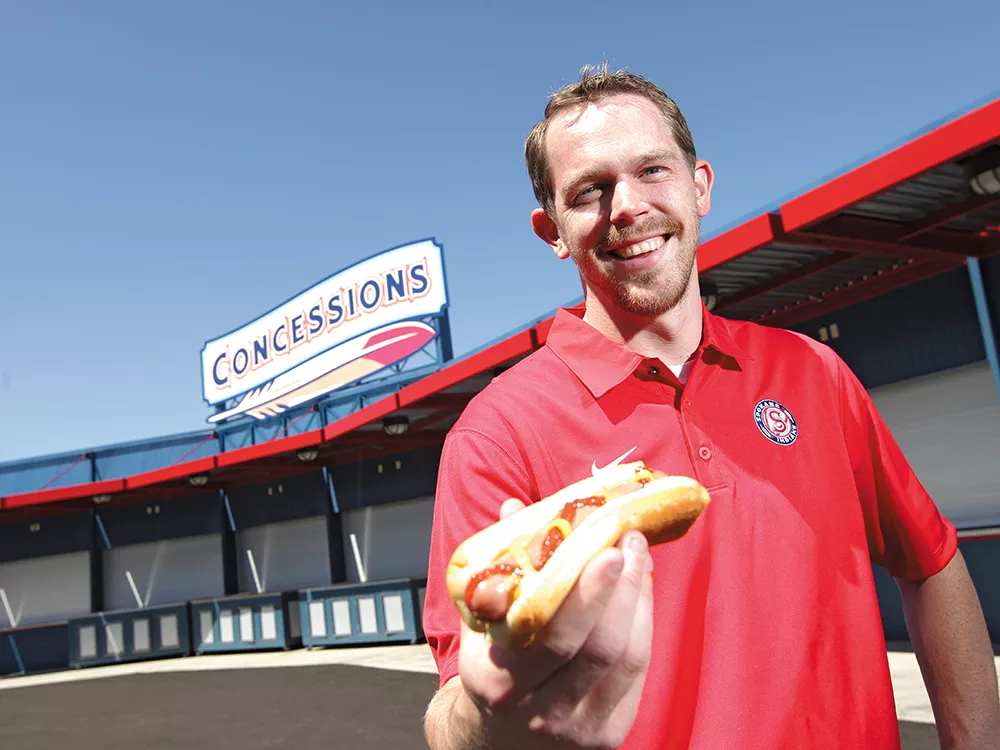 HAVE A DOG AT THE BALLPARK

AVISTA STADIUM underwent a remodel over the winter. Now, according to Indians promotions coordinator Dustin Toms, you can leave your cash at home and buy your elephant ears, cotton candy, pretzels and everything else at the same window with plastic.

Longhorn Barbecue, Bruchi's and Pizza Pipeline still have their separate venues, but you can also try new-to-the-park items like German sausage corn dogs, French fries, chicken strips, Dippin' Dots in mini plastic Indians helmets and walking tacos (a bag o' Fritos with all the fixings and less mess). The healthier-minded have options like black bean burgers or stir-fry, available at the Intentional Wok concessions stand.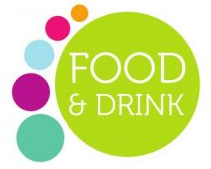 Then there's the beer. A total of 20 different draft beers connect, via hoses from the main walk-in cooler, to the stadium's 80 tap handles. And nothing goes better with draft beer than a ballpark hot dog.
Justin Stottlemyre, director of concessions and operations, explains that the Indians' official hot dog — the all-beef Cloverdale — tastes great fresh off a roll-a-grill because the sear-induced crunch yields to a juicy interior. But what is the best way to eat a hot dog? Ketchup? Mustard? Both Stottlemyre and Toms agree that "the best way to eat a hot dog is at a Spokane Indians game."
Yoke's Family Feed nights, when hot dogs, soda and ice cream sandwiches run $1 each, are June 15, July 5, Aug. 2 and Aug. 23.
---

SIP ON GIN AND (CUCUMBER) JUICE

When temperatures rise, appetites decrease and heat-induced thirst must be quenched with summer cocktails. Although not a gin drinker himself, Dry Fly distiller Patrick Donovan believes gin makes a good summer beverage because of its light, citrusy tones. He prepares the liquor with a vodka base and imbues the grain alcohol with local flavors: apple, coriander, lavender, mint and hops. The result is a Northwest botanical gin that blends well with tonics, berries and simple syrup. It also tastes great neat.

Those with a more traditional, dry gin bent should stick with juniper-heavy London dry gins like Bombay Sapphire, Tanqueray or New Amsterdam Straight. For a refreshing cocktail, try mixing these gins with local juices. Better yet, get these gins mixed by local experts at local establishments that utilize local juice.

The drink menu at Method Juice Cafe in downtown Spokane features 100-percent organic smoothies and juice blends. While Method manager Amy Robinson thinks mixing alcohol with these painstakingly pulped, juiced and blended fruits and vegetables may negate their positive health benefits, she does concede that they might prove tasty in a cocktail. They do. When Boots owner Alison Collins shakes up dry gin, ice and Method's cucumber juice with a lemon twist, the result is a refreshing, slightly sweet, somewhat melon-tasting citrusy cocktail that will not only cool you down but also cause your ears to tingle in a very pleasant manner. Maybe it's all the Vitamin C.
---
PLAY BEER PONG AT PONGZILLA

So you dragged the ping-pong table out back and have been playing in the sun. Why not try playing in an arena? Pongzilla, billed as "The World's Largest Beer Pong Tournament," offers a $1,000 cash prize. The event is held at Lincoln Center on July 12 and you can register online at thelincolncenterspokane.com. So get practicing. Even if you lose, you still get a T-shirt (and a buzz).
---

HARVEST FRUIT AT GREENBLUFF

Summer food isn't all hot dogs, grilled meat and mayonaissed potatoes. Every summer the farmers at Greenbluff open their orchards and fields to us urban folk, then throw us a party. Sweet, abundant strawberries wait to be picked during the Strawberry Celebration (June 29-30 and July 6-7). Cherries are ripe and celebrated July 20-27 during the Cherry Festival. For some sweet peach cobbler, ice cream and pie, head on up during the Peach Festival that runs from Aug. 17 through Labor Day.
---
THROW DOWN SOME BBQ

Out on the West Plains, they know how to throw down. At the Cheney Jubilee and BBQ Competition (July 13-14), 25 contestants will pursue a $5,000 purse and the opportunity to participate in the World Food Championship in Las Vegas. This is some high-quality barbecue. If you aren't content to simply enjoy spicy-sweet goodness, there's still a chance to compete for the prize. The deadline for early registration is July 2; general registration closes July 12. Teams can register at either the Pacific Northwest Barbecue Association (pnwba.com) or the Cheney Jubilee (cheneyjubilee.com) websites.
---

STROLL WITH TOTO

Four Dorothys walk into Rick's Ringside Bar — no joke, this has been known to happen at least once a year when the other side of the rainbow is relocated to Garland and North Monroe. On July 20, the street will be decorated with a yellow brick road and Dorothys will monitor a Toto look-alike contest. In terms of food and drink, there are many lemonade stands and one large milk bottle. If you haven't been to the Milk Bottle lately, then ease on down the road to check out the remodel, partake of Mary Lou's Homemade Ice Cream and enjoy a burger with your munchkins.
---

FILL UP ON LENTILS

A 450-gallon pot of lentil chili — that's one of the things going on down on the Palouse at the National Lentil Festival (Aug. 16-17) on the weekend before WSU's fall semester begins. And all that chili is free on the first night of the festival. The Lions Club's lentil pancakes, served on Saturday morning, are just a warmup for the main culinary event, the Lentil Cook-Off. If you thought lentils only go in soup, and not brownies, ice cream and cake, then head down to the Palouse this summer and expand your culinary mind.
---
ENJOY A SPECIAL PANCAKE BREAKFAST

If lentil pancakes don't get you excited, how about huckleberry ones at the Wallace Huckleberry Festival (Aug. 16-17)? The breakfast is served from 7 am until 11. So even if you take your time on the morning's 5K through the streets of historic Wallace, you should make it back in time for a fresh stack. Then spend the rest of the day listening to bands and sampling huckleberry treats. Take a home a pint or two of the fresh, dark berries picked from the surrounding mountains. Interested vendors should contact Alice Price at (208) 556-1037. Interested berry-eaters can find more information at wallace-id.com.
---

BE A PIG

Summer's almost gone. Did you make it to Greenbluff? Or, did you make it, but talked yourself out of getting a sack of pumpkin donuts and have now been craving them for the past three weeks? Or perhaps some beer-pong-related injuries prevented you from getting your huckleberry harvest and pancake breakfast on. Never fear. Pig Out in the Park — the 34th annual eat-until-you-can-eat-no-more festival in Riverfront Park — has got you covered from Aug. 28-Sept. 2. There will be huckleberry confections, fruit and berry kabobs, ice cream and pumpkin donuts direct from Greenbluff. And that's only a sampling of the 225 menu items that will be available from 10 am to 10 pm. Pace yourself, but not too much. It's your last chance of the year for summer grub.