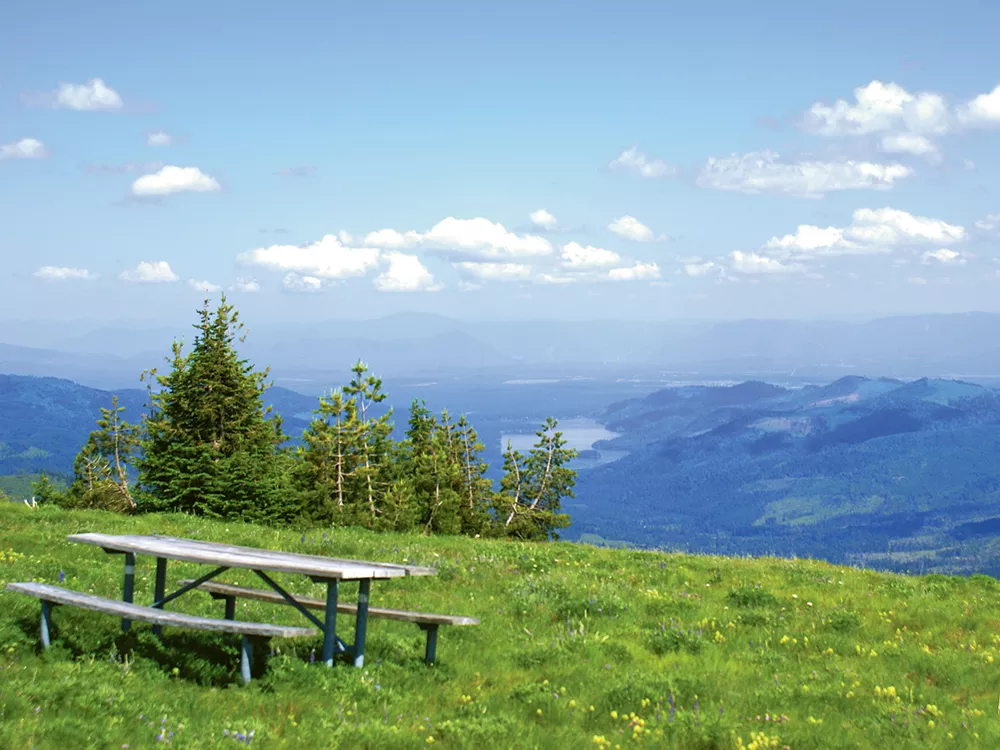 CLIMB A MOUNTAIN

Summer means adventure: Explore new frontiers. Get back to nature. Take on the great wilderness that makes up the beautiful Inland Northwest.

How? Go climb a freaking mountain.

Mount Spokane gets most of its attention in the winter, but it continues to serve as an outdoor playground long after the snow melts. At 5,886 feet, it towers over the surrounding countryside. One of the tallest points in the region, the peak anchors Mount Spokane State Park, the state's largest park at 13,919 acres.

That's a lot of outdoors to enjoy.

Park ranger Jerry Johnson says the mountain offers a much-needed escape for many. Just 35 miles from downtown Spokane, the mountain and surrounding state park provide plenty of wildlife, natural beauty and quiet.

"You're not going to see a lot of people," he says. "You can get out of the hustle and bustle."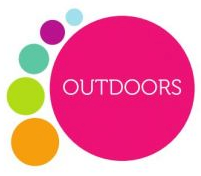 Johnson estimates the park gets about 400,000 visitors each year. They take advantage of camping, hiking, fishing and other recreational activities available throughout the park.
With granite rocks jutting out of pine and cedar forests, the park serves as prime habitat for deer, moose, bears and a variety of small animals. The park features 100 miles of hiking trails, another 100 miles of horse trails and 90 miles of bike trails.
"You've got wildflowers and birds and the wildlife," Johnson says, listing the natural attractions that bring people up the mountain each summer.
The park manages eight different campsites with water and restrooms. One group camping location also accommodates up to 60 people. Camping fees start at $12 a night and go up depending on the size of the group or number of vehicles.
For a rustic overnight experience, visitors can rent the Quartz Mountain Fire Lookout, a small wildfire lookout post at 5,129 feet with wraparound window views. Be warned: The lookout costs $93 a night and books up fast.
Sure the park is pretty, but what about the peak? From the top, Johnson says you can see out for miles across three states. The summit has unparalleled 360-degree vistas of the entire Inland Northwest.
"You can see the mountains of Montana," he says. "You can see the mountains of Canada."
And a road goes all the way to the top if you're not into hiking. Mount Spokane State Park, like all state parks, requires a Discovery Pass for access. Day passes can be purchased at the park.
Ranger Johnson's last piece of advice: Don't forget bug spray.
---

GET MUDDY

As a kid, summer usually involved days of running, playing, flailing, getting dirty and mostly just being ridiculous. The Muddy Miles obstacle course basically packs all that into two miles, with an emphasis on the running and getting dirty.

Described as "North Idaho's Muddiest Race," the Muddy Miles race is July 20 at the North Idaho Fairgrounds. Tickets cost $26 for an adult, $90 for a family. More information and registration at muddymiles.org.
---
SHOOT A GUN

Nothing blows off stress like blasting through a couple hundred rounds at the gun range. Hone your aim, have fun and stick it to the liberals.

For outdoor shooting, the Mica Gun Range southeast of Spokane offers a long rifle range for public use. The recently reopened Farragut State Park gun range in Idaho also offers several shooting bays.

Both ranges cost $5 a day, but have limited hours. Shooters should check ahead on availability and safety rules.
---
BLAZE A TRAIL

A small army of volunteers gathers each summer to repair broken-down trails. With hundreds of miles of trail crisscrossing Washington, they fix bridges, clear landslides, cut out fallen timber and restore popular hiking routes throughout the state.

Feel like getting your hands dirty?

For 20 years, the Washington Trails Association has coordinated trail maintenance work parties and backcountry expeditions to repair recreational trails. Spokeswoman Susan Elderkin says almost 2,700 volunteers helped restore 170 trails last year.

"It's really rewarding to give a little back to the trails they love," she says. "People take a lot of pride and ownership in the trails that they work on."

The association offers a wide variety of volunteering opportunities to fit any outdoor enthusiast with an urge to blaze a trail. Some easy programs involve a day of work on an easily accessible trail while others involve several days of backpacking into remote areas.

"We have volunteers who are 10 years old," she says, "and we have volunteers who are 70 years old."

Many volunteers start with a daylong work event, she says, working an eight-hour day at a trail within easy driving distance. The association provides tools and guidance. No experience is required.

One unique program offers "volunteer vacations" that combine daytime work with a more leisurely camping experience in the evenings over a few days. Guides provide fine dining and time for relaxation.

More intense volunteers can sign up for a Backcountry Response Team event to hike into the hills for hard-to-reach work. Workers carry their own supplies and tools into the hills for the projects.

All trail volunteers receive vouchers they can use to obtain free annual park access passes, including a Discovery Pass.

Elderkin says several work parties have been scheduled in Eastern Washington, including multiple trips to the Colville National Forest and Mount Spokane. Regional events can be found at wta.org/volunteer.

"Anywhere there are trails we will go," she says.
---
GO OFF THE GRID

Step away from all those emails. Ditch the Facebook statuses and tweets. The Inland Northwest offers many remote areas to escape cellphone service, but remember what it means to be unplugged.

Bring a map. Usually, you can find your way with GPS or Google Maps, but you may lose signal in mountainous areas. A printed map will help keep you oriented the old-fashioned way.

Be self-contained. Carry a first-aid kit for minor medical issues. Make sure you have a reliable spare tire. Pack repair tools so you can fix things yourself.

Look for land lines. Remember those? In steep areas, they may be the only option for getting word out in emergencies. Keep track of where the nearest phone may be and pack a calling card for pay phones.
---

KEEP LEARNING

Summer school should be fun. Learn how to cook over a campfire, scale a rocky cliff or treat an injury in outdoor classes at local schools and outfitters.

REI Spokane has a class on dog first aid scheduled for June 20, with information on canine care. Camp Cooking Basics for Backpackers will be held July 26. Other classes available online.

The Post Falls Cabela's store plans to hold seminars on fly fishing on June 29, July 6, July 27 and Aug. 10. The two-hour course covers equipment, casting and knot tying. The store also holds classes on archery, hunting and boating safety.

North Idaho College also offers non-credit courses for the public in rock climbing, kayaking and sailing. Fees and registration can be found at www.nic.edu.