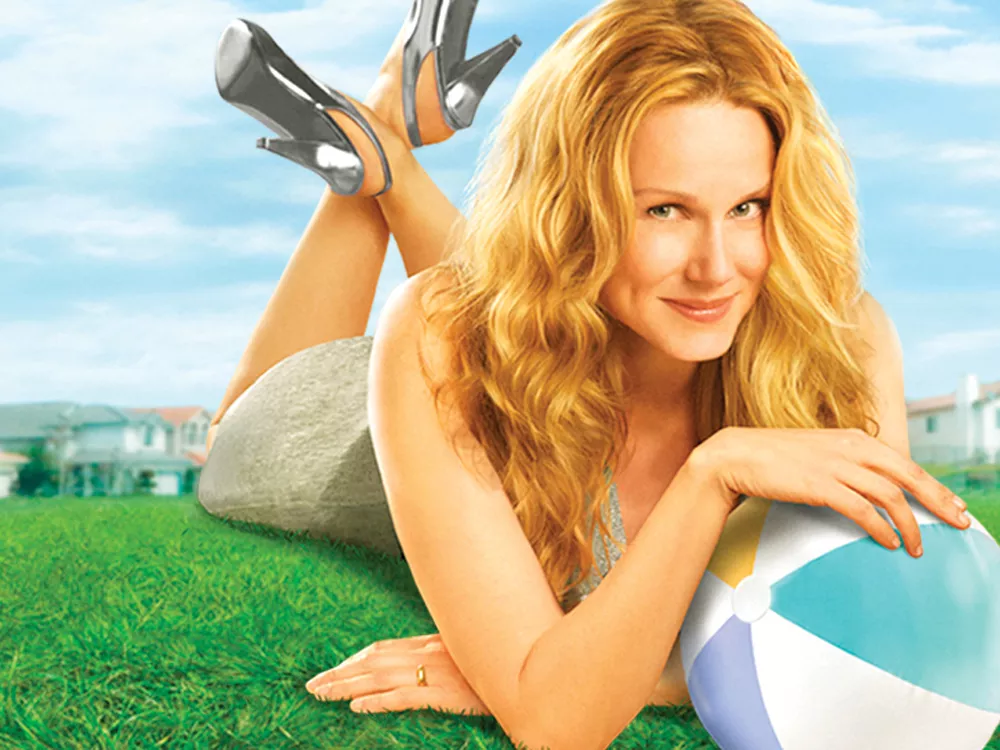 This just in from the creator of Showtime's new comedy, The Big C: "Cancer isn't funny." You're right, Darlene Hunt. Cancer is not funny, whether in real life, TV or movies: Terms of Endearment, Beaches, Tuesdays with Morrie, My Life, Professor Randy Pausch's "Last Lecture," to name a few.
But The Big C? Very funny. It's also sweet, lovely, sad and mean. Eight people, including Hunt and Emmy-winning star Laura Linney, share executive producer credits. Every nuance of The Big C's unconventionally humorous topic is carefully crafted.
We don't see Linney's character, Cathy Jamison, at the moment she is diagnosed with Stage Four melanoma. We guess she's still in shock as she jokes with her handsome young oncologist, bargains with the pool guy to dig up her ridiculously small yard and banters in a brutally honest way with mere acquaintances.
"You can't be fat and mean, Andrea." she tells one of her high school students, skillfully played by Precious star Gabourey Sidibe. "Fat repels people, but joy attracts them. I know everybody's laughing at your cruel jokes, but no one's inviting you to the prom," she says. "So you can either be fat and jolly, or a skinny bitch."
If we didn't know the formerly reserved Midwest wife and mother was grappling with her own mortality, we would think that she's the skinny bitch. And perhaps she is, but she's got a good reason.
"[Cancer] forces her to shake up her life," says the show's tagline. So this character takes in life at full speed, declaring that she sees colors more vividly while keeping her loved ones in the dark. We imagine that she'd receive fantastic support from her estranged, immature husband, Paul (Oliver Platt), and her homeless, environmental-protester brother, Sean (John Benjamin Hickey). Instead, Cathy chooses her grouchy neighbor's basset hound as a sounding board.
"I could do chemotherapy, but I'd just be buying a little more time, and it would mean a lot of people taking care of me, and that's not my thing," she confides in the pooch.
We laugh unabashedly at her absurd choices and treatment, we're scared that cancer will happen to us or someone we love, and we want to hug her and tell her that somehow it's going to be OK.
As played by Linney, Cathy's beautifully flawed humanity brings out our own.
(The Big C, Mondays, 10:30 pm, Showtime)
---
TIVO-WORTHY
62nd Primetime Emmy Awards
Sure, there are the Emmy regulars like Jon Hamm, Alec Baldwin and Michael C. Hall, but I'm delighted to see so many faves from new shows. Jane Lynch (Glee) is one of my heroes, but her competition for best supporting actress rocks, too (Sofia Vergaro and Julie Bowen, Modern Family). Comedian Jimmy Fallon hosts. (NBC, Sunday, Aug. 29, 5 pm)
Diners, Drive-ins and Dives
The Food Network's loveable Guy Fieri will feature a few popular Spokane-area restaurants on his new season of Diners, Drive-ins and Dives, which begins Monday, Aug. 30. Owners of participating restaurants have promised not to divulge details. As one of the featured owners says, "No one knows who they want to shoot, even though lots of people do." (Food Network, Mondays, 10 pm )
Dating in the Dark
The premise of this relationship reality show is that participants don't see each other until they've voted for their temporary mate. (It's like The Dating Game, but with infrared.) They can still feel each other up, so it's not entirely about having a great … personality. (ABC, Mondays, 10 pm)