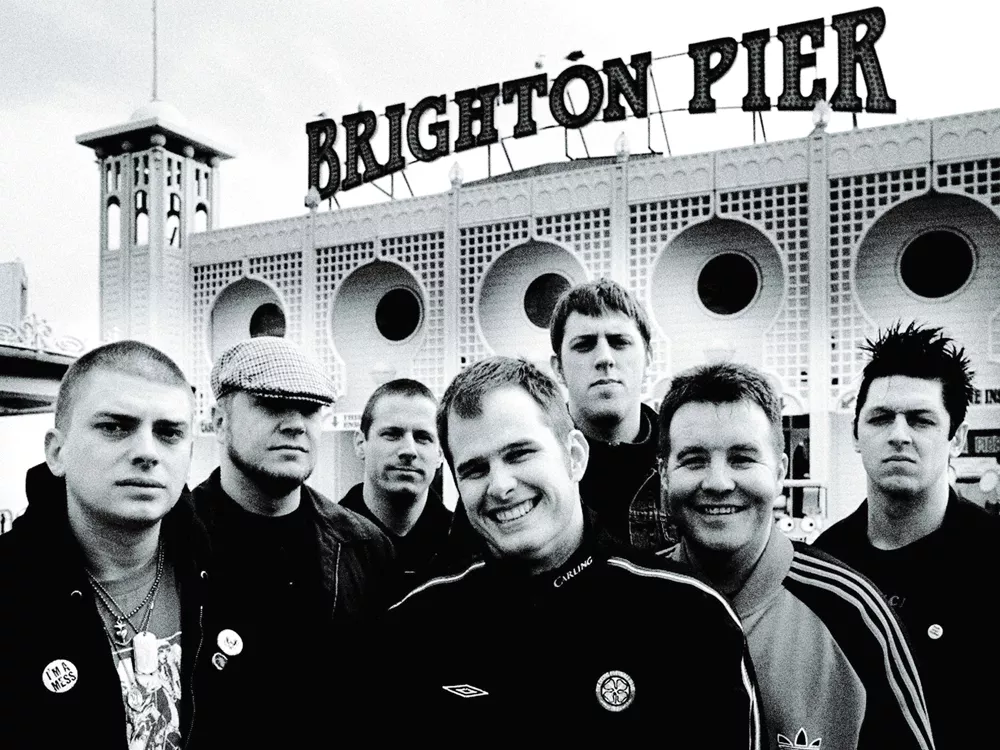 Wanted: A musician to join established band that tours worldwide and has released six previous studio albums to play banjo, mandolin, bouzouki, guitar and keyboards.
Had the Dropkick Murphys placed an ad for the spot in the band vacated by multi-instrumentalist Marc Orrell, it might have read a little like that.
The guy who got the job, Jeff DaRosa, had never played any of those instruments when he was contacted by Dropkick Murphys guitarist James Lynch about filling the vacancy in the band lineup.
"I was coming off of a plane checking my messages from my last tour and I had a message from James Lynch, the guitar player," DaRosa said in a late-October phone interview. "He just said, 'I don't know if you want to learn any crazy instruments or not, but if you do, the job's open.'"
DaRosa accepted the offer and got to work expanding his instrumental arsenal.
"[Lynch] gave me a bunch of CDs and a banjo, a mandolin, bouzouki and everything else, and I sat in my bedroom for about a month and just woodshedded, practiced," DaRosa said.
The Dropkick Murphys were willing to take a chance on DaRosa because he had a history with the Boston-based Irish-accented rockers.
He had been friends with Lynch since they were kids, and DaRosa's former band, the Exit, had toured with the Dropkick Murphys and was signed to the record label own by Dropkick Murphys bassist and founding member Ken Casey.
DaRosa joined the band in time to contribute to the writing and recording of the seventh Dropkick Murphys studio album, 2011's Going Out In Style — an album that turned out to be something of a landmark release for the group. It became the Dropkick Murphys' highest charting album when it debuted at number six on Billboard magazine's album chart. It was also arguably the group's most ambitious work to date, in that it was a full-on concept record.
Going Out In Style told the story of a fictional Irish immigrant Cornelius Larkin, as the songs looked back on the character's lineage and life in his new homeland of the United States. In addition to the songs, the album's liner notes included a short story about Larkin's life, which was written by author Michael Patrick MacDonald.
"We didn't set out to write a concept album, actually," DaRosa said. "We kind of took from our families' histories and kind of made a fictional concept around it."
Though the band's national profile has grown steadily since its first release in 1996, the Dropkick Murphy have always remained popular in the band's hometown of Boston. The city has been celebrated in a number of the group's songs, most notably "I'm Shipping Up to Boston," which was featured in Martin Scorsese's 2006 Academy Award-winning film, The Departed and is currently used as the theme song of the TNT drama Rizzoli & Isles.
Now the band, which also includes drummer Matt Kelly, guitarist/accordion player Tim Brennan and bagpiper/tin whistle player Josh "Scruffy" Wallace, is shifting its focus to the future as it tours this month ahead of the Jan. 8 release of its eighth studio album, Signed and Sealed in Blood.
"We really want to play our new songs," DaRosa said. "We're going to be trying to squeeze in as many new songs as we can, but we're definitely going to have to play all of the old standards."
Unlike that 2011 album, there isn't a theme to these songs, DaRosa said. This time, the emphasis was simply on giving fans a collection of fun, rocking tunes — not that this was a calculated plan.
"We had just come back from touring on Going Out In Style, and we were like, 'let's just play and see what we've got,'" DaRosa said of the new record. "I guess there was an overall feeling in the band probably to make some more excitable music."
And there's a difference in how those songs come out onstage, he says. "They're fun songs to play live, songs you don't have to concentrate on so much, just have a good time playing."
Dropkick Murphys with Teenage Bottlerocket and the Mahones • Wed, Nov. 7, at 8 pm • Knitting Factory • $26 • All-ages • ticketfly.com • 244-3279