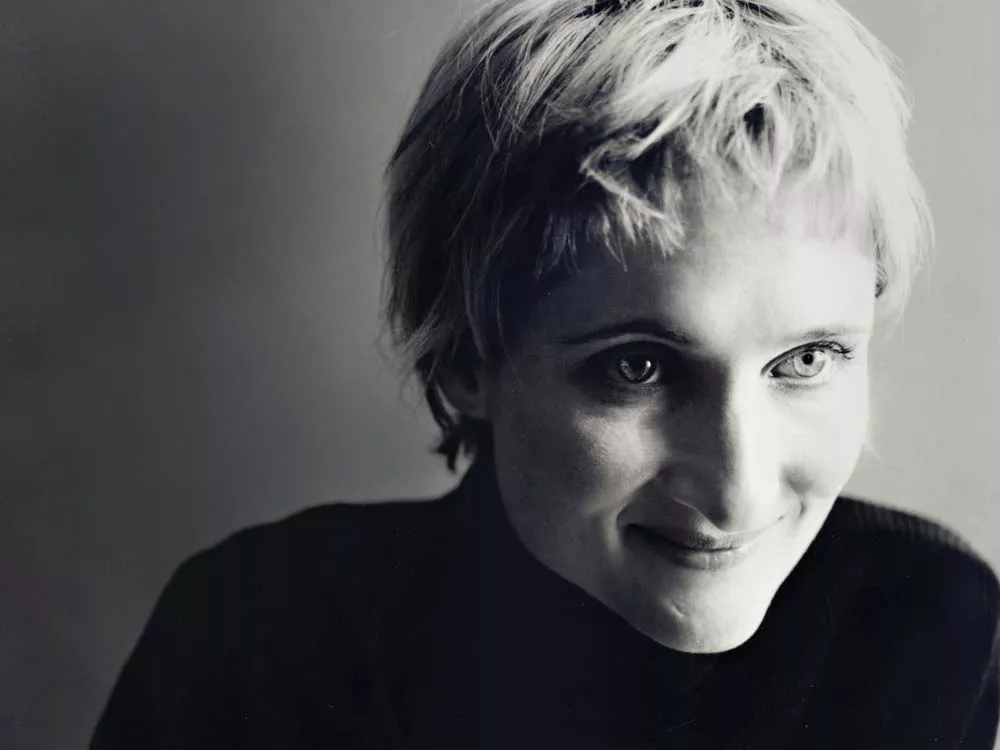 The Julia Factor
Yes! It's Pat! There are too many things to like about the portly, androgynous character that awkwardly found itself on Saturday Night Live and later as the star character of the motion picture, It's Pat! The native Spokane comedian Julia Sweeney — the woman who played Pat — was a mainstay on SNL from 1990-94. Today, she's most known for her one-woman acts and autobiographical monologues about God and her family.
In 2008, Sweeney met Jill Sobule at a TED Conference. The two hit it off and soon began performing the Jill and Julia Show — a live variety show of songs, stories and commentary. Sobule performs her material (some new, some old) and Sweeney tells stories that are loosely related with similar topics.
For example, Sobule sings about imperfect heroes: "William Faulkner was a drunk ... Hillary supported the war ... Colin Powell was a pussy." Next, Sweeney steps to the microphone, criticizing Oprah and her two-episode devotion to the quack-science of The Secret.
"I watch Oprah mostly when I'm at home in Spokane with my mom," she says. "To my mother, Oprah is a greater moral authority than the pope, which is actually saying something because she's a devout Catholic."
The variety show is fun and quirky and thanks to Sweeney's success and her donations to local charities, Mayor Mary Verner has declared March 11 "Julia Sweeney Day" in Spokane. We're just hoping she dresses as Pat at the pre-show soiree with local media.
Long before Katy Perry lathered on cherry ChapStick and sung about kissing a girl, another woman had already popped the pseudo-lesbian cherry of pop music.
Whoever watched MTV in 1995 probably saw Jill Sobule's retro music video (with a cameo by then-stud Fabio) for "I Kissed a Girl." It was 13 years later, in 2008, that Perry released her poppier, radio-friendly knockoff.
"'I Kissed a Girl' was kind of my cross to bear," Sobule says. "It was a double-edged sword for a singer-songwriter, and then when the whole Katy Perry thing came out, I just didn't want anything to do with the song."
In fact, Sobule never expected to record her "I Kissed a Girl." But after her first unsuccessful album with MCA in 1990, Things Here are Different, the Denver-born singer-songwriter was willing to try anything to get noticed. And Atlantic Records was willing to take a gamble on what would become the first Top 40 radio hit with overtly gay subject matter.
"When I wrote the song, I wanted to bring about that same level of excitement as a first kiss," she says. "When it's a same-sex kiss, it's taboo, and I guess in my own way I was trying to be subversive. Not in a Girls Gone Wild kind of way, but something that was more empowering for women."
Less empowering but equally successful on the charts was her 1995 hit "Supermodel" — a single from the soundtrack to the cult movie Clueless. Sobule joined fellow singer-songwriters Lisa Loeb, Juliana Hatfield and Alanis Morissette in forming the female-fronted, girls-with-abone-to-pick trend that dominated pop music in the mid '90s.
Today, the wispy blond Sobule runs Pinko Records and has five albums under her belt. She's made the music for Nickelodeon's show Unfabulous and a play called Prozak and the Platypus, and was a regular guest on NPR's "The Bryant Park Project." And she tours with SNL alum Julia Sweeney as a part of their Jill and Julia Show. (See p. 50.)
Her girlish, and at times childlike, voice allows Sobule to comment on socially conscious subject matter with comical ease — in the same way that people can chuckle and remark that "children say the darnedest things." Sobule sings about anorexia, depression, sex and politics with an innocence that is both earnest and endearing.
"In a way, I'm always writing for myself," she says.
"That's the best writing I suppose anyone can ever do, and it's even better when other people like it." And people definitely do: Sobule's small but mighty fan base funded the entirety of her 2009 album, California Years.
Over the years, Sobule has created female caricatures to drive her songwriting. "Lucy at the Gym" is an anorexic exercise addict. "Claire" is an aging lesbian with Alzheimer's. As Sobule gets older, these characters allow her subject matter to change but still sound like the same artist. Instead of songs about adolescent angst, she sings about shaky hands — but her songs are still uniquely Jill Sobule.
"I find that I'm writing about getting older," she says.
"It' great and it's interesting. I mean, I wish Mick Jagger wasn't still performing and writing songs about f---ing young women. I wish he'd just say, 'My back hurts.'" Age has also allowed Sobule to let bygones be bygones. She doesn't hate Katy Perry, and this April she plans to re-release her "I Kissed A Girl" with songwriter John Doe.
"I just thought maybe it needed new life again," she says about the song. "And this time it's not just about kissing a girl. This time, we get to go all the way."

The Jill and Julia show feat. Jill Sobule and Julia Sweeney • Friday, March 11, at 7:30 pm • Bing Crosby Theater • $27 • All-ages • ticketswest.com • (800) 325- SEAT