E3 HYPE
The biggest gaming convention of the year, E3 (Electronic Entertainment Expo), kicked off over the weekend and with it came tons of announcements for hotly anticipated video games coming in the next year and beyond. Microsoft got the hype train rolling early with the return of the Master Chief in Halo Infinite. Bethesda boasted a long list of upcoming titles, including Fallout 76, Elder Scrolls VI and its new original title, Starfield. The makers of infamously difficult Dark Souls announced their newest game: Sekiro: Shadows Die Twice. Other fan favorite franchises with new titles forthcoming include Kingdom Hearts, Gears of War, Battlefield, Doom and Wolfenstein. (CHEY SCOTT)
---
ON THIS WEEK'S PLAYLIST
Some noteworthy new music arrives online and in stores June 15. To wit:
Buddy Guy, The Blues is Alive and Well. And so is Buddy! He's headlining the Fox on June 22.
Johnny Marr, Call The Comet. Ex-Smiths guitarist brings some of his patented jangle to his new one.
Chromeo, Head Over Heels. When it comes to Canadian electro-funk, the list pretty much
begins and ends with Chromeo. Thank God.
Christina Aguilera, Liberation. On her new album, the singer calls in the kids in a bid for renewed relevance; guests include Demi Lovato, 2 Chainz.
The English Beat, Here We Go Love. The first studio album in 36 years from these ska-loving new wavers, and I'm totally here for it.
Arthur Buck, Arthur Buck. A collab between songsmith Joseph Arthur and ex-R.E.M. guitar man Peter Buck. Sign me up. (DAN NAILEN)
---
EDUCATED
Tara Westover's memoir Educated, released in February, gives an intimate look at her zealously religious upbringing in southeast Idaho, and her unlikely rise from having virtually no education as a child to earning her Ph.D. at Cambridge. While she speaks to her growth as a thinker and scholar, get ready for many macabre descriptions of life-threatening injuries as she describes how virtually every member of her family was impacted by her father's insistence that God would heal their wounds through her mother's tinctures, salves and midwifery experience. (SAMANTHA WOHLFEIL)


---
PORTLAND'S GODFATHER OF SOUL
Legendary Portland soul singer Ural Thomas brought the Pain to Spokane. Literally, his band is called the Pain, and they played nYne Friday night ahead of hometowners Super Sparkle. Thomas, sporting a Mickey Mouse and Donald Duck tie and wide-brimmed hat, mixed screamin' soul with smooth melodies, and at 79, he still has some moves. After the show, Thomas wandered through the crowd and talked with the audience. A friend asked him to recall the best show he'd seen recently. He raved about a performance from the kids in the Portland School of Rock. "They play with no fear," he says. "If you're ever in Portland, don't miss 'em." (MITCH RYALS)
---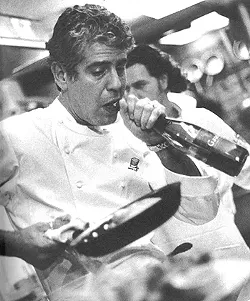 READING BOURDAIN

The news of Anthony Bourdain's suicide was probably all the more shocking because the chef and TV host seemed anything but tortured, hosting his new season of CNN's Parts Unknown with the same biting wit and love of adventure he'd shown for eight seasons (and several seasons of his No Reservations show before that). While his travel/dining TV excursions make for great repeat viewing, I encourage you to read the book that launched his career. Kitchen Confidential: Adventures in the Culinary Underbelly is a memoir of his time hustling in New York kitchens, and it's a punk-rock and drug-fueled read that set the template for an utterly unique rise to fame. (DAN NAILEN)