NAILED IT!
For anyone who's ever tried a recipe and failed miserably, there's an especially sweet sense of schadenfreude in watching other people mess up even worse. That's what started the popular Pinterest meme: people post a picture of what their fanciful baked goods were supposed to look like next to the often globby messes they actually turned out, with the caption, "Nailed it!" Now, there's an entire show with the same name dedicated to the idea, where amateur bakers compete to recreate difficult sweets in a short amount of time. This go around, there's a local connection: binge through the Netflix series to get to the recently released second season, where in episode two, "Fictitious and Delicious," you'll see Chris Elam from Spokane (above) compete for the $10,000 prize. (SAMANTHA WOHLFEIL)
---
ON THIS WEEK'S PLAYLIST
Some noteworthy new music arrives online and in stores July 13. To wit:
DEAFHEAVEN, Ordinary Corrupt Human Love. In 2018, there is none more metal than Deafheaven.
DIRTY PROJECTORS, Lamp Lit Prose. The indie-poppers led by David Longstreth have lost none of their quirky vibe after moving from NYC to LA.
RICK ASTLEY, Beautiful Life. All that stupid Rick-rolling has apparently led to a new album. Nice going, guys.
THE JAYHAWKS, Back Roads and Abandoned Motels. Americana heroes revisit some old favorites.
WIMPS, Garbage People. The stellar Seattle punk trio drops by the Bartlett Aug. 24. (DAN NAILEN)
---
READ READ
Former Spokane poet laureate Laura Read's poem "Pentecost" popped up in the July 8 issue of The New York Times Magazine, selected by former U.S. poet laureate and Pulitzer Prize winner Rita Dove, and praised by Dove for its "seamless blend of the everyday and the visionary" as Read conveys an "imagined conversation with a bereaved neighborhood child" that "travels a path dappled by wonder and sorrow." Dove's stirring introduction does justice to Read's heartbreaking (to me, anyway) piece. You can find it at nytimes.com/section/magazine. (DAN NAILEN)
---
LIES ONLINE
Mark your calendars: Spokane author Stephanie Oakes' young adult novel being adapted into an episodic drama, The Sacred Lies of Minnow Bly, now has an official trailer and a launch date. The premiere for Sacred Lies, streaming on Facebook Watch, is set for Friday, July 27. The series adaptation of Oakes' 2015 debut novel follows teen protagonist Minnow, who escapes a religious cult and recounts her experiences there. (CHEY SCOTT)
---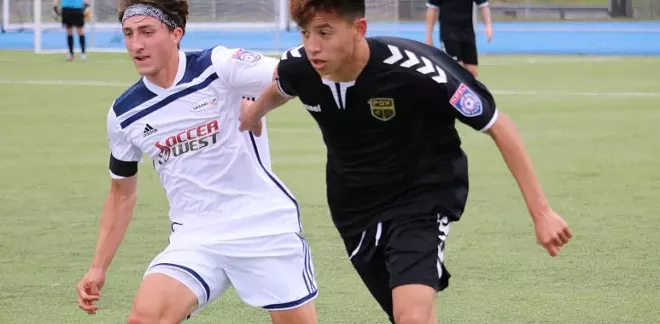 IN THE SHADOWS
For those that need a refresher: Yes, Spokane has a competitive soccer team that competes in a league that has a shot at a U.S. Open Cup berth. While the Spokane Shadow aren't going to be appearing on the national stage anytime soon — since they just fell 2-1 in the NPSL West Region's playoff quarterfinal against FCM Portland — they did secure the NPSL Northwest Conference regular season championship title after an unbeaten record of six wins and four draws. That's an impressive feat given the team failed to even qualify for the playoffs last year. (DEREK HARRISON)