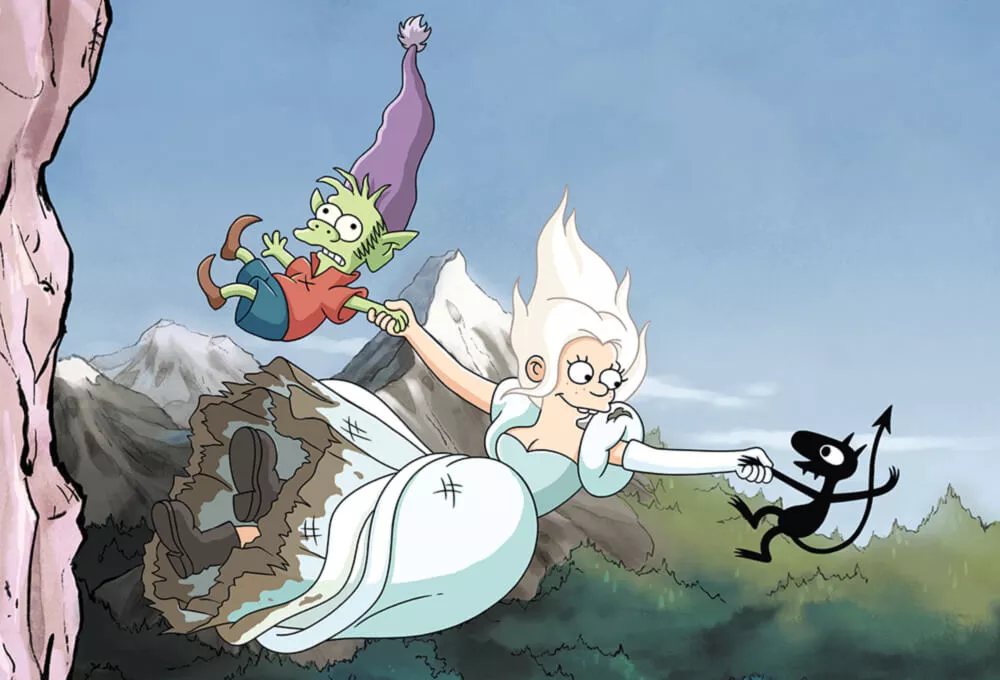 ENCHANTED BY DISENCHANTMENT
Disenchantment, the new 10-episode Netflix series from The Simpsons and Futurama creator Matt Groening, is the animated princess story we all need right now. Following the usually drunken misadventures of Dreamland's Princess Bean (voiced superbly by Broad City's Abbi Jacobson) and her quirky sidekicks, Elfo the elf (Nat Faxon) and Luci the demon (Eric André) — who everyone confuses for a talking cat — Disenchantment spins familiar Disney-ified fairytale tropes on their heads. It packs in loads of dry humor, a pinch of feminist undertones, fun Easter eggs, lots of animated gore and even tucks in some morals here and there. Perhaps most importantly, though, Princess Bean gets to wear sensible leggings and badass combat boots with her gold tiara. (CHEY SCOTT)
---
THIS WEEK'S PLAYLIST
Some noteworthy new music arrives online and in stores Aug. 24. To wit:
ALICE IN CHAINS, Rainier Fog. One of rock's unlikeliest comebacks continues with this new set.
THE DEVIL MAKES THREE, Chains Are Broken. Cali-based Americana crew is visiting the Knitting Factory Nov. 11.
INTERPOL, Marauder. A welcome return from these '80s-obsessed New Yorkers.
WHITE DENIM, Performance. This Texas quartet deserves a much larger audience.
MURDER BY DEATH, The Other Shore. A roots-rock crew that delivers every time. (DAN NAILEN)
---
SWEATY, DIRTY ART
The summer smoke seemed to clear out just enough for a kickass night of art and music at Unifest 2018. Located in the vacant lot near our offices, Unifest transformed that small part of the normally yuppie-ville Kendall Yards into a vibrant gathering of creatives. Things only got funkier as the show went on. Blake Braley ended the festival with a soulful set that had revelers kicking up dust into the night sky. (QUINN WELSCH)
---
A BIG DOSE OF THE QUEEN OF SOUL
One of the few things capable of bringing all Americans together in this day and age is the death of music royalty. Aretha Franklin's battle with pancreatic cancer ended a week ago, inspiring countless worthy tributes to the woman with arguably the best-ever voice in American pop music (and a decidedly unworthy tribute by Madonna at Monday's Video Music Awards). If you're hankering for more Aretha, I encourage a visit to a website from her Detroit hometown, which has compiled some great live clips, tributes and more. Hit
clickondetroit.com/arethafranklin
to access the goods. (DAN NAILEN)
---
LOST APPETITE
If you like the weird sometimes ridiculous dark humor of Crazy Ex-Girlfriend, you might be drawn to the new Netflix series Insatiable. While the trailers hype it up as a super-sexualized teenage "coming of rage" story, the show really focuses more on the struggles the main character has with her body image and high school experiences as she goes from "Fatty Patty" to possible beauty pageant winner. But be warned: through an increasingly bizarre series of events, the show totally fails in its supposed attempts to examine body shaming, repressed sexuality, bullying and worse. What starts out as a strong, hilarious concept may leave you thinking "What the eff did I just waste my time on?" by the end of the 12-episode season. (SAMANTHA WOHLFEIL)