NO FRANCHISE FATIGUE HERE
Late summer is a dumping ground for movies the studios don't really want you to see, so AMC Theatres is going back to the (relatively recent) past. Starting Thursday with 2008's Iron Man, they're screening the entire Marvel Cinematic Universe in IMAX to celebrate its 10th anniversary. And if superheroes aren't your bag, the Harry Potter film series will also be returning to AMC screens, with two consecutive installments showing every Sunday this month, beginning with Sorcerer's Stone and Chamber of Secrets on Sunday, Sept. 2. See amctheatres.com for ticket info. (NATHAN WEINBENDER)
---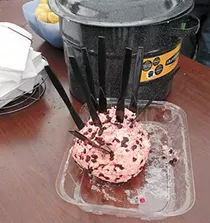 BATTLE OF THE BBQ
I spent a rainy Sunday judging a barbecue rib cook-off at Coeur d'Alene Casino. It's a rough job, as they say, but somebody has to step up and eat 10 ribs in a sitting for charity. While all of the competing pitmasters had skills, and Spokane's Nordic Smoke BBQ won the top prize, I have to give a shoutout to Andy Kitt of Smoke 'N Tee Pee, who delivered my favorite plate thanks to perfectly cooked meat and a nice side of cornbread. The key, it seemed, was the hand-picked huckleberries Kitt used in his barbecue sauce — and in a giant ball of huckleberry butter! Kitt's place doesn't have a web presence, but keep an eye out for the name, especially if you're in the De Smet, Idaho, neighborhood. (DAN NAILEN)
---
KEEP DIGGING
I downloaded the newly released Graveyard Keeper on Xbox One last week out of sheer boredom only to discover an immersive and all-consuming action-adventure game. Try to imagine Harvest Moon mashed with the Legend of Zelda: A Link to the Past. The cutesy 16-bit animation is a nice juxtaposition for a game that centers around burying corpses — and occasionally snacking on them. You also have to build your church, unlock new technologies and evade the Inquisition. Your companions include a drunken talking skull and a communist donkey. This game elicits a lot of questions. Most importantly: WHY CAN'T I STOP PLAYING IT? (QUINN WELSCH)
---
BREAKING THE BLUE LINE
Twelve NYPD cops, all people of color, knew the department's secret and illegal quota system was wrong. The practice eventually led to a class action lawsuit, but before that, the 12 officers were pressured to arrest a predetermined number of people. Often those people lived in communities of color. The "NYPD 12," as they're known, pushed back and were punished by superiors. A new Hulu documentary, Crime + Punishment, by director Stephen Maing, is the culmination of four years of shooting and features covertly recorded conversations between the officers and their superiors. "This is a story we didn't ask permission from the department to make," Maing tells the Guardian. (MITCH RYALS)
---
THIS WEEK'S PLAYLIST
Some noteworthy new music arrives online and in stores Aug. 31. To wit:
ALKALINE TRIO, Is This Thing Cursed? If you like your indie-rock with a touch of evil, these guys are total pros.
AARON LEE TASJAN, Karma For Cheap. This dude killed it opening for Social Distortion in Spokane this summer. If you like gritty folk-rock a la Shakey Graves, check him out.
AMOS LEE, My New Moon. Maybe you caught him playing some of these new tunes at the Festival at Sandpoint this summer.
MADELEINE PEYROUX, Anthem. The jazz vocalist wrote through the 2016 election season, collaborating with seasoned non-jazzbos to create some contemporary new tunes.
MEGHAN TRAINOR, Treat Myself. The pop star tries to keep her hot streak going. (DAN NAILEN)