COFFEE 'N COUGS
College football geeks know ESPN's College GameDay as the ultimate Saturday morning treat. Hosts Kirk Herbstreit, Lee Corso and Chris Fowler predict games, host player features, welcome celebrity guests and only show up for the biggest game on each weekend's schedule. This weekend, it's Pullman for the first time ever (despite the omnipresence of the Cougs' flag flying behind the set at every episode for the last 15 years). It's all happening for the Top 25 showdown between the Cougs and Oregon Ducks. Kickoff is at 4:30 pm (on Fox, oddly), but the party starts much earlier. College GameDay Live airs from 6-9 am, and you'll have to get there even earlier to get a good spot near the set. (DAN NAILEN)
---
THIS WEEK'S PLAYLIST
Some noteworthy new music arrives online and in stores Oct. 19. To wit:
Elle King, Shake the Spirit. Retro-tinged pop music with attitude.
Greta Van Fleet, Anthem of the Peaceful Army. Can they live up to the "rock saviors" thing?
Neneh Cherry, Broken Politics. You returned from the pop-culture abyss to tell us politics is broken? Thanks, Neneh.
Jason Isbell & the 400 Unit, Live from the Ryman. A great live band tries to deliver a great live album — no easy task. (DAN NAILEN)


---
GETTING LIT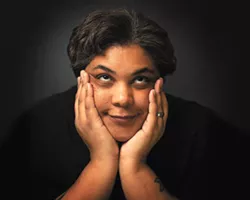 Hot on the heels of celebrating the announcements that the Get Lit! Programs had won both a Spokane Arts Award and a Washington Governor's Arts & Heritage Award, Get Lit! announced a great get for next year's festival: Roxane Gay. The commentator, editor and author of a memoir (Hunger) and the best-selling essay collection Bad Feminist (among other books) will visit April 27. (DAN NAILEN)




---
FIRE STARTER
Spokane author and youth librarian Stephanie Oakes took home the Washington State Book Award this past weekend in Seattle for her second young adult novel, The Arsonist. Oakes was the only Spokane-based author chosen as a finalist for this year's awards in the young adult readers (ages 13+) category. The Arsonist, published last year, weaves together historical and contemporary timelines that center around three young characters' struggles to come to terms with their parents' and their own personal demons. (CHEY SCOTT)
---
BUGHEAD'S BACK
Your favorite comic book-turned-live action teens are back and more angsty than ever. Riverdale's third season promises to have even more twists and turns with darker storylines and cliffhanger endings. Watch as these impossibly good-looking teens solve mysteries and fight battles all while going to high school. Will the Southside Serpents regain their territory? Will Archie Andrews go to prison at the hands of Hiram Lodge? Tune in each Wednesday on the CW to find out what happens in the town with pep. (MICHAELA MULLIGAN)