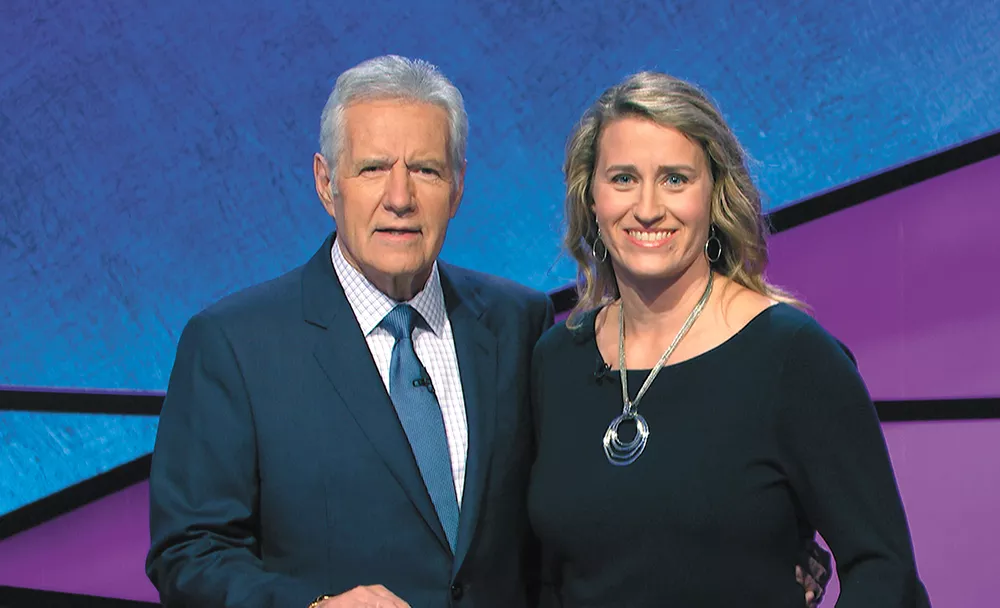 THIS IS JEOPARDY!
Tune in to KHQ/NBC Friday night to see one of the Inland Northwest's own put her vast trivia knowledge to the test on "America's Favorite Quiz Show," Jeopardy! The episode airing Dec. 7 (check your listings for the time) features local certified public accountant and Eastern Washington University alum Staci Huffman (pictured) as one of the three contestants. (CHEY SCOTT)
---
THIS WEEK'S PLAYLIST
Some noteworthy new music arrives online and in stores Dec. 7. To wit:
Ice Cube, Everythang's Corrupt. Cube's first album in nearly a decade should be a scorcher if single "Arrest the President" is any indication.
John Mellencamp, Other People's Stuff. A collection of covers recorded through the decades by Mellencamp, headlining in Spokane April 20.
Van Morrison, The Prophet Speaks. The suddenly prolific Morrison delivers a combo of covers and originals on his fourth album in the last two years.
Vulfpeck, Hill Climber. The funky Michiganders are back with 10 tunes of tasty grooves.
Mary Poppins Returns. The soundtrack your kids/future theater students will be asking for this Christmas. (DAN NAILEN)
---
SUMMER IS JUST AROUND THE CORNER
OK, not true, but Northern Quest Resort & Casino is already off and running scheduling their summer 2019 concerts. So far, metal pioneers Judas Priest, parody master "Weird Al" Yankovic, Steve Martin and Martin Short's music/comedy revue and a show by pop-rock bands Train and Goo Goo Dolls are on the slate. Tickets for those four shows go on sale Friday, Dec. 7 at 9 am. Visit northernquest.com for more details. (DAN NAILEN)
---
$10K
That's the amount of money Metallica raised through their All Within My Hands Foundation at the band's Spokane Arena show for a donation to Second Harvest.
---
THAT'S SNAKE SANTA TO YOU
Being a psycho fan of everything Kurt Russell — from his Disney childhood to his '80s action heyday to his more recent grizzled old guy roles — means following him to some weird places. This Christmas, it means following him to the North Pole for his role as a sort of street-smart Santa in Netflix original The Christmas Chronicles. The movie is a small step above the standard Hallmark-movie fare, despite the presence of a couple of annoying child actors. But watching Russell crack wise in a leather-and-fur Santa suit is pretty fun. And the jailhouse blues-rock production number (complete with Little Steven on guitar) as Russell sings and revisits his Elvis hip-swivels is just downright surreal. (DAN NAILEN)