NOT TENNIS RACKETS
As 11 of us tromped through fresh powder near Lake Gillette in the Colville National Forest Sunday, a new friend trying snowshoeing for the first time mentioned, "I honestly thought we were going to be wearing tennis rackets." If you've never tried the winter sport, the shoes have thankfully advanced far ahead of those old cartoonish nets to lightweight paddles made from metal and plastic fitted with crampons. You don't need to be a pro to try it, either: Spokane Parks and Recreation offers beginner hikes throughout the winter, which include transportation on a nice bus and all the gear needed. Our guides helped us smash a trail through the snow and each time we paused, snow falling off the evergreens would catch the sunlight, sparkling over silent meadows. Check out the remaining opportunities in March or keep an eye out for next year's snowshoe trips at my.spokanecity.org/parksrec. (SAMANTHA WOHLFEIL)
---
THIS WEEK'S PLAYLIST
Some noteworthy new music arrives online and in stores March 1. To wit:
Gary Clark Jr., This Land. Carrying the torch for the blues, this guy is the real deal.
Hozier, Wasteland, Baby! The Irish singer-songwriter has basically sold out his show at the First Interstate Center for the Arts.
In Flames, I, The Mask. In case you like your Swedish death-metal on the melodic side (and who doesn't?).
Royal Trux, White Stuff. The lo-fi garage-rockers' first album of new tunes in 19 years. Delicious.
Weezer, Weezer (aka The Black Album). Does Weezer put out an album every week, or does it just seem that way? (DAN NAILEN)
COMBO BOTS
---
The new Transformers Trading Card Game was launched last fall, and being the total nerd I am, of course I play (#TeamDinobots)! The game's second set of cards, Rise of the Combiners, is out March 1. Based on this name alone, TF fans should guess the set includes character cards that can transform into some of the franchise's favorite combiner robots, including Devastator, Predaking, Bruticus, Menasor, Superion and Volcanicus. The two-player game is fast, fun and easy to learn, and yes — you get to transform your bots from car/alt mode to bot mode and back again, and also combine these new special teams into their megasize forms. (CHEY SCOTT)
---
POWDER HOUND
Mead author Cris Currie is being honored by the International Skiing History Association with its Skade Award, recognizing Currie's "outstanding creative work in ski history" for his book Spokane's History of Skiing: 1913 to 2018. He'll pick it up at the ISHA's awards banquet in Park City, Utah, in April. Learn more about the group at skiinghistory.org. (DAN NAILEN)


---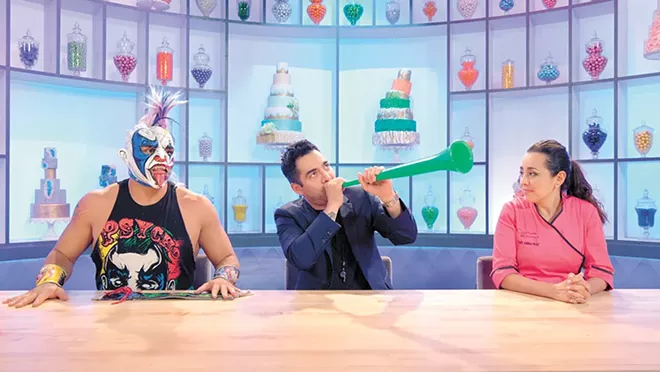 A TASTE OF PSYCHO
My favorite thing about the baking show ¡Nailed it! México has been Psycho Clown, a guest judge and Mexican wrestler, or luchadore, on episode two. Of course, it's also hilarious watching people fail miserably at the impossible baking tasks they are assigned, and on this show it's all about the quinceañeras and futbol. But Psycho Clown brings a certain humility to the show that you just don't get in American TV. (There's also much more singing.) "Your cake is very delicious. Congratulations," Psycho Clown says after squeezing a piece of cake into his scary-clown-mouth hole. (QUINN WELSCH)