CONTENTMENT IN CULTIST SIMULATOR
Cultist Simulator, a strange single-player card game, tasks you with creating your own murderous and sinister cult. You can lose in the usual ways — run out of money, run out of health, or get sent to prison. But you can also lose if you rack up too many dread cards. So how do you remove dread? "Contentment" of course. ("I'm happy, I think," the card reads.) If you're lucky, you can find a contentment card by painting or wandering down a moonlit street. Or you could find it in your dreams, aided by a tincture of opium. But here's the rub: Contentment only lasts 30 seconds, and then it's gone. Dread lasts a lot longer. The card's description is almost profound: "Contentment defends against Dread; but Contentment doesn't last." Man, ain't that the truth. (DANIEL WALTERS)
---
THIS WEEK'S PLAYLIST
Some noteworthy new music arrives online and in stores March 8. To wit:
Meat Puppets, Dusty Notes. There might be other good releases this week, but I'll be listening to nothing except the latest from these psychedelic cow-punks.
Patty Griffin, Patty Griffin. Master of myriad Americana styles, always worth a listen.
The Coathangers, The Devil You Know. The punk trio just rolled through town.
Various artists, Joni 75: A Birthday Celebration. Recording of a Joni Mitchell tribute concert full of heavyweights, from Brandi Carlile to Los Lobos to Emmylou Harris. (DAN NAILEN)
---
BACK TO JONESTOWN
It's been an entire year since I last heard from Daryl Cooper on the Martyrmade Podcast, and the wait has been worth it. His newest series, dubbed "God's Socialist," delves into the saga of Jim Jones and the Jonestown Massacre. The series, released March 3, promises to discuss American religion, radical leftism, the black power movements of the '60s and '70s, domestic spying, even Charles Manson. Each of these subjects could stand on its own, but Cooper has a way of tying things together in a deeper — oftentimes disturbing — way. (QUINN WELSCH)
---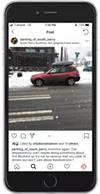 WHAT FIRE HYDRANT?
Parking in some parts of Spokane can be daunting on the best of days. Add snow and, well, it gets ugly. So much so that one fed-up Spokanite has started an Instagram account dedicated to "documenting the ridiculous parking in Spokane's South Perry District since 2019." Give it a look-see: @parking_of_south_perry. (DAN NAILEN)



---
SLIPPERY DENIALS
Drilled is a true-crime podcast about what some consider the greatest villainy of all: the crucial role oil companies played in cultivating climate change denialism. With its (sometimes over-the-top) foreboding soundtrack and investigative edge, host Amy Westervelt walks listeners through how oil companies went from funding research on climate change and alternative energy in the 1970s to later waging a sophisticated, massive denial campaign. Even if you've kept up with recent revelations about how long oil companies have known about climate change and its catastrophic effects (while simultaneously waging a public relations war against climate science), you'll find new knowledge, such as how industry strategists planted pro-oil educational materials in public schools and tied protestant religious identity to fossil fuel usage. (JOSH KELETY)